Escalante Named Trinity's 2019 Lincoln Laureate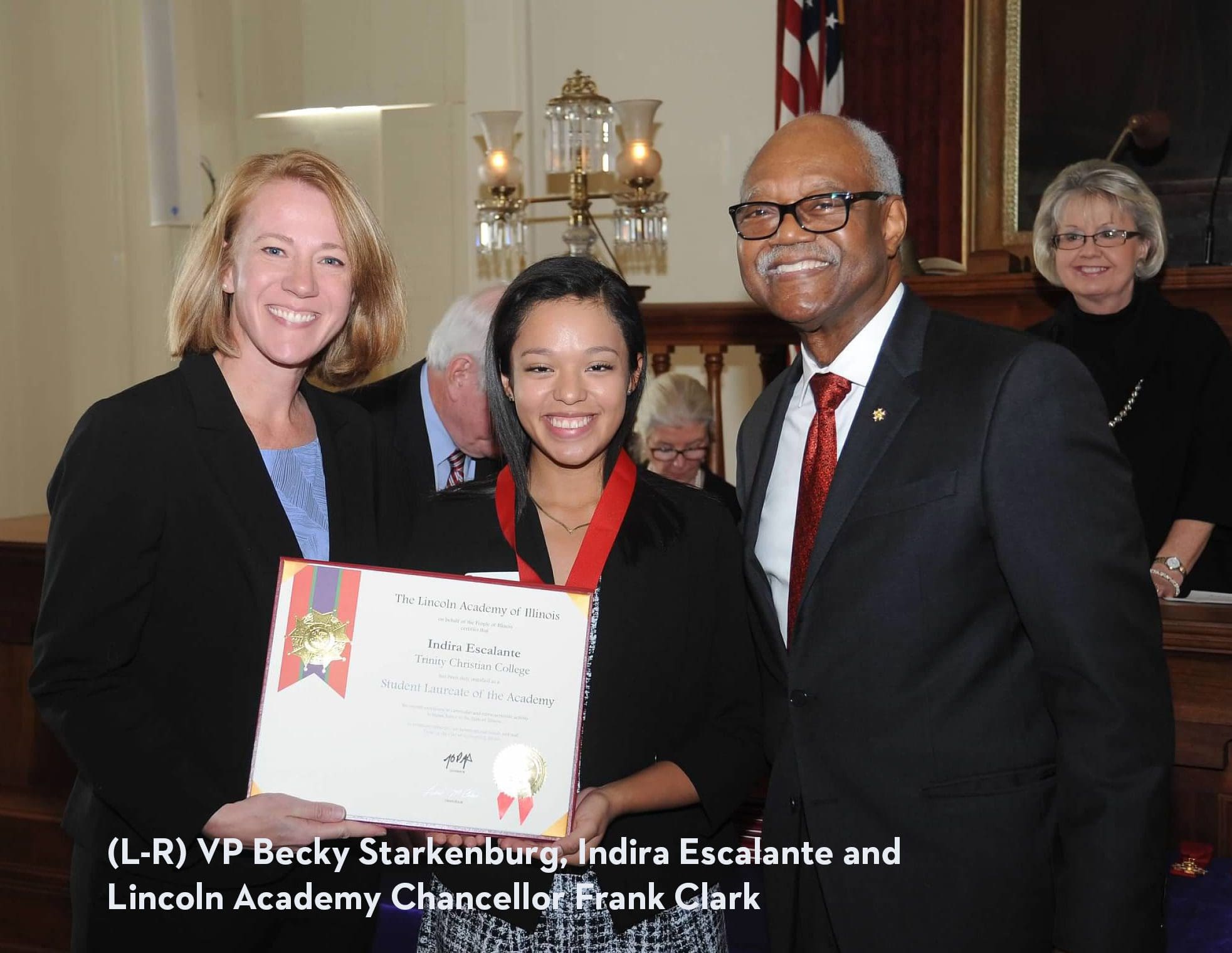 Trinity is pleased to announce that Indira Escalante '19 has been named Trinity's Lincoln Laureate. Escalante was honored at the Lincoln Academy Student Laureate Convocation Ceremony on Nov. 16 in Springfield, Ill.
The annual Lincoln Academy Student Laureate Ceremony recognizes excellence in curricular and extracurricular activities by seniors from each of the state's four-year, degree-granting colleges and universities, and one student from the community colleges in Illinois.
An accounting major and theology minor from Hoffman Estates, Ill., Trinity's selection committee lauded Escalante for her leadership roles at the College, including as an intercollegiate student-athlete in golf, a member of the multicultural student leadership team, a founding member of a campus club called Women Empowered, vice president of administration of the Student Government Association, a student representative on the Campus Diversity and Unity Committee, and as a student mentor for incoming transfer students in Trinity's Foundations 111 class. "She possesses a rare combination of gifts that span excellence in the field of accountancy, a complex understanding of social justice, a commitment to public service, and diverse contributions to the communities she serves," the committee noted. "She has demonstrated a commitment to the public good for all people in ways that have garnered the respect of her peers, faculty, and staff in every context in which she serves. This is a remarkable gift to the Trinity Christian College community."
Escalante, who was joined in Springfield by Becky Starkenburg, Vice President for Student Life, and her parents Lesly and Jose, said she was surprised and honored to be named Lincoln Laureate. "My first reaction was that I don't deserve it," she said. "There are so many students here at Trinity to choose from."
After graduation, Escalante plans to sit for the CPA exam and go to work as an accountant with a major firm.
Trinity Christian College Lincoln Laureates
2018 – Mallory Boyce
2017 – R. Josiah Rosario
2016 – Courtney Kalous
2015 – Hallie Wisse
2014 – David (Woody) Lucas
2013 – Megan Anderson
2012 – Adam Perez
2011 – Alberto LaRosa
2010 – Joseph Wydra
2009 – Jon Vander Woude
2008 – Caitlin Fillmore
2007 – Elizabeth VanderSpek
2006 – Allison Backous
2005 – Erin Marshalek
2004 – Rachel Van Oort
2003 – Yvana Hansen
2002 – Evan VanderZee
2001 – Nate Bosch
2000 – Laurie Johnson
1999 – Hanna Vancer Zee
1998 – Kristen Devine
1997 – Heidi Boeck
1996 – Julie Tinklenberg
1995 – Keri Dyksterhouse
1994 – Mark Mulder
1993 – Kristen Hart
1992 – Sarah Ver Velde
1991 – Aron Reppmann
1990 – Nathan Van Der Male
1989 – Drew Sweetman
1988 – Erik Hoekstra
1987 – Kimberly Dykema
1986 – Edward Wiener, Jr.
---