Great Basilicas of Italy Tour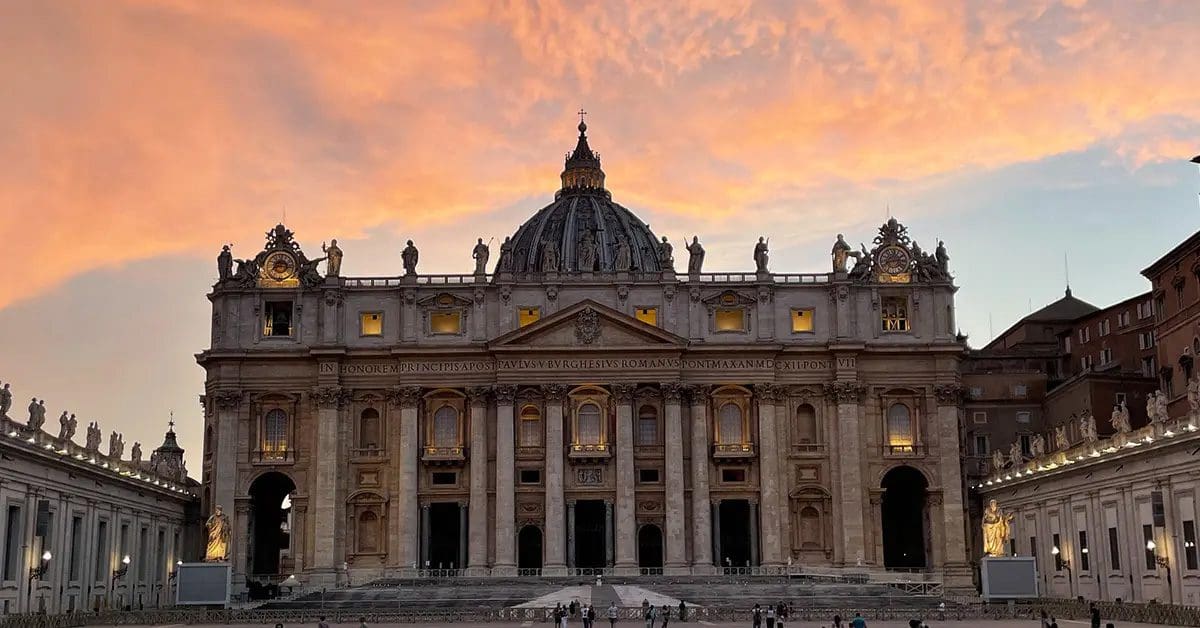 -Kate Meyrick '17
This summer, several Trinity alumni, staff, and faculty traveled to Italy to sing in and tour the magnificent basilicas of Rome, Assisi, and the Amalfi Coast. The trip was organized through Perform International by Grand Rapids Symphony Chorus Master Dr. Pearl Shangkuan, with guest conductor Dr. Anton Armstrong.
I (Kate Meyrick, '17) was thrilled and privileged to be one of the singers and tour members on this trip, sight-seeing and performing from June 6-13, 2023, with members of my Trinity family: Amy Meyrick '23, Dr. Helen Van Wyck (Professor Emerita), Toni Esker (Assistant Professor of Music) and Dr. Yudha Thianto.
We performed a full gala concert with two other choruses (about 100 singers total) at the Basilica of St. Francis of Assisi in the gorgeous mountain town of Assisi on Friday, June 10th. There were hundreds of people in the audience that night – a mix of tourists from around the world and community members from Assisi. The following Sunday, we traveled to Rome to sing during mass in St. Peter's Basilica at the Vatican City. Our accompanist was the incredible Ken Bos. In addition to singing in these magnificent basilicas, we also had the opportunity to tour other major cathedrals and learn about their art, architecture, relics, and the important events and miracles associated with their histories.
During a short visit in Orvieto, we toured the hilltop city's Duomo (cathedral), associated with a Eucharistic miracle and an important site for the feast day of Corpus Christi. In Assisi, we were able to view St. Francis' bones in the crypt of his basilica before making our way to the stunning main chapel, which is filled with frescoes of stories from his ministry of teaching, healing, and serving the poor. My personal favorite was St. Clare's Basilica, a humble but special building dedicated to St. Clare of Assisi, who was a friend and fellow minister with St. Francis.
In Rome, we viewed the stunning gilded ceilings and priceless art by the Renaissance masters Raphael and Michaelangelo at St. Peter's Basilica. Several of us spent a whole day visiting the other major basilicas of Rome, including the Archbasilica of Saint John Lateran, Basilica of St. Mary Major (which holds relics from the Nativity), Basilica of St. Augustine in Campo Marzio (the burial place of St. Monica), and The Basilica of the Holy Cross in Jerusalem (where you can view relics of St. Thomas). It was a holy pilgrimage for many! Along the Amalfi Coast, in between limoncello spritzers and gelato, we visited the Santa Maria Assunta Cathedral in Positano and St. Andrew's Cathedral in the city of Amalfi.
The Colosseum was awesome, the Pantheon was epic, but we all agree that the experience of singing in these basilicas – worshiping God and sharing our music with friends and strangers – was the highlight of our trip. It was an unforgettable experience, and thankfully, you can experience it with us! You can view our gala performance at St. Francis' Basilica via Perform International's Youtube channel, available through this link.
---