Hesslau & Iwema Serve as Entrepreneurs in Residence at Fusion 59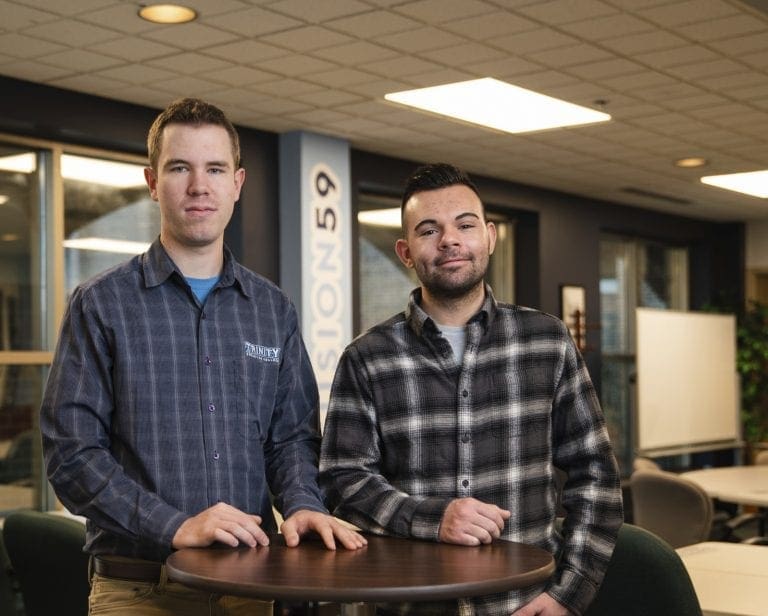 When Fusion 59 opened on Trinity's campus in October, it introduced an innovation hub for the community to connect, collaborate, and create. To help leverage and enhance the vision of Fusion 59, Ryan Hesslau '18 and Tom Iwema '18 are serving as the Entrepreneurs in Residence (EIR).
"Participating in the EIR Program is our way of giving back to Trinity, and it allows us to keep the conversations and the momentum behind Fusion 59 going," said Hesslau.
In their EIR roles, Hesslau and Iwema act as on-campus directors and mentors within Fusion 59, as well as managing their own businesses and organizations. Hesslau, who graduated with a degree in Entrepreneurial Management, is Founder & Executive Director of youth empowerment organization ForeverU and Founder of the tech company Above the Waves, which is empowering high schools and college campuses with the Waves App that shortens the distance between students and support services, allowing students to have access to the help they need, when they need it. Iwema, who has degrees in Entrepreneurial Management and Marketing, is the Owner & President of IKG Property Maintenance, Inc., which provides certified environmental remediation & painting contracting services to a wide range of clients from homeowners to brands like the Brookfield Zoo, iFly Indoor Skydiving Centers, and national hotel chains.
Demonstrating their entrepreneurial skills, Iwema and Hesslau got their EIR jobs by creating them. The two were among several Trinity students who had been working to launch Fusion 59 for several years, Iwema said. "Fusion 59 began to come together our senior year, and I toured several other colleges and universities with Prof. John Wightkin to see their innovation centers. We proposed the EIR program as part of it."
Added Hesslau, "A lot of colleges have EIR programs, and it came together with the launch of Fusion 59. University EIR programs simply give recent graduates a safety net to get their businesses off the ground. They receive a place to live, a meal plan, access to resources like 1871 in Chicago, but also give back to their college by serving as on-campus mentors."
As part of the EIR Program, Hesslau and Iwema each dedicate 15 hours a week to Fusion 59 and the different responsibilities that involve operating the space. Additionally, they are available certain evenings during the week to meet one on one with students for advising and consulting sessions. Along with administrative duties, the pair also serve as advisors for Trinity's new Innovation Club, which hosts monthly networking events, empowerment workshops with guest speakers, and events on and off campus that take students deeper into the ecosystem of innovation, regardless of their major.
A Resource That is Open to All
Fusion 59 is a resource for all students at Trinity, no matter what degree they are pursuing. "We've been pleasantly surprised by the amount of non-business students who use this space, which was actually the objective all along," said Hesslau. "We've come to understand that innovation is simply a mindset shift that allows us to look at problems, decisions, and opportunities within our careers from a different angle – it doesn't have to be just about starting businesses."
In just the last few months, they have helped students make traction with projects like developing a photography and videography business, starting a public speaking agency, launching a new ministry at a local church, creating a financial coaching business, and plenty more. They even helped create new framework for several programs offered right here at Trinity.
In the first month of Fusion 59's opening, 1,200 people visited the space in the Jennie Huizenga Memorial Library – custom-designed by Hesslau and Iwema and built-out by Iwema's company.
---