In It Together as Students Return to Campus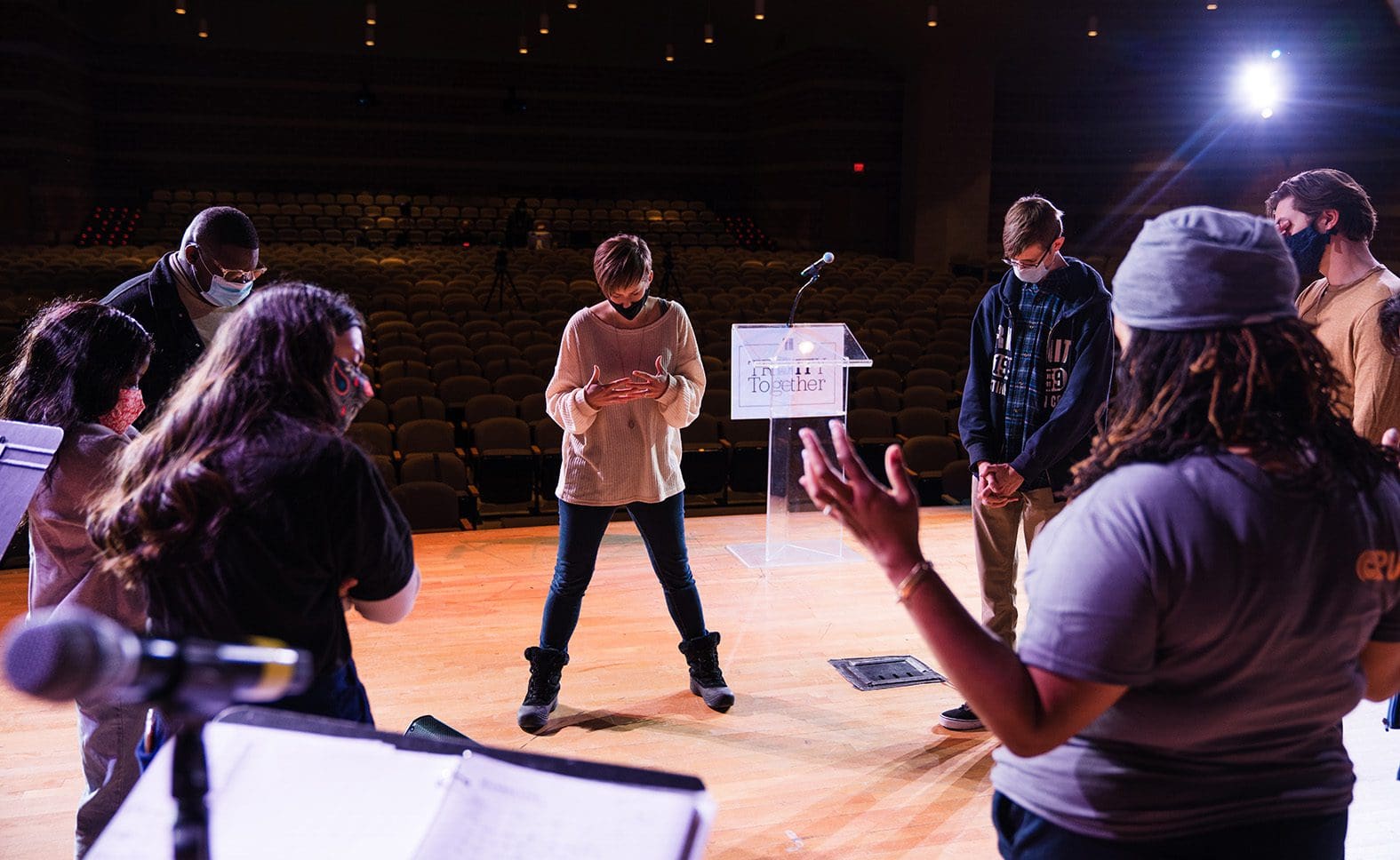 –Aubrey Weedman '20  
Less than a year after COVID-19 swept across the globe, Trinity welcomed many students back to campus and the classroom for the Spring 2021 semester. With the hard work and dedication of the entire community, including professors, students, and the COVID Care Team, classes are buzzing with students learning in-person and via Zoom, DeVos is hosting athletic competitions again, and the Dining Hall is serving up favorites for breakfast, lunch, and dinner! 
Return to In-Person Learning 
For the Spring Semester, students had the option of either attending class in person or continuing to learn remotely. More than half of the undergraduate students are now attending class in person, with the rest tuning in via Zoom! 
According to Professor of Communication Arts Craig Mattson, the logistics of managing both in-person and online students are interesting, even if they are occasionally daunting.  
"I really enjoy, in some ways, the complexity of having students online and having students in person," he said. "There's always an adaptation that one is having to do. I do confess that sometimes I feel like a butler, running around the room. But it's a lot of fun." 
For Matthew Huizenga '24, this semester marks the first time he has been in a physical classroom since being in high school last year. "It's been an interesting experience," said the graphic design major. During the all-remote first semester, some of his classes maintained a more traditional format, so the transition to in-person learning has been more subtle. For his art-related classes, though, being in-person has made a substantial difference.  
And while he enjoyed the opportunity to connect online with classmates during remote learning, Huizenga appreciates the new sense of in-person togetherness. "My favorite part of the semester so far has been the people," he said. "Social interactions and gatherings happen naturally now." 
No matter the format, though, Trinity remains committed to being In It Together, and Huizenga said he has seen how Trinity groups and organizations are working hard to be accessible to all students, whether they are on campus or remote. "There has been a deliberate effort to include everyone, and they are very conscious about how to mix those who are in-person and virtual. 
The entire community has approached the start of the semester with a spirit of willingness and togetherness, according to Provost Aaron Kuecker. "It has been exciting to step into these early weeks of the semester and to see so many people working together and with such flexibility as we have had opportunity to fine tune some of our practices and processes," he said.
The COVID Care Team 
 the COVID Care Team continues to play a critical role in ensuring the safety and well-being of the entire community. 
Trinity first assembled the COVID Care Team over the summer to meet the various needs of students, faculty, and staff amidst the pandemic. And this interdisciplinary team has continued to work diligently each day to make sure the health of Trinity's community members is continuously ensured.  
Members of this team include professors and staff from Athletics, Event Services, Counseling Services, Student Life, and more. Each member plays a carefully crafted role on the team in addition to their other positions and responsibilities at Trinity.  
Stephanie Griswold, Psy.D., Psychology Instructor and Director of Trinity's Counseling Center, has served on the COVID Care Team in several capacities. "One of my main roles currently is hiring another medical professional to join our COVID Care Team," she said. "I've also spent a lot of time thinking through how best to organize our team and data flow, in addition to communicating all the important things to our campus community." 
But one of Griswold's favorite roles has been attending to the wellness of students in quarantine or isolation. "We've actually just received donations to send care packages to our quarantined students that will include prayer cards and connections to people on campus," she said. "This is exciting and helps bring light in a dark time!"  
The COVID Care Team is also charged with monitoring Trinity's #CampusClear system. Every student, professor, and staff member who comes to campus agrees to complete a daily health survey in the #CampusClear app. Only those who are receive a green screen can show those screens when participating in in-person classes, Outcry, and other activities on camps. Those who receive a red screen must not leave their dorm rooms or come to campus until they have spoken with a member of the COVID Care Team.  
Brooke Simkins, member of the COVID Care Team and Director of Event Services, helps manage all this data. "I identify users who have received a red screen, and if they haven't done it yet, I prompt them to fill out a red form." said Simkins. "Once this is done, I add their red form data into a secure data table so the rest of the team can respond appropriately." Then, other members of the team, such as the healthcare coordinator, review the data and follow up with each person to determine their next steps. 
According to Simkins, it's important for every member of the campus community to use #CampusClear every day they are on campus. "We have people screen each day so we can identify symptoms and exposures as early as possible," she said. "The earlier we know about illness, the more effective we can be in preventing spread." 
Those are the logistical reasons why Trinity asks everyone to complete the #CampusClear app every day. But according to Simkins, "The big answer to the question of 'why?' is because we genuinely care about our students, staff, and faculty, and we want to create and maintain an environment that allows them to thrive and learn," she said. "Additionally, we are doing these things because they work. When people engage with the processes and adhere to Trinity's Covenant of Care, we see fewer illnesses." 
Eric Salley, men's soccer head coach, is another member of the COVID Care Team and serves as an Athletic Liaison. "I help relay information from Athletics to the COVID Care Team and help support coaches and players who are 'staying put,' in quarantine, or in isolation," he said. 
According to Salley, each member of the team contributes a unique expertise and perspective. "That is vital every time we help members of our community navigate the challenges of COVID."  
Trinity and the COVID Care Team have been guided by its deep desire to see the community flourish. "This has meant tackling unique problems with creativity, perseverance, and love for the community," he said. 
Click here to learn more about Trinity's COVID Care Team.  
---