Josiah Rosario Named Lincoln Laureate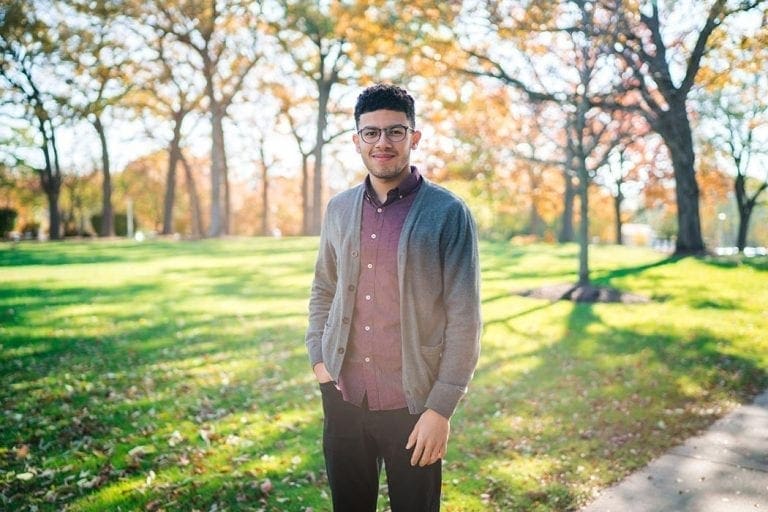 Trinity Christian College is pleased to announce that R. Josiah Rosario '17 has been named this year's Lincoln Laureate. Rosario will be recognized by Gov. Bruce Rauner at the Lincoln Academy Student Laureate Convocation ceremony on Nov. 11 in Springfield, Ill. He will also be honored at Trinity in May at the Honors Convocation, where he will deliver the student keynote address.
"I was completely surprised to learn I'd been selected," said Rosario. "I was humbled and excited by the news."
The annual Lincoln Academy Student Laureate Ceremony recognizes excellence in curricular and extracurricular activities by seniors from each of the state's four-year, degree-granting colleges and universities, and one student from the community colleges in Illinois. Rosario was selected by Trinity's Lincoln Laureate committee, which includes faculty, staff, administrators, and students.
"While the selection committee considered many top graduating students, Josiah was a clear choice for this year's honors," said Becky Starkenburg, vice president for student life. "Josiah has and continues to demonstrate leadership, excellence, and service."
Rosario has been involved in many different activities during his time at Trinity, including serving as an assistant area director and executive vice president of the Student Association, as well as serving on Trinity's Diversity Scholarship Interview Committee.
Rosario, who is graduating in December, is a psychology major, and he has been accepted into the Ph.D. psychology program at Northwestern University. "I love teaching and research," he said.
He points to Dr. Jessica Clevering and Dr. Kara Wolff as being particularly influential during his time studying psychology at Trinity. "I'm grateful for all the relationships I've formed here," he said.
Rosario joins a distinguished group of Trinity students as Lincoln Laureates. 
Trinity Christian College Lincoln Laureates
2016 – Courtney Kalous
2015 – Hallie Wisse
2014 – David (Woody) Lucas
2013 – Megan Anderson
2012 – Adam Perez
2011 – Alberto LaRosa
2010 – Joseph Wydra
2009 – Jon Vander Woude
2008 – Caitlin Fillmore
2007 – Elizabeth VanderSpek
2006 – Allison Backous
2005 – Erin Marshalek
2004 – Rachel Van Oort
2003 – Yvana Hansen
2002 – Evan VanderZee
2001 – Nate Bosch
2000 – Laurie Johnson
1999 – Hanna Vancer Zee
1998 – Kristen Devine
1997 – Heidi Boeck
1996 – Julie Tinklenberg
1995 – Keri Dyksterhouse
1994 – Mark Mulder
1993 – Kristen Hart
1992 – Sarah Ver Velde
1991 – Aron Reppmann
1990 – Nathan Van Der Male
1989 – Drew Sweetman
1988 – Erik Hoekstra
1987 – Kimberly Dykema
1986 – Edward Wiener, Jr.
---