Ken Boss ex '71 Awarded Honorary Degree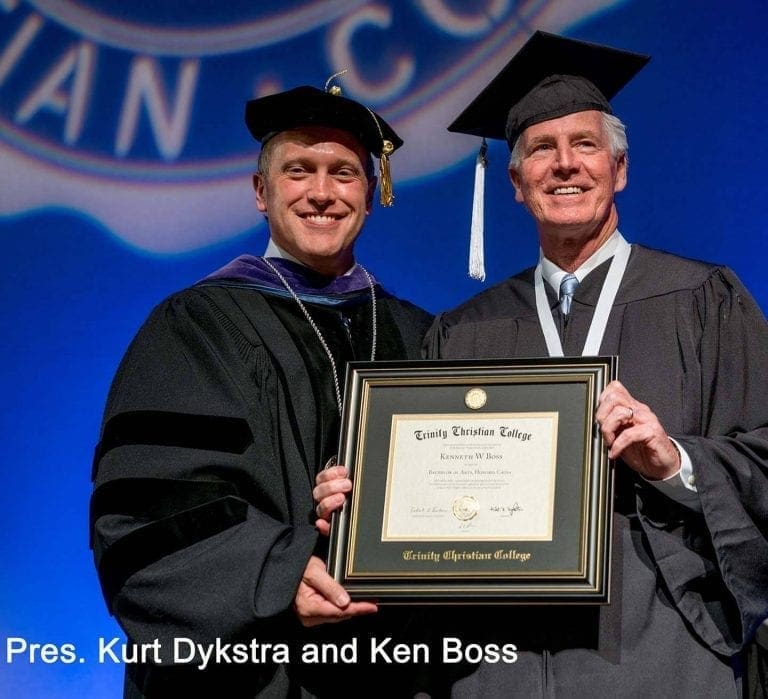 Ken Boss's story with Trinity began in 1967, when he spent a year as a student here. It picked up again in 2001, when he returned to the College as Director of Planned Giving. In between, Boss got married, served in the Vietnam War, raised a family, spent several decades in the insurance industry, and volunteered in many different capacities. Now, as Boss plans to formally retire to a reduced role at Trinity, the College was pleased to present him with an honorary bachelor degree at commencement on May 5.
"To receive this honorary degree is without a doubt the highlight of my professional and academic career," said Boss. "Trinity has given me a place, a purpose, and a position for which I will be forever grateful. Thank you for the opportunity to express my sincere gratitude for the privilege of serving this great community committed to shaping lives and transforming culture."
"When Ken Boss joined us back in 2001, we were looking for a person with a commitment to Christian higher education, focused on Kingdom building, with integrity and a strong work ethic. Ken fit the position perfectly and has given Trinity excellent effort ever since he started. Our planned giving and church relations programs continues to grow and impact the College." Rick VanDyken, VP for Advancement.
Boss was born in the Englewood neighborhood of Chicago and moved to South Holland, Ill., when he was four. He attended Illiana Christian High School, and then enrolled at Trinity in 1967. "It was a very formative year," Boss said. "I came to understand Trinity's focus on developing a worldview and finding my place in God's world."
Boss was interested in computer science, which was not a degree that Trinity offered at the time. So he transferred to a community college his sophomore year, and married his wife Margie in February 1969. That August, he received his draft notice. That December, they welcomed Dawn, the first of their three children. "At that point, deferments had been scaled back," he said. "My faith was challenged, but God had a plan and God brought me home."
When Dawn was eight days old, Boss left for Vietnam. After serving in Vietnam, he completed his tour at Fort Bragg in North Carolina and returned home in 1972. Boss took a job in the insurance industry, where he worked for the next 30 years. Soon, Tina and Eric joined the family.
In 2001, Boss was considering the next steps in his career. He met with Rick VanDyken, then Trinity's vice president for development and executive assistant to the president. "It was an exciting time to be at Trinity. Ozinga Chapel had just been completed, and construction on the Heritage Science Center had just begun," Boss said. "So, I decided to return 'home'." In 2011, he added the roles of major gifts officer and church relations work.
"It's been very rewarding developing relationships, and particularly seeing the impact of scholarships and donors' commitment to estate gifts," he said. "Such gifts allow our faithful supporters to be remembered after they are gone."
In his time at Trinity, Boss said the greatest changes have been the growth in new programs and the addition of facilities. The future will continue to be exciting, with the expansion beyond campus to places such as 1871 in downtown Chicago. "It's been very rewarding to see," he said. "It's also been rewarding to work with such dedicated and talented colleagues in the Advancement Department and throughout the Trinity community."
Boss will gradually wind down his duties at Trinity, switching from full-time to part time work. That will give him more time to spend on his hobbies, such as cycling, hiking, and photography, and his volunteer work, which includes serving as a Stephen Ministry leader. As he and Margie prepare to celebrate their 50th anniversary, he will also have more time to spend with his family, which now consists of eight grandchildren, including one Trinity alumnus Josh Stammis '17.
---