Klein and Contreras Advance in Kennedy Center Acting Scholarship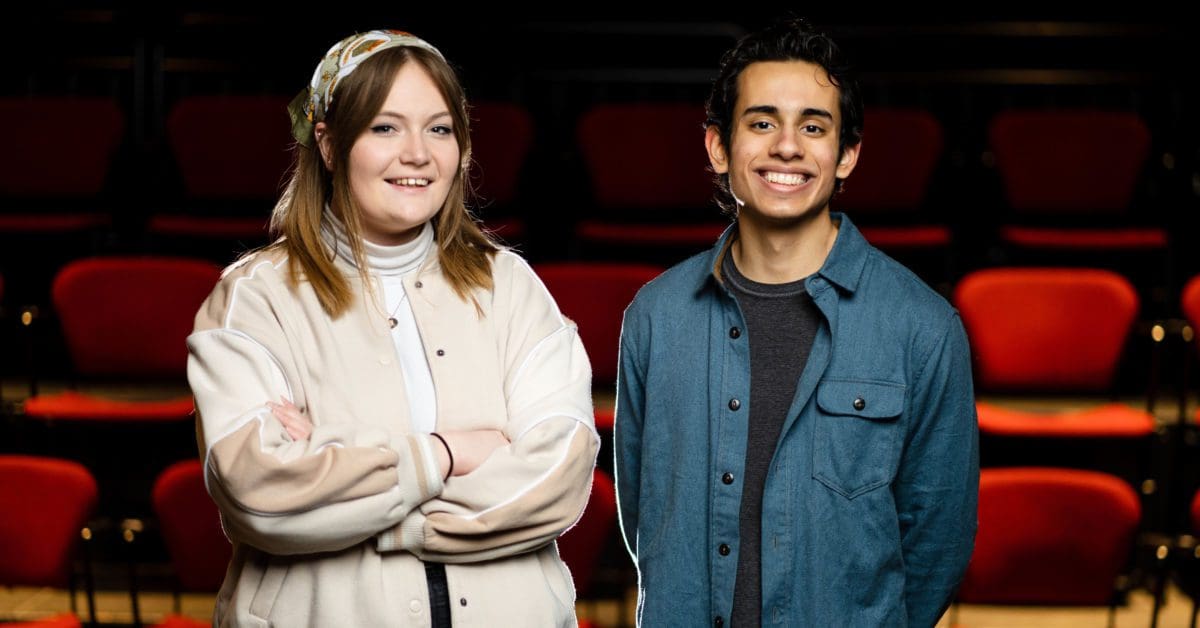 —Patricia Yang '25
Trinity's Theatre Department is delighted to congratulate Adriana Klein '24 and Jacob Contreras '23 on making it to the semi-finals of the Irene Ryan Acting Competition, part of the Kennedy Center American College Theater Festival (KCACTF) in Region 3! The Irene Ryans is a scholarship competition where participants, nominated from different regions, come together to compete. From a number of participants, the judges narrow the competition down to 45 people in the semi-finals, and then 15 people as finalists.
"I am so proud of Jacob and Adriana for their success in the Irene Ryan Acting Scholarship Competition," said Prof. Emma Schneider '19, Trinity's theatre program coordinator.  "This competition is challenging in general, and the fact that it was held virtually this year adds additional difficulty. Adri and Jacob both progressed to the Semi-Final round in the competition– the second and third Trinity students to do so since we began participating in KCACTF in 2016– and were therefore ranked among the 2022 Top 45 Collegiate Actors in the Midwest. This is a huge honor for the students and a fulfilling acknowledgement of our Theatre Program as a whole." 
Schneider told theatre club  students about the Irene Ryans, said Klein, who was part of Trinity's 16th Annual One-Act Plays in the fall. "Usually, participants are nominated, but this year was a self-nomination year. I was able to nominate myself."
Due to COVID, the competition was conducted entirely online through multiple Zoom calls and meetings. They did not judge too harshly on the audio and video production qualities, which Klein said she was thankful for.
It was a challenge for Klein, as she had to remain home for the whole competition. One round in particular involved acting with a partner. "Doing those scenes become a challenge when you can't physically be there to interact with your scene partner," Klein said. Contreras, who recently played the lead role in Trinity's Fall Mainstage Production of "Macbeth," was challenged with the time limit of each round's submission. "You don't want to leave too much time unused but also of course you can't go over time," said Contreras, "So hitting that middle zone was tricky, especially as there's no internal cuts, so if a take was too long, it'd have to be scrapped."
Klein and Contreras shared also some of the things they learned throughout the competition. "I often make facial expression and/or body movements that are subtler/smaller than I intend for them to be. I've had to focus on making my movements and expressions bigger so that they actually pick up for the audience," said Contreras. And Klein shared, "I've learned that the material you pick can impact your energy and passion going into it. I've also learned that just because one person had a certain opinion, they are just one person. They shouldn't dictate the way in which you approach the process in the future."
Both participants thoroughly enjoyed the whole acting competition experience. "Moving onto round 2 was very memorable for me. I wasn't aware that only one other student from Trinity had moved on before, and it was a huge honor that Jacob and I were able to be the second and third," said Klein. As for Contreras: "rehearsing with friends and making it to the semi-finals!"
Along with the acting awards, senior Evie Dykhouse also advanced to the final round of allied design at KCACTF for her makeup design that was featured in "Macbeth."
Discover more about Trinity's Theatre Department and the events they participate in on their Instagram page or contact Schneider at Emma.Schneider@trnty.edu
---