Knight Johnson Named Professor of the Year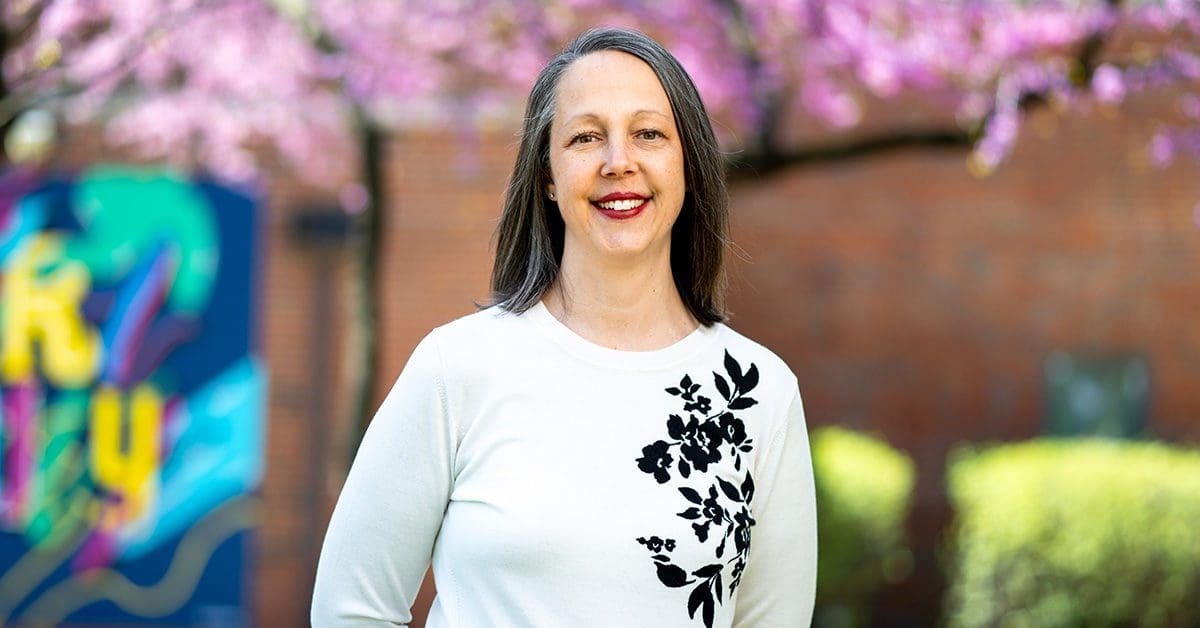 Since 2014, Associate Professor of Sociology and Department Chair Dr. Lenore Knight Johnson has been in the classroom at Trinity Christian College, diligently working alongside colleagues to raise the next generation of leaders and world changers.  Serving as Director of the Honors Program, she has an opportunity to know students more closely, calling her time with them both "inspiring and energizing." Her students use words like kind and compassionate, sharing stories of how Dr. Knight Johnson cares about what is happening in the world around them.
"I want students to have a sociological understanding of the world, where they see their connectedness to others and, therefore, in their work, vocations, and faith. The things they do are not just for themselves but for the good of others, causing everyone to flourish," said Knight Johnson.
Knight Johnson decided to pursue sociology academically and professionally after several valuable cross-cultural experiences. "Studying abroad as an undergraduate student opened my eyes to a much broader outlook on the world, a perspective that expanded significantly through my post-college work in refugee resettlement and immigrant advocacy," she said.
Throughout Knight Johnson's nominations for Professor of the Year, common threads could be seen. "Trinity would not be the same without her…she embodies the values of her discipline, and her commitment to community-based research calls Trinity forward in directions that will only benefit us as an institution," were just a few of the sentiments highlighted by colleagues and students.
One nomination stated, "She loves justice, understands how systems and structures impact individual lives, and offers a compassionate approach to sociological problems. Lenore is masterful in offering hospitality to all students in her classroom, regardless of their political leanings. She pursues collaborative learning with them and supports every student's process along the way."
Dr. Jerome Douglas, Vice President of Academic Affairs, added, "Dr. Knight Johnson loves justice, has a keen sense of the impact of systems and structures upon individuals and community, and offers an approach to sociological problems marked by compassion. In her roles as Director of the Honors Program and former Director of Chicago Connect courses, she has advanced Trinity's vision for place-based learning.  Her commitment to community-based research calls Trinity forward in a way that benefits our students, the College, and the communities around us.  We are deeply grateful for her and the gifts that she shares with Trinity."
Knight Johnson is grateful for her time so far at Trinity, sharing her love for the classroom, the students, and the community. She added, "This is a genuinely collaborative community, and I love having the chance to work with people. This is a community where people want to see others thrive. You are not just navigating this world by yourself – there is a whole network of others alongside you every step of the way."
Knight Johnson will be honored at this year's commencement ceremony on Friday, May 5th, at Ozinga Field in Crestwood, Illinois.
Recent Professor of the Year Award recipients: 
2018: Clay Carlson (Biology) 
2019: Kara Wolff (Counseling and Psychology) 
2020: Yudha Thianto (Theology and Christian Ministry) 
2021: David Brodnax Sr. (History) 
2022: Aron Reppmann (Philosophy)
---