Students and Faculty Attended NCUR 2023 in Eau Claire, WI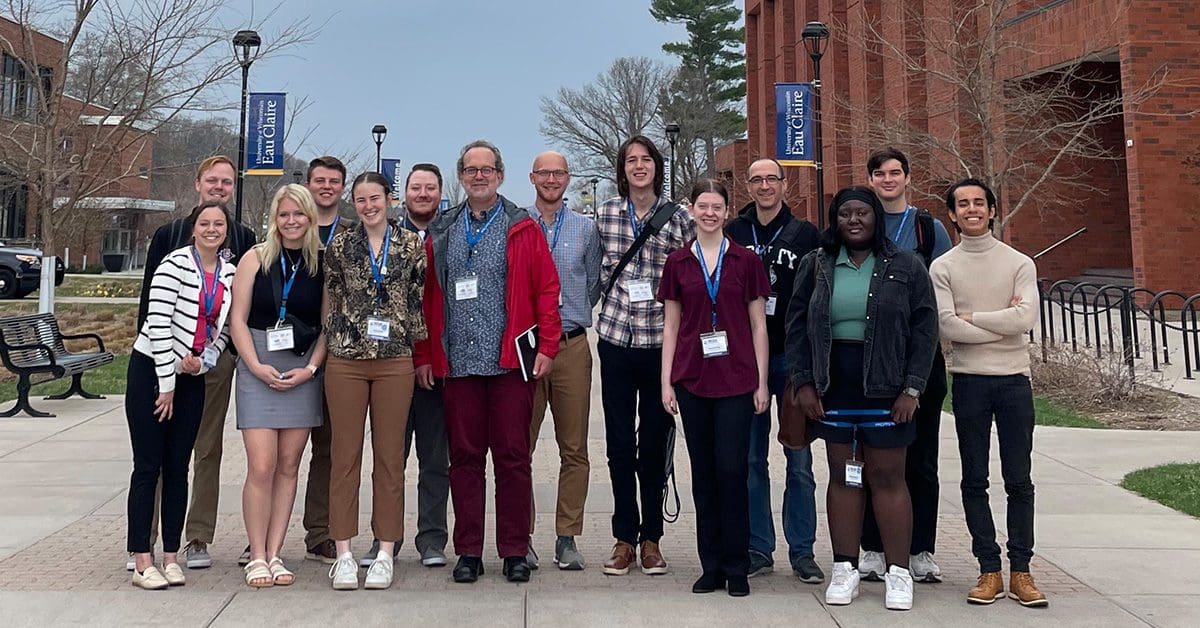 Twenty-three Trinity students and faculty drove five hours from campus to attend NCUR 2023, held at UW Eau Claire, Wisconsin from April 13th – 15th. The trip was led by Drs. Clay Carlson and Aron Reppmann, alongside colleagues Drs. Heng-Yu Chen and Ashley Roberts.
The National Conference on Undergraduate Research (NCUR) is dedicated to promoting undergraduate research, scholarship, and creative activity in all fields of study by sponsoring an annual conference for students. Unlike meetings of academic and professional organizations, this gathering of student scholars welcomes presenters from all institutions of higher learning and all disciplines. NCUR offers a unique environment for celebrating and promoting undergraduate student achievement; provides models of exemplary research, scholarship, and creative activity; and offers student career readiness development. The theme for this year's conference was Research at the Confluence, which represented a bringing together of humanities, artistic endeavors, and the sciences.
The students invited to attend this year's annual event were from diverse majors and backgrounds, representing research from Philosophy, Psychology, Biology, Chemistry, and Physics departments. "The conference was a really great opportunity, not only to share our research but also to learn about what students from other schools are working on," said Kara VanDyke, '23
Each student was able to represent their research and gain experience presenting at a national conference while discussing their research. Individuals who attended each of the student's poster presentations were choosing which research projects they had an interest in, which means the students received targeted and specific questions that dove deeper into their research. Through this type of networking, students had the chance to see how their work fits into the broader field of research being done.
For the faculty in attendance, this is a chance to see the research project in action. "Attending NCUR is a blast and a hugely life-giving experience for the professors, who by this time in the semester can really use an interjection of energy, and NCUR is just that," said Dr. Carlson.
"Throughout the conference, there were numerous opportunities to critically engage with material that we wouldn't have otherwise had access to," added VanDyke. "Even after we left the conference, we kept discussing the different presentations on the car ride back."
Dr. Carlson concluded, "There is so much gratitude all around. Trinity enables and empowers the research to happen, and these students volunteer their time spending countless hours in the lab – the students pour themselves into these projects. Thanks to Trinity and donor funds, I'm grateful that this was made possible for our students again this year, and we hope to continue this tradition for years to come."
Students who were in attendance: Melissa Ballesteros, Michael Bishop, Moriah Blan, Emily Briscoe, Jacob Contreras, Madison Eggert, Jenna Goss, Leah Lisowski, Danyelle Luckett, Damon Pater, Anthony Reppmann, Evan Senti, Martin Sheehan, Kimberly Swomen, Kara VanDyke, and Jaed Vanmaanen.
---