Lessons and Tips from Experience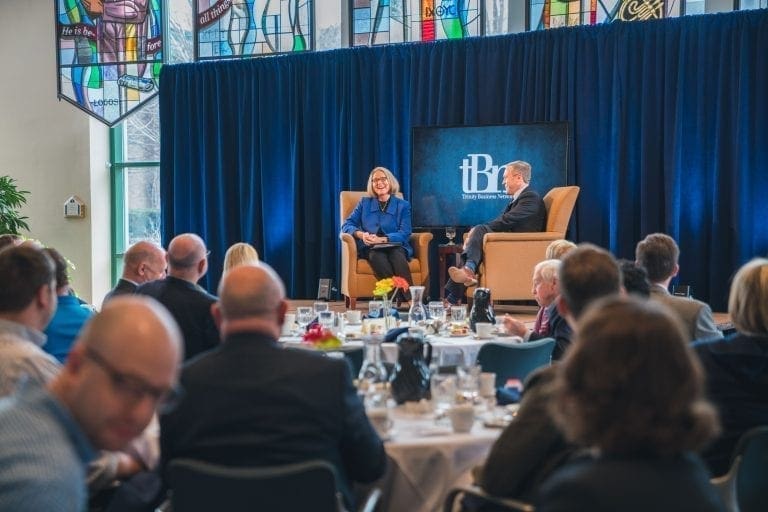 Trinity Christian College was pleased to welcome Mary Andringa, Chair of the Board at Vermeer Corporation, to campus yesterday. Interviewed by Trinity President Kurt Dykstra as part of the Trinity Business Network Luncheon, Andringa gave insight into the Vermeer Corporation and how it has grown to be a global organization and third-generation family-owned company. "At Vermeer, we are driven by a belief that we can make a difference in the world," said Andringa. "Our core group of values consists of people, product, and profit, which are centered by our principles."
Started in 1948 by Gary Vermeer, her father, Vermeer Corporation is based in Pella, Iowa with manufacturing centers in South Carolina, South Dakota, and China, and regional offices in Brazil, the Netherlands, and Singapore. "It takes intentionality to transition between generations," explained Andringa. "Only 30% of family-owned companies continue to the second generation, 11-12% to the third generation, and only 4% to the fourth generation."
Andringa expanded on the key role played by plans and structures for transitions, including a Family Employment Policy that required family members to have a college education, 2-5 years of outside work experience, and a passion for the company. Jason Andringa, her son and engineer, is the current CEO.
Another concept discussed was Vermeer's dedication to lean processes, which seek to eliminate waste in systems and provide continuous improvement, and the company's integration of a faith-based worldview into its mission and workplace environment. "We try hard to integrate faith into our work because that is what we are called to do as stewards for the kingdom of Christ," said Andringa. At the Pella company headquarters, a pharmacy, medical center, chaplains, and training opportunities are available to employees.
Later in the afternoon, Andringa presented to a large group of Trinity students, faculty, and staff in the Marg Kallemeyn Theatre. The presentation featured stories on Vermeer products helping communities around the world from clearing roads after natural disasters to installing fiber cable in remote areas for internet access. As part of the presentation, Vermeer employees brought in a pink Mini Skid Steer that Andringa affectionately called 'Susie'. Following the presentation, Andringa fielded a variety of questions on topics such as free trade and the job market within the manufacturing industry.
View photos of the events.
---