Lilly Endowment Grant Bolsters Meeting at 1871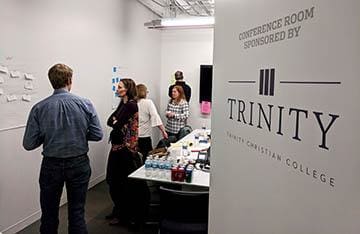 Trinity faculty, staff, and alumni recently gathered at 1871 to think of new, innovative, and creative ideas that fulfill our mission as we serve our graduate & adult students!
Dean Rhoda Mattson recently received the Lilly Endowment Grant from Duke Divinity and Foundations of Christian Leadership that funded this first meeting. "I've been honored to participate in the Christian Leadership training and development, and it's exciting to bring the ideas and strategies back to Trinity's campus and to work with the gifted colleagues here to better serve our adult students," said Dean Mattson.
Trinity is only the seventh University Partner at 1871 in downtown Chicago, the world's top university-affiliated startup incubator.
---