Trinity Tuesday Giving Exceeds Goals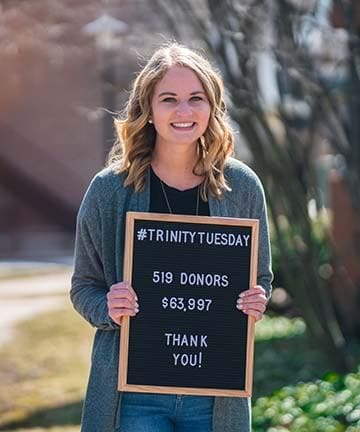 Trinity called, and Troll Nation answered! Thanks to the generosity of alumni, students, parents, grandparents, friends, faculty, and staff, the College met and surpassed giving goals for the annual Trinity Tuesday event.
During the 24-hour fundraising campaign on March 13, 519 donors responded with $63,997 in giving. That exceeded last year's very successful campaign, when 448 donors participated in raising $55,740.
"Once again, the Trinity community has expressed its love and support of the College in a tangible way," said Rick VanDyken '83, vice president for advancement. "The quality of education that Trinity students receive can be attributed in many ways to those who generously support the College's mission, and we are grateful for all of our partners."
Among the highlights of Trinity Tuesday 2018:
–Generous donors provided 14 match opportunities throughout the day to encourage others to participate
–Student giving was up significantly this year
–The class of 2014 was, once again, the class with the highest number of donors
–The class of 2003 was the class with the highest dollar amount given
–Donors from 23 states and Canada responded
Thanks again to everyone who participated. To learn more about Trinity Tuesday, click here.
---