Alumni Update: Mariah (Nelesen) Slenk '20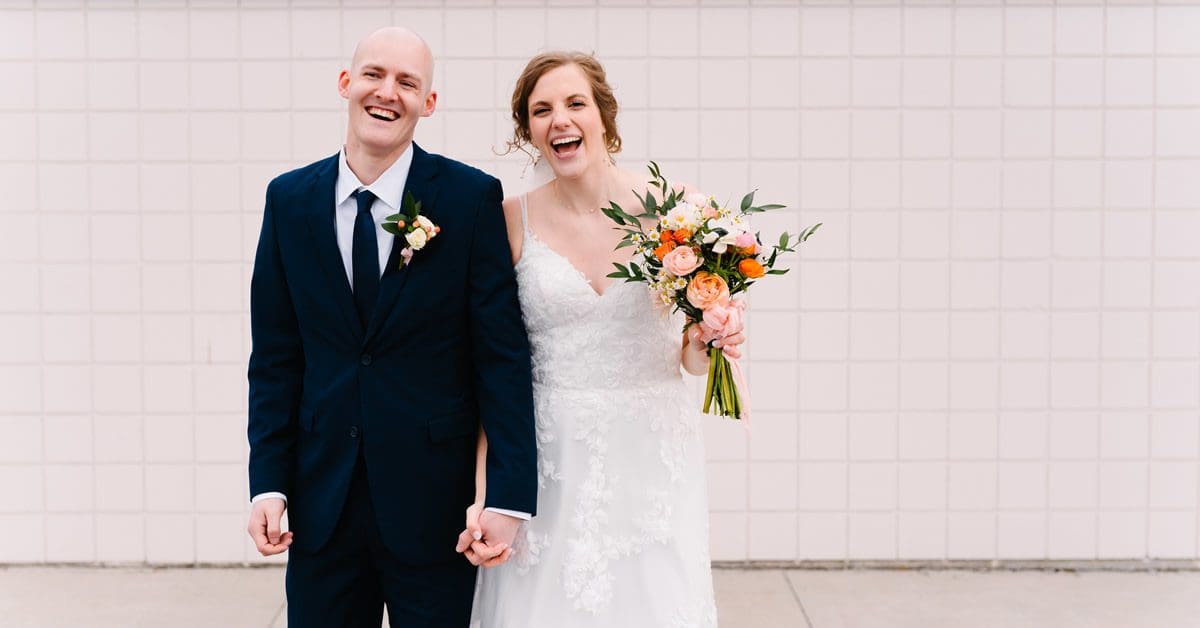 By Christy Wolff '10
Over the past two and a half years, Mariah (Nelesen) Slenk '20 has experienced the body of Christ surrounding her like never before. Through several difficult medical diagnoses and the Covid-19 pandemic, Slenk knew she could trust her friends, family, and the Trinity community to support her when she needed it the most.
In February 2020, just months away from graduating from Trinity with a degree in graphic design, Slenk was hit with intense chest pain which soon spread to her back. After learning about these symptoms, her parents (Pastor Marc '91 and Tracy '92) back in Michigan urged Slenk to go to the hospital. Ten years prior, Slenk's mom had experienced an aortic dissection – a serious condition which causes a tear within the aorta, compromising the blood flow. Worried about their loved one, Slenk's parents and boyfriend, Clay, at once drove from Michigan to Illinois to provide their support.
"My parents understood what was going on, but I didn't quite know – I just remember being really scared," Slenk recalled.
After a CT scan and test of her heart, her greatest fear was realized: It was determined that Slenk was also experiencing an aortic dissection.
Surgery became an option to help repair the tear, but the doctors were not sure how Slenk's body would react to surgery considering how fragile she was. At this point, she could not even walk. They decided not to do surgery and instead placed Slenk on strict bed rest.
Questions began filling her head: Will she walk again? Will she be active like she was before? Will she finish her senior year?
That is when the Covid-19 pandemic shook our world. Trinity decided to move classes online for the rest of the semester, which turned out to be a blessing for Slenk. "I thought I would have to finish the semester online by myself, but all of a sudden we were all in the same boat, finishing our courses online," Slenk shared.
With graduation behind her and focusing on recovering at home, Slenk set her sights on graduate school. She was accepted into the graphic design graduate program at the University of Illinois Chicago and was also awarded a fellowship which included a financial scholarship and the potential to have a teaching assistantship as well. "This was good news amidst a really challenging time of recovering at home," Slenk recalled.
Following Slenk's first semester of graduate school, Clay proposed at a park with their family hiding in cars nearby, waiting to express their excitement – and the couple began dreaming about their wedding.
Fast forward to the summer of 2021. "At this point, I had recovered well from my dissection. I still had limitations, but I was finally getting back to normal."  By the time the dreary days of winter came around, Slenk had gone through months with back-to-back surgeries after other medical diagnoses and was recovering well, when she received a phone call on January 11, 2022, that would once again shake her world. She had cancer.
Eight short days later, Slenk's fiancé ended up in the ER because he was not recovering from a bout with pneumonia. The phone rang In the middle of the night, and it was Clay's mom calling to share the overwhelming news – Clay was diagnosed with leukemia.
"I was in shock," Slenk recalled. "I thought there's absolutely no way this is possible and that there has to be some mistake."
In the weeks and months that followed, both Slenk and her fiancé underwent chemo, surgeries, and, in Clay's case, a stem cell transplant. "We're on a journey that a lot of people don't understand unless they've been through it, so it's created a stronger bond between us."
Shortly after receiving her diagnosis, Slenk received text messages from the art professors at Trinity checking in and seeing how she was doing. "To wonder where God is and then to see Him so clearly through other people has been amazing. That is how we have seen God work the most, through His people who care about us, love us, and lift us up."
Because of their treatment plans, the couple decided to move their wedding up. On April 9, 2022, Clay and Mariah Slenk wed at a small, intimate ceremony in Zeeland, Michigan. "We agreed to forget about cancer for a little while and just enjoy this time of getting married."
Slenk recently underwent her fifth of six chemo treatments, and her blood work showed that the tumor marker the doctors have been following is coming down. "I can finally see the finish line." Her husband is recovering well since his transplant and has had minimal side effects.
Slenk is hopeful for her future and the opportunities that await her, including finishing her master's program. "We know that God has been so faithful, even when it has been difficult to see. When Clay and I have not been able to pray, we know there have been other people praying and lifting us up when it has been challenging to talk to God. It has been a beautiful picture of the body of Christ – that is what we are called to be."
---