Mattson Publishes Book on Social Entrepreneurship Communication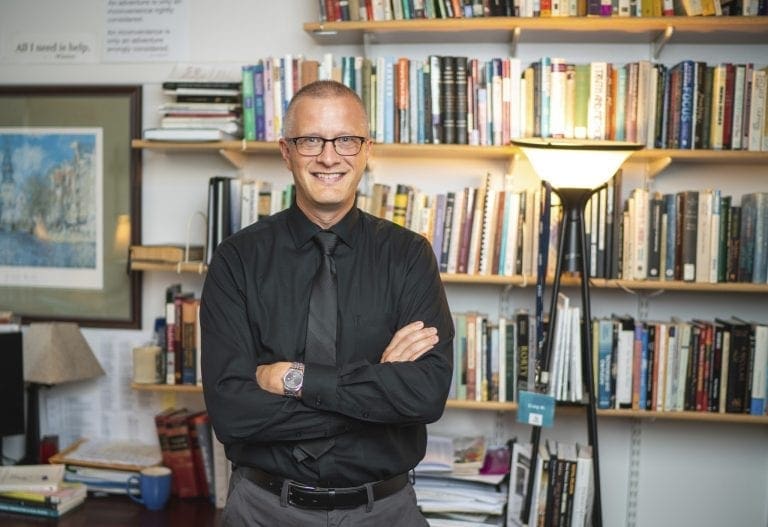 For social entrepreneurs, messaging and action need to be woven together, according to a new book by Dr. Craig Mattson, Professor of Communication Arts and Honors Program Director. Mattson's book, Rethinking Communication in Social Business, was published in August of this year.
Mattson has been studying social entrepreneurship, or companies that take a business-focused approach to social problems, since 2007, when a student first asked about Product Red in a rhetorical criticism class. Subsequent faculty/student research on Bono's campaign to harness the power of people and companies to fight AIDS in Africa led to Mattson's own researching and writing articles on the topic of business-driven problem-solving.
But it was a big jump to go from writing individual essays to taking up a book project. He credits several colleagues with encouraging him to write a book about the topic, including Professor of English Michael Vander Weele and Professor of Philosophy Aron Reppmann. In October 2016, while preparing for his sabbatical, the prospective for his book was accepted by Lexington Press. He drafted much of the book while on sabbatical in the spring and summer of 2017. "I do feel like this was really a Trinity project," says Mattson. "It came about from conversations with students and colleagues, and it represents the entrepreneurial spirit on campus."
As part of his research for the book, he interviewed Chicagoland social entrepreneurs, including Laura Zumdahl '02, CEO of New Moms. "I wanted the project grounded in the experience of practitioners in the field," he noted.
The book examines social entrepreneurial businesses of all sizes, from large companies like Warby Parker and TOMS, to smaller operations like Clean Slate and Zumdhal's Bright Endeavors. According to the book, "These companies respond not only to a felt proliferation of humanitarian and environmental predicaments, but also to enormous shifts in in public feelings and technological sensibilities. These predicaments make social entrepreneurships urgently needed and remarkably complicated. But if social entrepreneurs deal with that complexity with a business-as-usual approach to making the world better—imitating, for example, corporate social responsibility initiatives by transnational companies—they will lose their vital distinctiveness and efficacy."
In his book, Mattson attempts a transdisciplinary perspective, using close rhetorical analysis and qualitative interviews with social entrepreneurs, in order to argue that one good way to keep social business disruptive is to rethink how organizations model their communication. Most companies assume something like an information-systems model of communication, tidily organized around the relations of senders and receivers. But social entrepreneurship often enacts a performative model of communication that weaves effective messaging and affective investment.
Mattson said he enjoyed the book process so much he is crafting a proposal for another book—this one focused on the religious dimensions of social business.
---