Mock Trial Team Finds Success in its Inaugural Season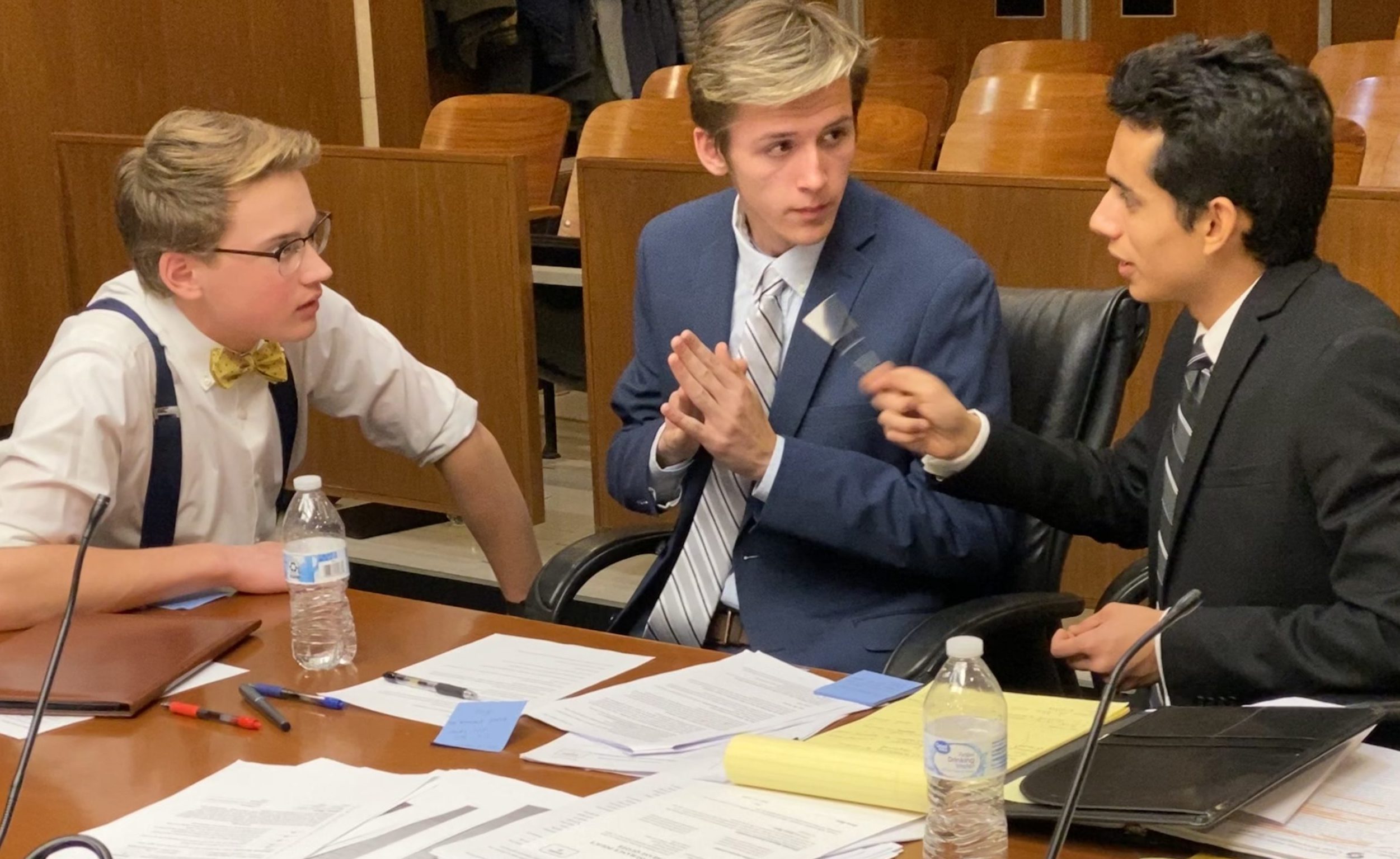 Trinity may be new to the world of college mock trial competitions, but the team has already made an impression during its first season. Trinity students notched several wins in tournaments against larger colleges and universities with more established teams.
Not only is the team new to the college, most of the students who participated had never done mock trial before. But with the support of professors, alumni, and others, a determined group of students was able to build the team from the ground up and position it for even greater success next year.
Before beginning his freshman year at Trinity in the fall, Jacob Contreras '23 was already exploring how to create a team on campus. Contreras had done mock trial at Chicago Christian High School in Palos Heights, Ill., and wanted to continue here. "Before school began in the fall, I started asking if people would be interested in participating," he said. That included conversations with Tony Reppmann '23, the son of Trinity's Professor of Philosophy Aron Reppmann, Ph.D., and roommate of Damon Pater '23. Dr. Reppmann became an early supporter of the team, and Pater quickly agreed to take part.
Pres. Kurt Dykstra provided encouragement as well, and Contreras and Pater set up a booth at Trinity's Involvement Fair, which takes place early in the school year and is a way for students to learn about  activities and opportunities on campus. They received enough interest to continue exploring the logistics of formally competing.
Peter VanderWall '23 was one of the team's first members. "I came to Trinity for Founders' Scholars Weekend last year, and even then, all Jacob talked about was a mock trial team," he said with a laugh. "I went to the first meeting and was completely intrigued," said VanderWall.
In mock trial competitions, two teams play the roles of the lawyers and witnesses in a fictional court case. One team portrays the lawyers and witnesses for the prosecution, while the other team represents the defense side. Practicing attorneys and judges serve on panels that award points and determine the winner.
For Pater, mock trial was similar to the public forum debates he participated in during high school. VanderWall, an entrepreneurial management major, said he was attracted by the innovation and opportunities he saw in mock trial. In fact, Assistant Professor of Business Omar Sweiss is the faculty advisor to the mock trial team, and Assistant Professor of Business John Wightkin has also offered assistance.
Several members of the team have a background in theater, which is particularly helpful for those playing the witness roles, Contreras said.
Despite the early interest, Pater was skeptical that the team would be prepared to compete against more seasoned opponents from colleges such as the University of Chicago, the University of Kentucky, and Wheaton College. "Honestly, there seemed like really insurmountable challenges," he recalled. But every time the team came across an obstacle, someone was able to find a solution. That included team members who work for Trinity's Physical Plant and knew the process for obtaining college vans for transportation. "Everyone stepped up, even starting at the first meeting. From the beginning, it has been a group effort for people who took this dream and made it their own."
Several alumni also generously volunteered their time and insights to help the team prepare for tournaments, including Stephen Vander Woude '01, an attorney with Lanting Paarlberg & Associates; and Charley Boonstra '09, who is currently in charge of the office of prosecutors at the Lee County, Ill., State's Attorney's Office.
"This is a great example of our alumni giving back to Trinity using their unique gifts and experiences," said Jeremy Klyn, Director of Alumni & Family Engagement. "Through our TrollNation Network, we are excited by the unique opportunities like this where our alumni, parents and friends can make a difference in the lives of current, prospective and future Trolls!"
Ultimately, about 15 students took part in at least one of the team's competitions. The team traveled to tournaments in Indianapolis, Minneapolis, Pella, Iowa, and Wheaton, Ill., and took part in a scrimmage against Loyola University Chicago. The season's highlights include winning 2.5 ballots during the recent regional competition at Wheaton College. At the team's first tournament, Contreras won two top attorney awards, one for prosecution and one for defense–the only attorney in the entire tournament to win both awards.
The team is already looking forward to next season, and Contreras is optimistic that Trinity may be able to support two mock trial teams in competition. "The Lord has something really special shaping up with this mock trial team," he said.
---