NASA's Allen Delivers Annual Freshman Lecture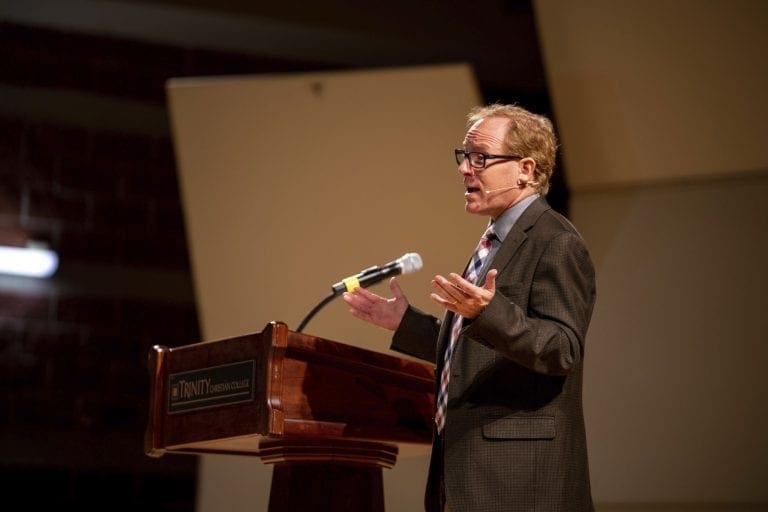 We all bear the image of God's design, and we worship when we fulfill God's purpose, this year's Freshman Lecture speaker Blair Allen told Trinity first-year students, visiting high school students, and others in attendance in Ozinga Chapel Auditorium on Monday.
Allen, who is the senior producer and co-host of NASA Edge, a video podcast for NASA, discussed a range of topics during the lecture, including what it is like to be a Christian working for a science-based government agency like NASA, stories about the space agency's current and past projects, and his experiences during the 2017 total eclipse.
"Two aspects of my job are informed by my Christian faith," said Allen. "That is my role as a scientist, and my role as a producer."
Reconciling faith and science can sometimes be challenging, he said. "As a government agency, NASA is agnostic—pun intended," he said. "Sometimes, many people struggle with the theories and pre-suppositions involved in NASA's work." In his role as a producer of NASA Edge, he often has to make complex concepts and projects understandable to a general audience. "I have a responsibility to give NASA's scientists and engineers the opportunities to tell their stories."
Allen reminded the audience that we are explicitly created for work and discussed the similarities between the mission of NASA and the Creation story. According to the agency, its mission is to "[d]rive advances in science, technology, aeronautics, and space exploration to enhance knowledge, education, innovation, economic vitality and stewardship of Earth." The first chapter of Genesis describes God's charge to Adam and Eve, including the 28th verse: "God blessed them and said to them, "Be fruitful and increase in number; fill the earth and subdue it. Rule over the fish in the sea and the birds in the sky and over every living creature that moves on the ground." [NIV]
Allen was introduced by Professor of English Mark Jones, Ph.D., who has known Allen since they attended Covenant College as undergraduates.
Following the lecture, several groups of students visited Adler Planetarium in Chicago with Allen.
Trinity's annual Freshman Lecture enriches the core experience for freshman students by engaging them in a challenging but enjoyable learning opportunity outside the classroom setting.
---