OPUS Returns to Campus with Celebration of Scholarship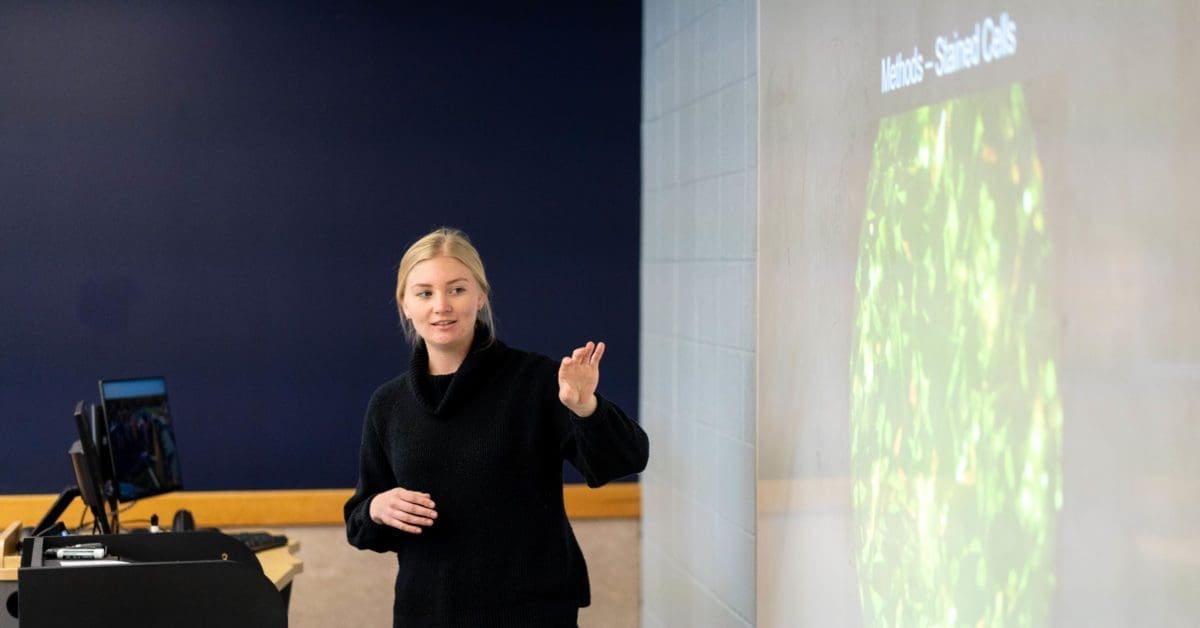 The theme for this year's OPUS was "Back to the 2000s." And as the Trinity community took a blast to the past to celebrate scholarship, the April 20 event also marked a return to fully in-person activities after two years of COVID-related restrictions!
From the traditional opening parade to GRUMPUS, OPUS for graduate students, to the closing Outcry, the day included fascinating presentations, wonderful performances, the friendly competition of the presentation showdown, snacks, a dunk tank to benefit Ukraine, and so much more.
And students were excited to participate! According to Sarah Hoeksema, OPUS Co-Chair and Circulation & Access Librarian, this year's OPUS featured more than 50 presentations, with 32 presentations participating in the competition. In 2019, the last 'normal' OPUS before COVID, there were 38 presentations, with 23 presentations participating in the competition. "We are thrilled with these numbers!" said Hoeksema. Since most of the students on campus had never experienced a traditional OPUS, the OPUS Committee worked with professors to encourage student participation and excitement. "These numbers are certainly a testament to our faculty and their impact on student learning," she said.
Winners of competitions were also recognized.
Literary Arts Competition
Fiction
1st place: Lauren Cox, "Unknown Answers"
2nd place: Patricia Yang, "Sleeptalking"
3rd place: Patricia Yang, "Co-Host"
Non-Fiction
1st place: Charlotte Hensel, "Sovereignty in Dimensionality"
Poetry
1st place: Njoki Mukuria, "This is Nairobi"
2nd place: Sarah Koese, "The Power of a Hymn"
3rd place: Anthony Reppmann, "Monkey 31"
Music Competition
Instrumental
1st place:    Elyssa Peters (viola)
2nd place:    Jared Peters (piano)
3rd place:    Mateo Arredondo (flute)
Vocal
1st place:   Ryan VanGlist
2nd place:   Olivia DeJong
3rd place:  Miracle Thurman
Ensemble
Sara Roozeboom & Jared Peters

Art & Design Competition
Graphic Design
1st place: 2021 OPUS Festival Design, Ryan Van Gilst
2nd place: Exhausted, Ryan Van Gilst

Printmaking/Photography
1st place: Materiality Studies, Raeann Fopma
2nd place: Glass Looking, MJ Huizenga
3rd place: California Dunes, Aubrie Vredevoogd
Sculpture/3D
1st place: Cigarette Butts, Yuri Coleman
2nd place: The Grind, Izzy Neibert
3rd place: The Nose, Izzy Neibert
Drawing/Painting/Mixed Media
1st place: Hands on Behavior, Cassidy James
2nd place: Uncommon Tropes, Jonah Mudlaff
3rd place: Complementary Sketch, Shannon Simpson
Best in Show
Creative Burnout, Raeann Fopma

Climate Care Competition
Moriah Blan and Leah Lisowski:  A BRAZILlian Reasons to Care About the Climate

OPUS Presentation Showdown
1st place: Anthony Reppmann. Called by His Name: Lil Nas X and LGBTQ+ Christianity
2nd place: Arneet Garcha. A Path Towards Sustainability, Boulder Colorado
Honorable Mentions
Alexis Langellier. Poetry for Mathematics Education
Elyssa Peters, Njoki Mukuria, Kaitlynne Laverell. Deeper than the Surface
Ranita Luhur. Paradoxes of wealth and power: a philosophical proposal for healthy economies
This year's OPUS also featured GRUMPUS, the graduate program OPUS.  "We decided to present in a poster format this year, which was very well received by attendees," said Dr. Deb Majewski, OPUS Co-Chair and Associate Professor of Psychology and Counseling.  "They all did Trinity education and counseling programs proud!"
The Trinity Christian College community is grateful to alumni Yvette Madany ('85) and Peter Madany ('82), who generously provided financial support to underwrite expenses for OPUS 2022.
Check out some of the amazing presentations and learn more about the history of OPUS here.
---