Peters Edits Book on J. S. Bach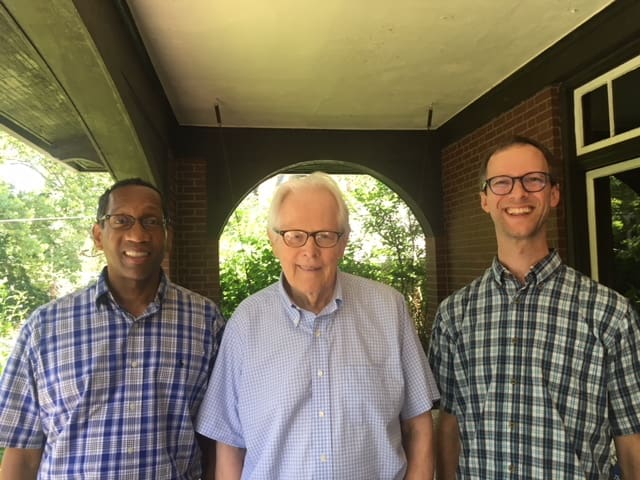 L-R: Reginald L. Sanders, Don O. Franklin, Mark Peters
In honor of his mentor, Trinity's professor of music and department chair Mark Peters, Ph.D., has co-edited a collection of essays on J. S. Bach's sacred vocal music, as well as contributing a chapter.
Peters said he edited the book, Compositional Choices and Meaning in the Vocal Music of J. S. Bach, with his friend Reginald L. Sanders, professor of music at Kenyon College, as a way to honor his dissertation advisor, Don O. Franklin, emeritus professor of music at the University of Pittsburgh and a past president of the American Bach Society.
"It was fun to work with Reggie on this project," Peters said, "and we're thankful for the work each of the authors put into it."
The 17 essays in the book explore Bach's vocal compositions, including his Passions, Masses, Magnificat, and cantatas, with a particular emphasis on broader cultural, social, historical, theological, and musical trends at the time. Peters's chapter is titled "Death to Life, Sorrow to Joy: Martin Luther's Theology of the Cross and J. S. Bach's Eastertide Cantata Ihr werdet weinen und heulen (BWV 103)." The book, published by Lexington, is part of the series "Contextual Bach Studies," edited by Robin A. Leaver.
The process of getting the book published was a lengthy one that involved working with authors from around the globe, said Peters, who finished final edits during his sabbatical in Indonesia earlier this year. "It was a busy sabbatical," said Peters, who chronicled his time in Indonesia on his blog, with a laugh.
The book is divided into four parts: Bach's Vocal Music in Theological Context; Analytical Perspectives; Bach's Self Modeling: Parody as Compositional Impetus; and The Reception of Bach's Vocal Works. "This helped to shape the book as a unifying volume," he said.
Peters and Sanders divided editing duties, and each translated a chapter from German to English, as well as co-writing the preface.
While Bach is his primary area of study, Peters has a range of musical interests. Earlier this year, he authored the chapter "U2 and the Art of Being Human," in U2 and the Religious Impulse: Take Me Higher, edited by Scott Calhoun.
---