Record Breaking Year for Annual Alumni Golf Outing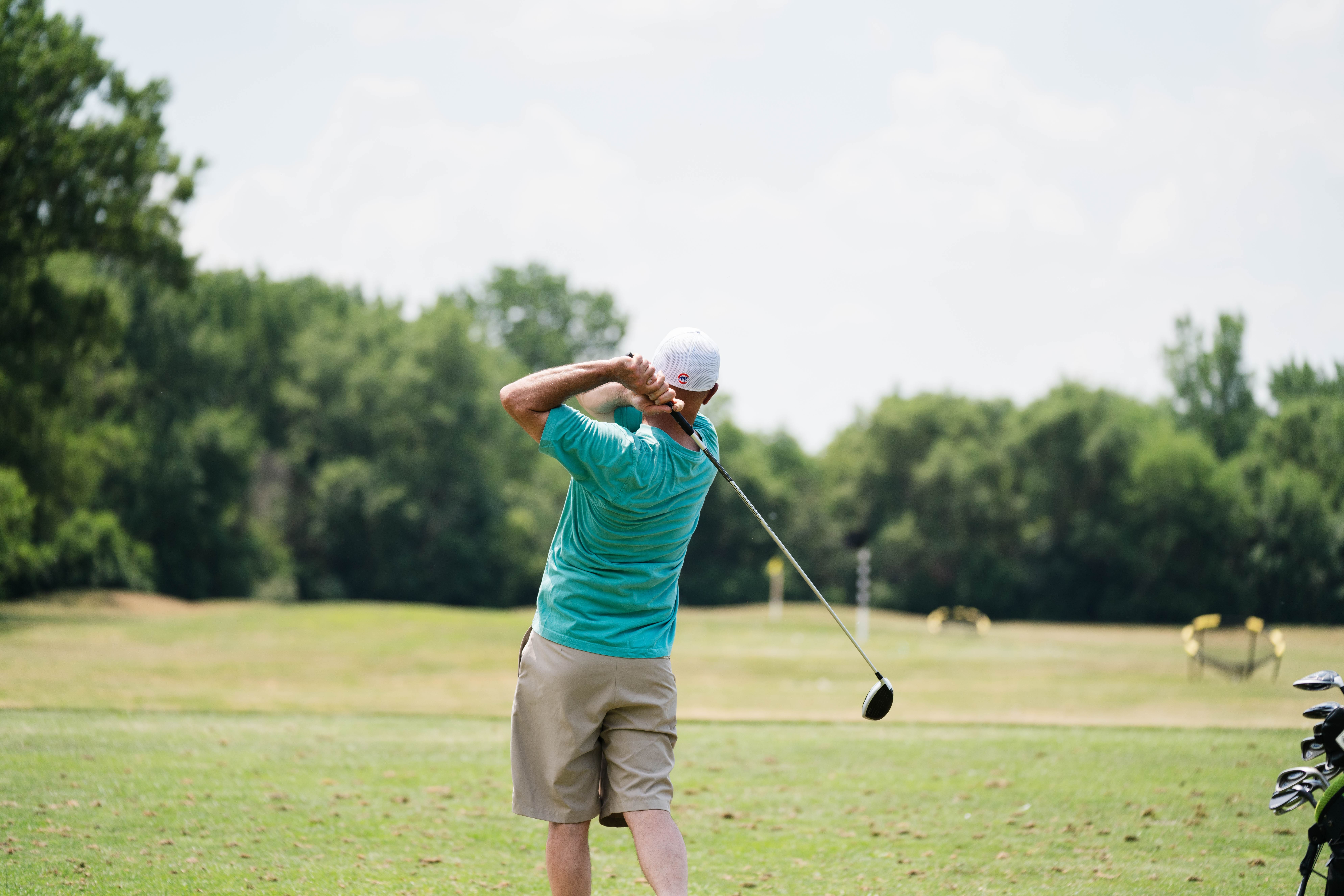 It was a beautiful day for a golf outing on June 11 and a record number of participants in Trinity's annual Alumni Golf Outing took full advantage of it, raising funds for scholarships while having a great time with new and old friends! 
"Thank you to everyone who participated in, sponsored, or volunteered at our annual Alumni Golf Outing to help raise money for alumni scholarships," said Director of Alumni and Family Engagement Jeremy Klyn '02. "We were blessed with a record number of golfers at the event and were able to raise approximately $13,000 in scholarship funds, our largest amount in the past five years. God is good!" 
Andrew Kowitz '20 was one of the attendees, and it was his first time at the event, which was held at Water's Edge Golf Club, the College's home golf course. "It was a great opportunity for me to get together and enjoy a full day of golf on a beautiful course with some of my friends," he said. "However, it also supports a good cause through the scholarship to support students like we ourselves were recently. It was great to see people, reconnect, and enjoy the day."   
Eric Henley '12 not only had a great time golfing—he also approached his company, Gallagher, about serving as a sponsor. The insurance company, where Henley works as area vice president, health & welfare, agreed to sign on. "I was excited to have Gallagher sponsor a hole for a couple of reasons. Selfishly, it's always cool to see your company out there supporting your personal network. But also, Gallagher has been hosting a lot of business students over the years," he said. "Now that an alumnus is working at Gallagher, it was long overdue to highlight that partnership, and I am proud to be reinforcing that bridge." 
Alumni Helping Next Generation 
And amidst all the fun and support, the focus remained on supporting scholarships for children of Trinity alumni. And recipients were happy to express their appreciation.  
Andrew Deblecourt '25, a recipient of the Alumni Excellence Scholarship and the son of David '95 and Emily (Kiekintveld) Deblecourt '98, said that he chose Trinity because of the opportunities it offers in different areas. "The study abroad program is highly regarded, the proximity to Chicago gives me many opportunities for internships, and Coach [Bob] Brickman and the track/cross team offer me great opportunities to grow as an athlete," he said. "I am very excited to attend Trinity in the fall." 
Sydney DeVries '24, daughter of Michael and Rachel (White) DeVries '97, MA '21 said that Trinity has allowed her to grow in her faith and trust where God is leading her as a nursing major. "Through Trinity, I've been able to pursue a calling to do everything to God's glory while helping people at every stage of life," she said.  
In talking with participants at the event, DeVries shared her experience as a freshman at Trinity in a virtual environment because of COVID-19 restrictions. "As the days grew closer and I saw that I would have to learn from home, I became worried. Would I make friends? Would I even feel like I was at college? Would I be able to learn everything this way? Was it worth it to still go to Trinity? Would it ever feel normal again to go to school?" But all of her concerns were quickly put to rest.  
"Yes, I would make friends. That first day of Thrive brought me into a Zoom call with people who were also learning online. We went into breakout rooms and quickly found things in common in our group," she said. 
DeVries said online learning went well, too. "The professors at Trinity went above and beyond for all their in-person students and all their virtual learners," she said. "They answered questions in a heartbeat, called on students to answer from around the world, and they always made sure everyone was actively involved, seen, and heard." 
Trinity became home for her, and she thanked all the participants in the golf outing for helping to make that possible. "Because of you all here today, I was able to thrive at Trinity and will be able to thrive at Trinity in the coming years. I am forever grateful that because of your generosity, I am able to be here and to grow spiritually and academically as a nursing major so I can give back and help those around me in the future. Thank you!" she said. 
Every year, Trinity's Alumni Board awards up to four renewable scholarships to the children of alumni to help them enroll at the College. If you would like contribute to the scholarship fund to help students like Andrew and Sydney, you can make a gift on our website, with a designation to the Alumni Scholarship Fund. To learn more about Trinity's 11,000-plus alumni, and all the opportunities for connections and giving back, visit our Alumni page. 
Event Sponsors 
The outing could not have been successful without all the support of many generous sponsors! Thanks to everyone who contributed.  
Gold Level 
Ozinga 
Van Drunen Farms 
Futureceuticals 
Assurance Agency 
Silver Level 
Providence Bank & Trust 
Chris and Jamie '00 Stephenson 
Bronze Level 
Proven IT 
Colonial Chapel 
Homewood Disposal Service 
BHG Brad Ericks 
ECF Wealth 
Golf Ball Sponsor 
Schaaf Window Co. 
Lunch Sponsor 
E&R Towing 
Dinner & Beverage Sponsors 
El Famous Burrito 
Extract Juicery 
Legacy Insurance Group 
Hole Sponsors 
Schepel Auto Group 
Steve Vander Zee 
Coldwell Banker Realty 
Caleb Jonkman '18 
Jared Jonkman '21 
E&R Towing 
Silva International 
Aspen Group 
PDJ, Inc. 
In His Image Fine Art 
Clarence Davids & Co. 
ECF Wealth 
Schaaf Windows 
Interiors for Business, Inc 
Gallagher 
---