Reppmann Named Professor of the Year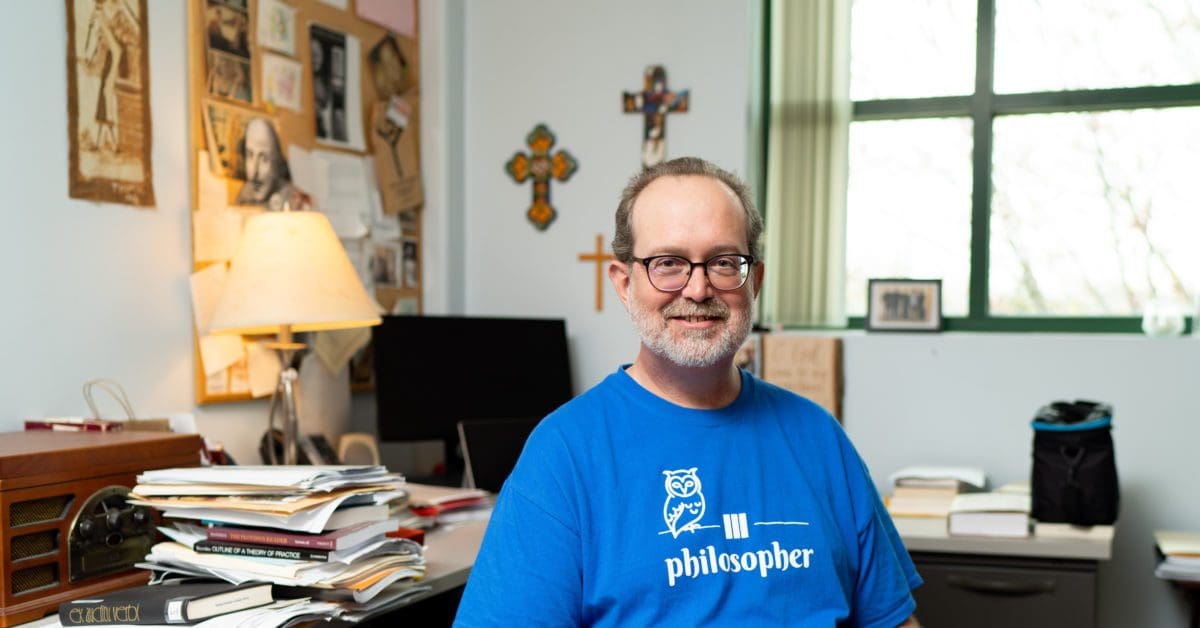 Dr. Aron Reppmann '92, Professor of Philosophy and Department Chair, doesn't require his students to use any of his titles in the classroom. But if they want to use one, his favorite is "professor." And that makes being named Trinity's 2022-23 Professor of the Year particularly meaningful, he said. 
On the first day of each class, Reppmann tells students he prefers to be called by his last name only. "If they want to use the honorific 'doctor,' they can. It's a deep honor and it took a long time to achieve. But it reflects a one-time achievement. The honorific I prefer is 'professor,' since being a professor is my calling," he said. "This is a deep honor and I am striving to live up to it and in to it." 
Reppmann's many nominators for the annual award agree that he is changing the lives of students through his calling. Said one student, "He has provided patience, kindness, accommodation, intelligence, and mentorship (just to list the few of many) in every aspect of my life. I would not be graduating this semester without his support." 
Said another nomination, "He brings out the best in students and encourages them to strive for success. He is the paragon of what it means to be a Trinity professor." 
Another nomination cited how he pushes each student to be the best version of themselves while also reminding they to stay true to who they are. "He has served in giving us the tools we need to flourish, provides a safe and welcoming space for all, and empowers us."
 
Other nominations cited Reppmann's deep ties to Trinity and how he is "an institution within this institution," where he is an alumnus, a professor, and the parent of a current student. Reppmann noted that he has been a Trinity Troll  for 35 years and a faculty member for 25 years. After earning his undergraduate degree in philosophy from the College, Reppmann received his M.A. and Ph.D., from Loyola University Chicago.  
Reppmann was honored at Trinity's commencement on May 7. He said he is also looking forward to speaking at Convocation in the fall. "I'm looking forward reflecting on where we are in this time of our communal life." 
He insisted he is not a "special unicorn" and pointed to his many dedicated and deserving colleagues. "This award represents the values that Trinity professor all uphold together," he said.   
Recent Professor of the Year Award recipients: 
2017: Michael Vander Weele (English) 
2018: Clay Carlson (Biology) 
2019: Kara Wolff (Counseling and Psychology) 
2020: Yudha Thianto (Theology and Christian Ministry) 
2021: David Brodnax Sr. (History) 
---