Trinity Honors Graduates at Commencement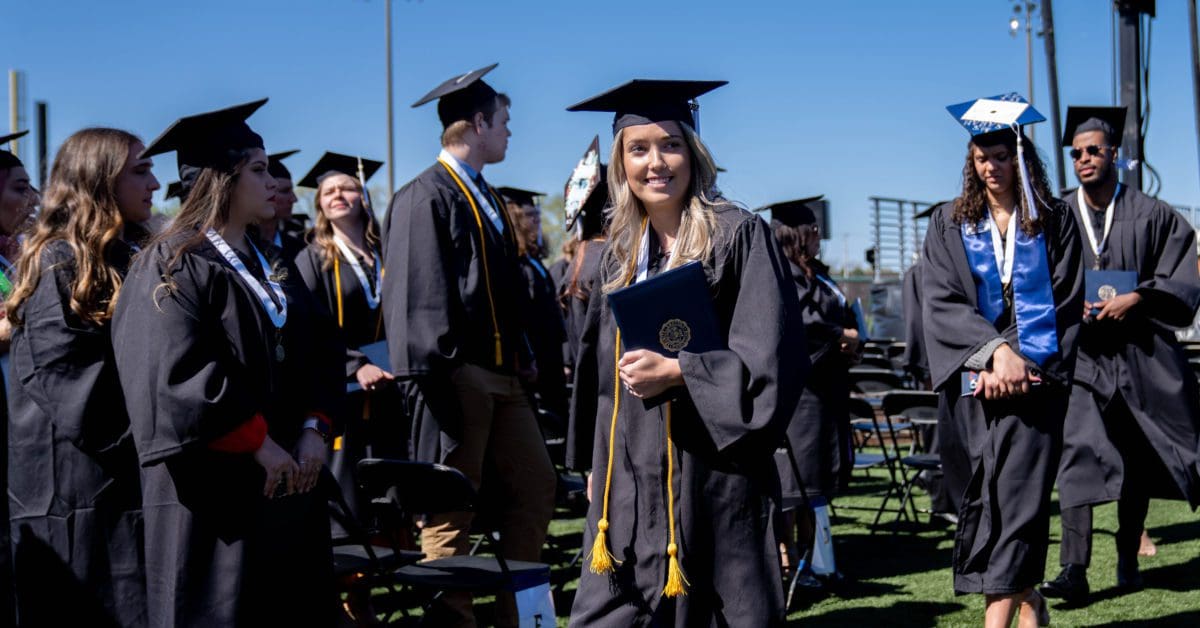 Surrounded by family, friends, professors, and staff, the newest graduates of Trinity were honored at commencement on May 7 at Ozinga Field in Crestwood, Ill. The event included traditional undergraduate, adult undergraduate, and graduate students from Fall 2021 and Spring 2022.
Graduation marks a time of farewells along with new beginnings, and during the ceremony the Trinity community said goodbye to President Kurt D. Dykstra and Professor of Business and Department Chair Deborah L. Windes. Dykstra is taking a new position, and Windes is retiring. Windes, who has received emerita status, provided the commencement address.
During her address, Windes noted that commencement is often a time for the giving of advice. And she offered examples of advice she shouldn't have taken when she was younger. One piece of advice was that the world was her oyster and she could do anything she wanted. That attitude leads to unrealistic expectations and a belief that we are masters of our own fates rather than appreciating the contributions of others, she warned. "And it's just not true," Windes added, pointing out that she could never be a professional soccer player or famous opera singer.
Windes also said that being told to follow our passion and not settle for anything less can be bad advice. Sometimes some doors close, which presents an opportunity to focus less on our own needs and more on serving God.
Windes did offer two requests of the graduates: to say thanks to those who help us–ideally with a hand-written note–and to choose your own responses. She urged the graduates to reflect on the last several years.  "What choices did you make, what virtues did you display, when the world turned upside down?"
Dykstra also offered some remarks to graduates. "You are entering a world of remarkable change," he said. "You will need more than knowledge–you will need wisdom." He encouraged graduates to remember Psalm 111:10: "The fear of the Lord is the beginning of wisdom."
During the ceremony Interim President Aaron J. Kuecker, Ph.D., honored Professor of the Year Aron Reppmann '92, Ph.D., professor of philosophy and department chair.
Dykstra began the commencement ceremony with a welcome, and Chair of the Board of Trustees Cal Tameling '72 provided the greeting. Trinity's 2021 Lincoln Laureate Evie Dykhouse '22 gave the invocation. Rev. Benjamin Snoek, campus pastor, gave the benediction.
Check out photos from the event on Trinity's Instagram page and view the live stream of the ceremony  here. 
---