Runway to the World—Cultural Fashion Show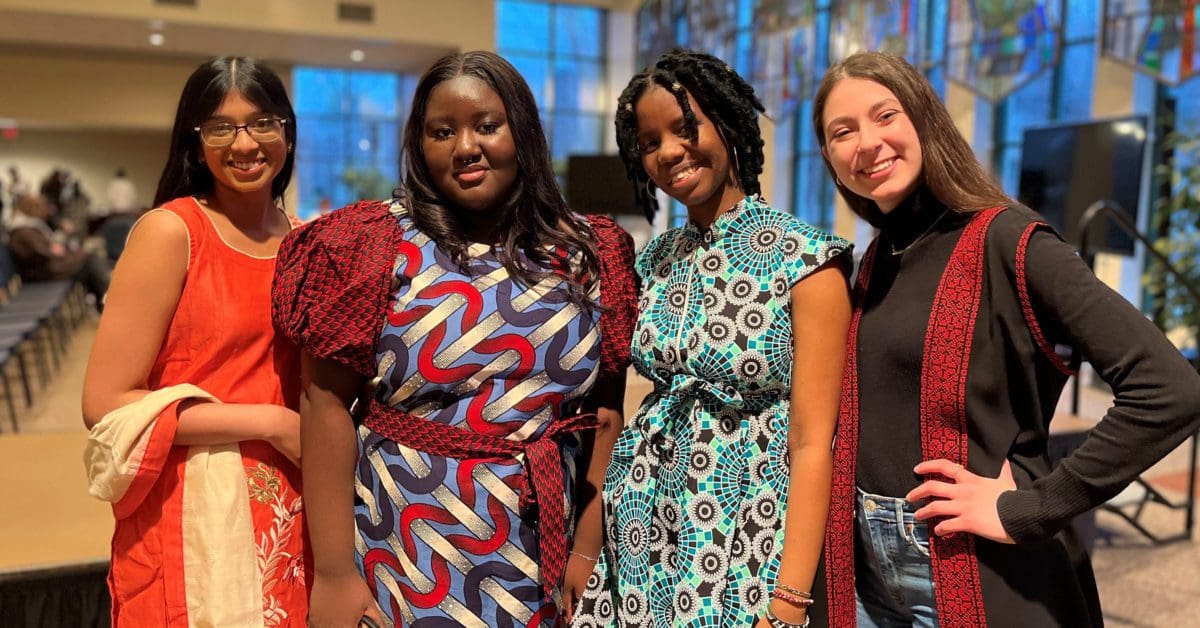 —By Patricia Yang '25
Fun cultural music played in the background as an audience looked intently upon a runway set up in the Grand Lobby of the Ozinga Chapel. Eight runway models, eight unique outfits, all representing various cultures from around the world. Yes, that is right—it is a fashion show, hosted by Njoki Mukuria '25 and Zain Fakhoury '24, a grand collaborative effort between African Students Union (ASU), International Club, and Asian American Alliance (AAA, or Triple-A)!
"It came from a desire to see and learn about the many different cultures we have here," said Mukuria, co-president of ASU. "I feel like I don't know that many, so there was now an opportunity to have that." Mukuria discussed the idea with Fakhoury, and from there the two worked together to spread the word, collaborate with other cultural clubs, and set up the whole event.
"The process was a mixture of fun and stressful," shared Mukuria. "It's a lot of emails, and I'd never been to the other club meetings—but then it grew from there, because then we'd get all these ideas for the event." As the process panned out, Mukuria and her collaborators had many great plans for the fashion show. Ideas were pitched and sorted, emails and polls were sent out, posters made, and models came to volunteer, both from students and staff.
"It was kind of stressful at first, setting up and practicing half an hour before the event," said Fakhoury, "but once it got going, it went really well!" Fakhoury's favorite part was seeing all the different outfits. "I just saw it all come together and thought: this is God's creation and His diversity that He created for all of us, and we should celebrate this! You could see everyone united and walking down the runway, and think, 'Wow, this is what God intended for us.'" Mukuria shared her favorite moments as well—"It was right before the show started, and we were rehearsing it when I saw everyone walking down the runway, and I was like, 'Oh my gosh, it's so beautiful.'"
In the tail end of the fashion show, Mukuria also shared an original poem called This is Nairobi, pulling the audience into her own cultural background. "It was the first time I've performed that in front of a crowd," Mukuria said. "It was nice to share a piece of culture with people other than my family, who don't know so much my culture and my home."
The cultural fashion show closed with a final show of all the outfits, including Mukuria and Fakhoury; applause, and joyful celebration for a spectacular end. Friends mingled post-show, and the snacks were being cleaned up. But that is not quite the end for the fashion show. Fakhoury and Mukuria both believe that this event will return again next  year. "I feel like this is going to become a tradition with ASU, International Club, and Triple-A," said Fakhoury. "I've heard people from Puerto Rico, Mexico, and a Native American tribe who would like to present their outfits as well!"
Mukuria is especially interested in how the next fashion show may unfold in the next academic year. "We had so many ideas for the show, that we kind of had to cut down on them—like, we wanted art students to come participate and paint stuff, we even wanted a final dress as a mixture of all the cultures. Maybe they can all come in for the next show." Mukuria also has dreams to add dances into the mix. "We really wanted to add dances this time, but it just wasn't possible… and I'd really love to host it in the Black Box Theatre because of the setup." The prospect of playing with the lighting and the artistic atmosphere in the Arts and Communication Center greatly appeals to Mukuria.
"This is an event that I'm hoping to do multiple times," said Mukuria. "And as we go, we'll get more ideas to make it more vibrant, using dances, and music, and so on." Mukuria and Fakhoury would love to have people contribute their ideas for the fashion show. "I want everyone to be a part of this," Mukuria said.
So, the metaphorical curtain closes on this fashion show experience—but it is not yet the end, for it is likely that next year, the cultural clubs will come together to host yet again another fantastic fashion show run.
— Learn more about ASU through their Instagram @trin_asu, or contact Mukuria at Njoki.Mukuria@trnty.edu.
— Learn more about International Club through their Instagram @tcc_internationalclub, or contact Fakhoury at Zain.Fakhoury@trnty.edu.
— Learn more about Triple-A through their instagram @tcc_aaa21, or contact Karen Jegadish '23 at Karen.Jegadish@trnty.edu.
---