Interested in Lifelong Learning? Then Check Out SALT!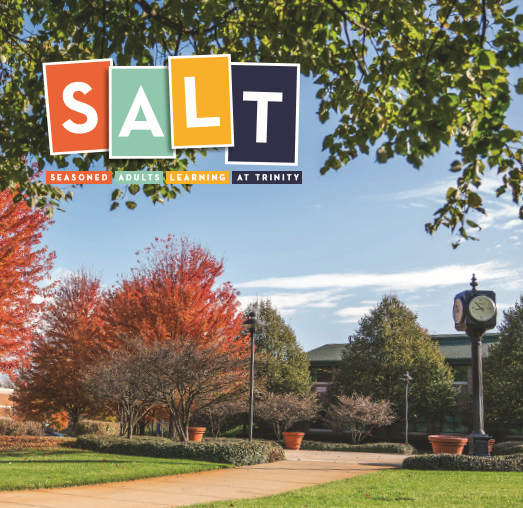 If you are 55 years or older and looking for stimulating learning and discussions, come check out Trinity's membership program SALT (Seasoned Adults Learning at Trinity)! Through our latest SALT classes, you can take a stroll back in time to Chicago's Gilded Age on a tour of Prairie Avenue. Or perhaps birdwatching on Trinity's beautiful campus is more your speed. What about exploring the Bible's themes of gardens? This fall's SALT courses offer all these, and so much more!
"The responses I hear from SALT students who are taking classes on campus or who have spent the day touring a Chicago historical site are always so positive," said Ginny Carpenter, SALT Program Coordinator.  "Instructors find SALT students to be engaged in their topics and contribute significantly in discussions; the SALT program really is a lively, collaborative, community of learners."
Becoming a SALT member provides many benefits:
Invitation to take SALT classes (when you take 3 classes, the 4th is free!)
Free "listener pass" classes in Trinity's traditional program in both the fall and spring semesters
Limited access to Trinity's Fitness Center
Free on-campus parking sticker (no need to replace if one has already been issued to you)
Invitation to special theater performances and lectures
Invitation to music department recitals and concerts
Free admission to regular-season home athletic contests
Free WiFi while on campus
Significant discount rate for Illinois Philharmonic Orchestra (IPO) performances on campus
The individual annual membership fee is $35; membership is required before registering for classes (but registering for membership and classes may be done at the same time.) Unless otherwise noted: one-session classes are $15 per course, two-session classes are $30 per course, and three-session classes are $40 per course.
Click here to learn more about joining SALT and the classes that are being offered this fall. For more information, contact Carpenter at 708.239.4798 or ginny.carpenter@trnty.edu
---