Student Life and Athletics Award Winners Honored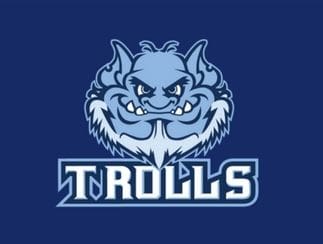 On April 27 the Athletics and Student Life Departments held the annual Awards Night to celebrate the year's accomplishments and to honor individuals with special awards.
Student Leader Award Winners
Students were honored in several categories, including:
–The 2017-2018 Catherine Yonker Award
The Catherine Yonker Award is awarded every year to two students and one faculty or staff member for contributions toward accomplishing Christian race relations and cross-cultural understanding within the Trinity community. This year's student award winners are Indira Escalante and Soraya Limon.
Troy Schemper, director of student programs, will be honored with the faculty/staff award on May 7.
–Diversity Scholars of the Year
Trinity enrolls a new cohort of Diversity Scholars each year. Diversity Scholars are new Trolls with a proven high school academic record, strong capacity for peer leadership, and in interest in deepening their understanding of diversity from a Christian perspective while at Trinity. Diversity Scholars have expectations of involvement, service, and leadership in order to remain in the program for the entirety of their time at Trinity – these students are involved across campus, including intercollegiate athletics, residence life leadership, campus ministry leadership, and student association leadership. Trinity's Diversity Scholars of the Year are Nahara Escalante and Derrieus Pendleton.
–Service Award Winner
Each spring, Trinity's Student Association nominates and selects a student recipient of the Service Award. The Service Award recognizes a student who possesses strong leadership skills, a passion for the College and her students, and whose contributions to the campus community will be significantly missed upon his or her departure. This year, the Service Award recipient is Anamarie Karnia.
Athletics Award Winners
The Athletics Department 's highest honors are career awards given to a female and male athlete who exhibit exemplary play on the athletic field, high achievement in the classroom, and leadership in campus activities. This year the Liz Metcalfe Award was given to Danielle Oeverman '18 and the Keith Albers Award was represented to Tyler Sroczynski '18. Oeverman is a four-year starter as middle hitter on the women's volleyball team. Sroczynski is a three-year starting outfielder on the baseball team after transferring to Trinity.
For their outstanding individual accomplishment for the year, soccer player Jessica Bianchi '19 and cross country runner Megan DeWeerd '19 were the Female Athletes of the Year and baseball player Kyle Kolb '19 was the Male Athlete of the Year. The other nominees for the Female Athlete of the Year Award were Jamie Budreau '19 (softball), Ally Giampapa '19 (basketball), Kacie Stoll '19 (volleyball), and April VanRyn '21 (cross country and track).
Other nominees for the Male Athlete of the Year Award were Juozas Balciunas '18 (basketball), Caleb DeWeerd '21 (cross country and track), and Jonathan Poortinga '20 (volleyball).
Recognizing a member of the Trinity community who has made a significant contribution to the athletics department, the Rich Kooy Award was presented to Ryan Zantingh, director of financial aid. Zantingh has been instrumental in athletics by playing an integral role in the recruitment, scholarship, and financial aid process for student-athletes. This past year he was especially significant as he helped develop and implement a new athletics scholarship policy.
---