Students Come Together to Save "Trollsboro" in Disaster Simulation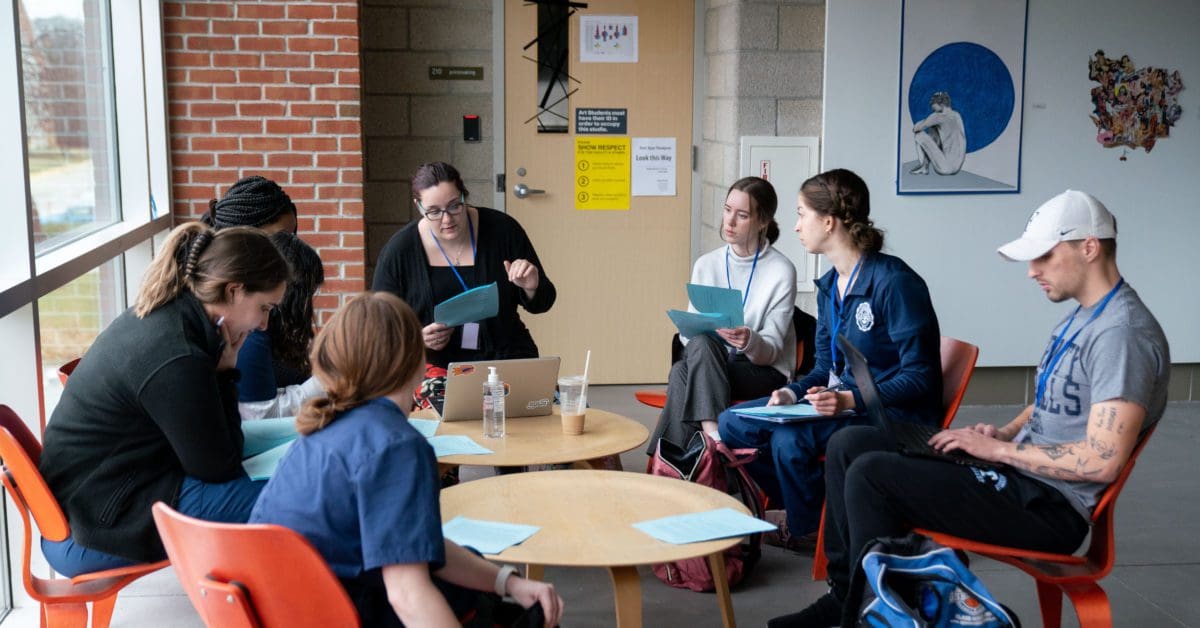 A small town. A sudden disaster. An immediate need for knowledgeable people across a range of professions to come together, formulate a rapid response, and work quickly and calmly to ensure the safety and wellbeing of all the townspeople.
In today's world, these types of situations are unfortunately common. Being prepared to respond is another story. Recently, more than 60 Trinity undergraduate and graduate students across a range of majors, including nursing, social work, education, and psychology, got to have such an experience when a simulated disaster struck the fictional town of Trollsboro.
The students weren't told ahead of time what the scenario would look like, so they had to immediately start working together to respond to the crisis and then develop a follow up plan to deal with the repercussions of the disaster one month later.
Said nursing major Kate DeKryger '22, "It was interesting to see other disciplines at work in front of us and alongside of us. My biggest takeaway from this experience and the challenges that it brought is that no one discipline or group of people, even expertly trained and skilled individuals, can handle crises alone."
Each group included at least one student majoring in nursing, education, social work, and psychology. The students experienced working together in an interdisciplinary way.  Along with respecting the expertise of others, it was a chance for each one of the student to find their voices and advocate for their own insights and opinions.
For Dr. Deb Majewski, Associate Professor of Psychology and Counseling, the simulation fit in perfectly with her graduate-level Counseling 603  Internship II course. "The project offered the students real-world experience in responding to a crisis simulation in conjunction with other disciplines.  They were required to collaborate in respectful and deeply caring ways as they considered the needs of the community," Majewski said.
Majewski's students found the exercise to be deeply meaningful for them personally. "It built confidence, awareness of their knowledge and natural empathy."
Listening to the insights and expertise of others is a valuable skill in today's world, agreed Professor of Education Bill Boerman-Cornell, Ph.D. "Our society needs more practice in hearing what other people have to say."
According to Dr. Tina Decker, chair of the nursing department, the exercise also gave the students the opportunity to really think about their professional roles. "Students got to act in the role of their profession. They were acting as nurses, teachers, counselors, and social workers, and not as students."
It was a "disaster" that took a long time to plan. The idea for the interdisciplinary simulation came from a meeting that Assistant Professor of Social Work and Director of Field Education Lisa Doot Abinoja attended several years ago, where a professor at another local university described a simulation exercise they had done.
"We are familiar with experiential learning here at Trinity, and I quickly recognized that we could do that here," she said. Abinoja reached out to her Trinity colleagues in several different departments, who were enthusiastic about the idea. During the spring semester of 2020, Abinoja received a Collaborative Initiative Grant through Trinity's Provost's Office for the simulation.  "We originally planned to meet first in June 2020 for a Spring 2021 event," she said. "With COVID, we quickly knew that wouldn't happen and were able to delay a year."
During that time, Abinoja, Decker, Majewski, Boerman-Cornell, Dr. Cini Bretzlaff-Holstein, Director of the Online BSW Program and Associate Professor of Social Work, and Dr. Michael Dieter, Assistant Professor of Education, began doing a great deal of prework. That included adding the simulation exercise to each class's syllabus with a specific learning outcome. "The main outcome was working in an interdisciplinary way and how students embodied their profession," said Abinoja. Each professor provided equal weight to the assignment, which helped to ensure success. "For example, we did not want this to be extra credit for one class, while it would make up a third of the grade in another class," she said.
The experience also allowed professors to work closely with each other in an interdisciplinary manner, said Boerman-Cornell. "It was fun to get to know our colleagues in a different way."
Learning took place in ways the organizers didn't anticipate, which added to the richness of the experience. "In a classroom setting, there are things that can't be replicated in an event like this. Even the challenges we experienced were good for learning," said Abinoja.
The event went so well that the organizers are looking to make it a regular part of the curriculum. Several participants will also be offering a presentation about the simulation at the International Christian Community of Teacher Educators (ICCTE) Conference at George Fox University in Newberg, Ore., in May.  For Boerman-Cornell, the outgoing president of ICCTE, the conference will not only allow Trinity professors to share their experience. They will also have the opportunity to learn how other colleges around the country have conducted similar types of simulations and hear some of those best practices.
---