Thianto to Become Calvin Studies Society President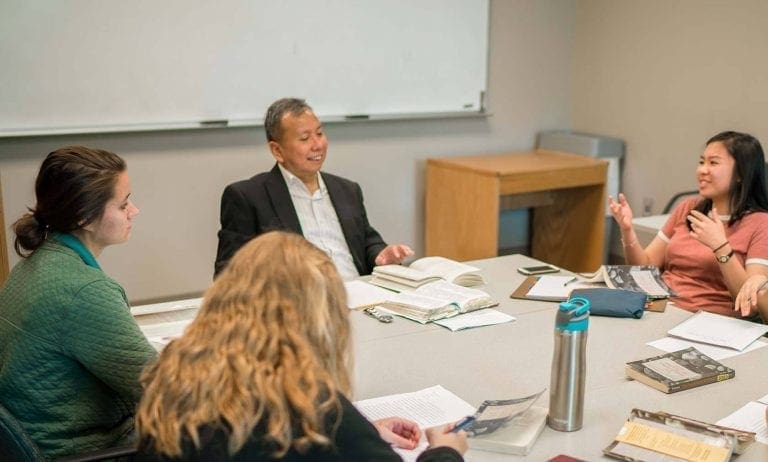 The Calvin Studies Society is dedicated to the writings, life, and times of John Calvin. And beginning in 2019, Dr. Yudha Thianto, Ph.D., professor of theology and department chair at Trinity, will serve as the society's president for a two-year term.
"The Calvin Studies Society brings together pastors and scholars who are seriously studying John Calvin and Calvinism in general," said Thianto, who currently serves as the organization's vice president and program chair. "The society is unique in linking pastors as well as scholars. It doesn't just focus on academic studies, but how that impact is felt in the church."
The society launched in 1976. Thianto has been involved since working on his doctorate at Calvin Theological Seminary, which he completed in 2003. Society members have phone meetings and meet in person during the annual Sixteenth Century Society and Conference.
The Calvin Studies Society also hosts a colloquium every two years. The 2019 meeting, which has the theme "Calvin and the Old Testament," will take place at Trinity from April 11-13. "The colloquium brings together pastors and academics, including many of our members who engage in both professions, for an invigorating exploration of a particular theme related to Calvin and the Reformed tradition," he said. "Each year's presentations are then brought together into an edited volume and published by an academic press."
Presenters at the 2019 colloquium will include Dr. Michael Vander Weele, professor of English at Trinity, who will speak on the topic "Calvin & Theological Grounds for a Rhetorical Aesthetics: A Reading of Deuteronomy and the Ten Commandments."
---