Trinity Bids Goodbye to the Dykstras After Seven Years of Service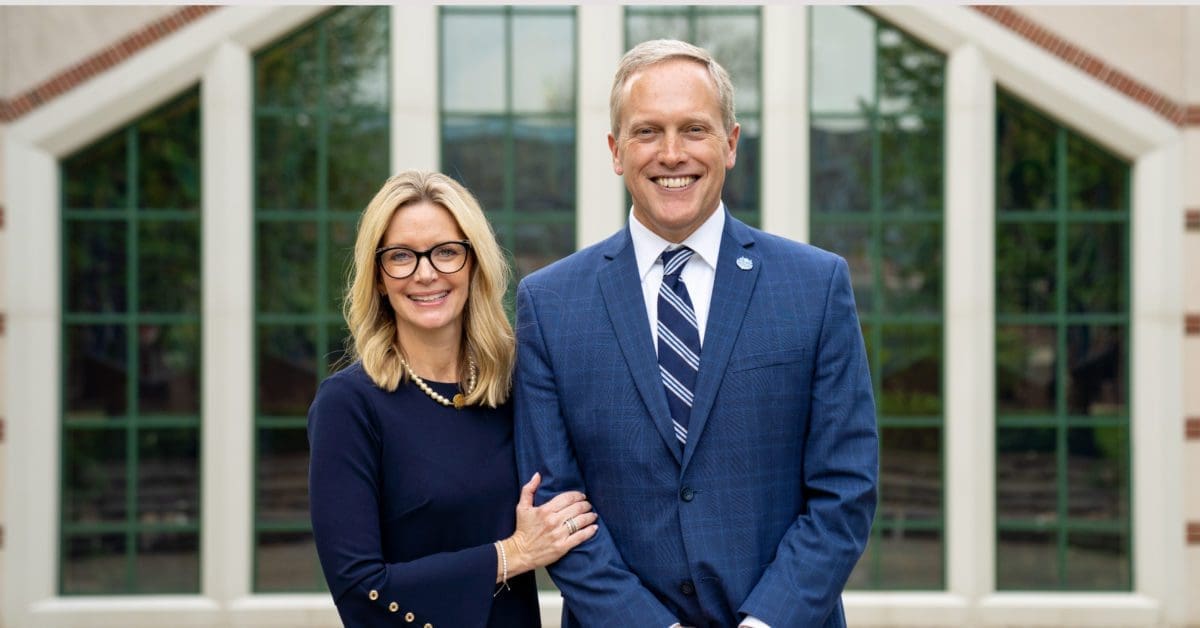 For more than seven years, President Kurt D. Dykstra has faithfully served the Trinity community, providing wisdom and thoughtful guidance that has ensured the flourishing of students, alumni, professors, staff, and other community members. And now, the College honors Dykstra, his wife Leah, and their daughters Julianna '20 and Emma '24 as he departs to take a new position as president and chief executive officer of the Independent Colleges of Indiana in Indianapolis. 
"All of us at Trinity have been blessed by this very special couple, this very special family," said Chair of the Board of Trustees Cal Tameling '72. "They have been a very bright light in times of darkness." 
Further tributes to the Dykstras have poured in from across the Trinity community.  
Rev. Benjamin Snoek, campus pastor, said the Dykstras have given their unfailing dedication to campus ministries, worship, and the spiritual life of the College. "Thank you so much for your faithful service that you've given to Trinity Christian College. I've been so grateful for the love, care, and support you've shown me. I'm wishing you many blessings in this next phase of your journey."  
The incoming president of the Student Government Association Karen Jegadish '23 expressed her appreciation for the Dykstras' work and generosity. "As a student, I've greatly appreciated your leadership and the work you commit to us," she said. "And I personally want to thank you for how you have helped international students during long breaks and inviting us to your home."  
Dr. Mary Lynn Colosimo, member of Trinity's board of trustees and professor emerita of psychology, shared memories of leading yoga classes with Leah, Juliana, and Emma. "Thank you both for your time with us and blessings as you answer your next call." 
Cynthia Coffey, senior transfer admissions representative, said she was honored to work alongside the Dykstras. "It has been an enormous blessing," she said. "Thank you for your dedication, your perseverance, your sacrifices, and also for your warm, caring gentle kindness."  
Professor Emerita of Business Deborah L. Windes also recalled how the Dykstras created an annual tradition of hosting a formal dinner for the business students, to help them experience meals in a professional setting. "And I really want to thank you for your vulnerability and being willing to tell my students about the mistakes that you've made and to help ease their minds that mistakes are OK and all they need to do is try." 
Said Associate Professor of Education and Dean of Education Kelly Lenarz, Ed.D., "We cherish the memories that we've made with you during your time at Trinity."  
The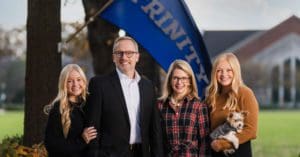 Trinity board has also
recognized just a few of Dykstra's many achievements:  
–Guiding the College through unprecedented challenges in light of the COVID-19 pandemic and its many significant impacts  
–Leading multiple campus facilities improvements, including renovations to the Bootsma Bookstore & Café, the John and Jenny Veenstra Family Lobby in the Nursing Department, the Dr. George and Agnes DeJong Nursing Simulation Lab, the Trinity Alumni Nursing Association Lab, the Ed Vander Weele Curriculum Center, development of the Alexander DeJong Center for Special Education, and the creation of Fusion 59 
–Expanding Trinity's footprint in Chicago through the College's university partnership with 1871, the digital hub and incubator located in the historic Merchandise Mart downtown 
–Overseeing the purchase of the 6555 property 
–Offering leadership and service to numerous other organizations, including the National Association of Independent Colleges and Universities; the Federation of Independent Colleges and Universities, the Council of Presidents for the National Christian College Athletic Association, the Council of Presidents for the Chicagoland Collegiate Athletic Conference, Providence Bank, and the Netherland-America Foundation 
–Guiding the College through its 10-year reaffirmation of accreditation with the Higher Learning Commission 
–Cultivating unprecedented philanthropic support 
–Leading the College in deepening, extending, and strengthening the vision to include a wider range of students, programs, and initiatives 
–Serving with Leah as active members of the campus community 
Dykstra shared his own memories of his time on campus, as well as his appreciation to the Trinity community. "It has been a remarkably good tenure," he said. "We have come to love this place." He also stressed that the family's ties to campus remain deep, with one daughter an alumna and the other a current student.  
And Dykstra expressed his appreciation for the wisdom and guidance of the board. "I've had the good fortune to work with a really incredible Board of Trustees during these seven years. These are people who care about this place, who bring the wisdom of their professions and their vocations into their roles as trustees."  
He also noted the friendships that have been created and the achievements that have taken place during his time as president. "The 2,000 or so graduates during the last seven years, the $35-plus million that has been raised, the programs that have been launched, those are collective things. Those are our successes."  
Dykstra also expressed his confidence in the senior leadership on the President's Council and in Interim President Aaron Kuecker. "In this next season, Trinity is in great hands," he said. "And Aaron is an exceptional leader. He has the respect of our faculty, the love of our staff, and students care for him deeply."  
So, while the Dykstras depart, they will remain part of the community. He said the word "bittersweet" perfectly sums up his feelings about departing from Trinity. "It is only eclipsed by the emotion of gratitude." 
---