Trinity Celebrates Fusion 59 Opening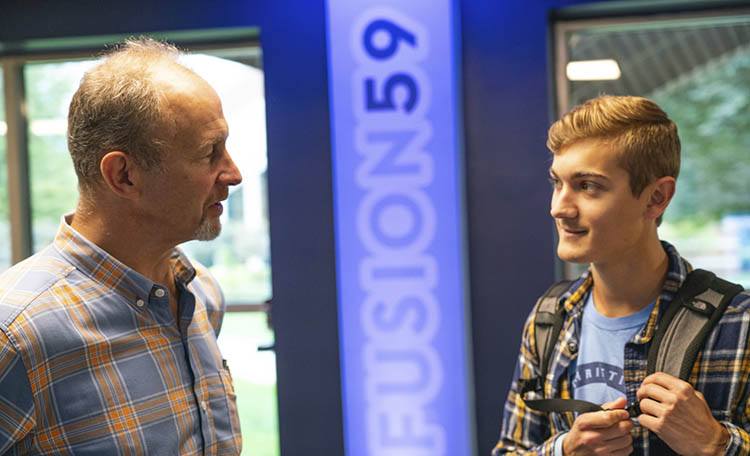 Trinity Christian College is pleased to announce the opening of Fusion 59, Trinity's new on-campus innovation hub. Located in the Jennie Huizenga Memorial Library, Fusion 59 is a place where the Trinity community can come together to connect, collaborate, and create–all for a better tomorrow. The campus celebrated the grand opening on Oct. 1.
Though designed to accelerate entrepreneurship on campus, Fusion 59 is open to everyone in the Trinity community, according to Assistant Professor of Business and Department Chair John Wightkin. "It is designed so that everyone can use their creativity in utilizing this space," he said. "Students can dream up their next venture here, or brainstorm and collaborate on a project. Professors can meet with students at Fusion 59, instead of their offices. Outside entrepreneurs will regularly show up at Fusion 59 to share their wisdom and mentor Trinity students. The space is whatever people can imagine it to be."
Fusion 59 itself was born from a spirit of connection and collaboration. Trinity is one of only seven University Partners affiliated with 1871, the 140,000 square-foot hub for Chicago's thriving technology and entrepreneurial ecosystem located in the famed Merchandise Mart building. Thanks to Trinity's partnership at 1871, Trinity developed relationships with The Garage at Northwestern University and the international architectural firm, Gensler. With the assistance of these world-class organizations, Trinity developed the design and programming for Fusion 59. In many ways, what will happen at Fusion 59 is an on-campus extension of the work that Trinity is doing throughout Chicago by way of its partnership with 1871.
Fusion 59 features flexible spaces for collaboration and co-creation and is equipped with the same technology found in the top technology incubators across the country. But Fusion 59 is more than a physical space. Trinity appointed two entrepreneurs in residence, recent Trinity graduates with their own companies and organizations who serve as on-campus directors. Ryan Hesslau '18 is the founder & executive director of foreverU, and founder of Above the Waves. Tom Iwema '18 is owner & president of IKG Property Maintenance, Inc.
"Innovation, entrepreneurship, connection, collaboration, grit, perseverance, and partnership. That's a pretty quick – and accurate – distillation of what we're up to at Trinity," said Trinity's president, Kurt Dykstra.
---