Trinity Greets the Year with the 61st Annual Convocation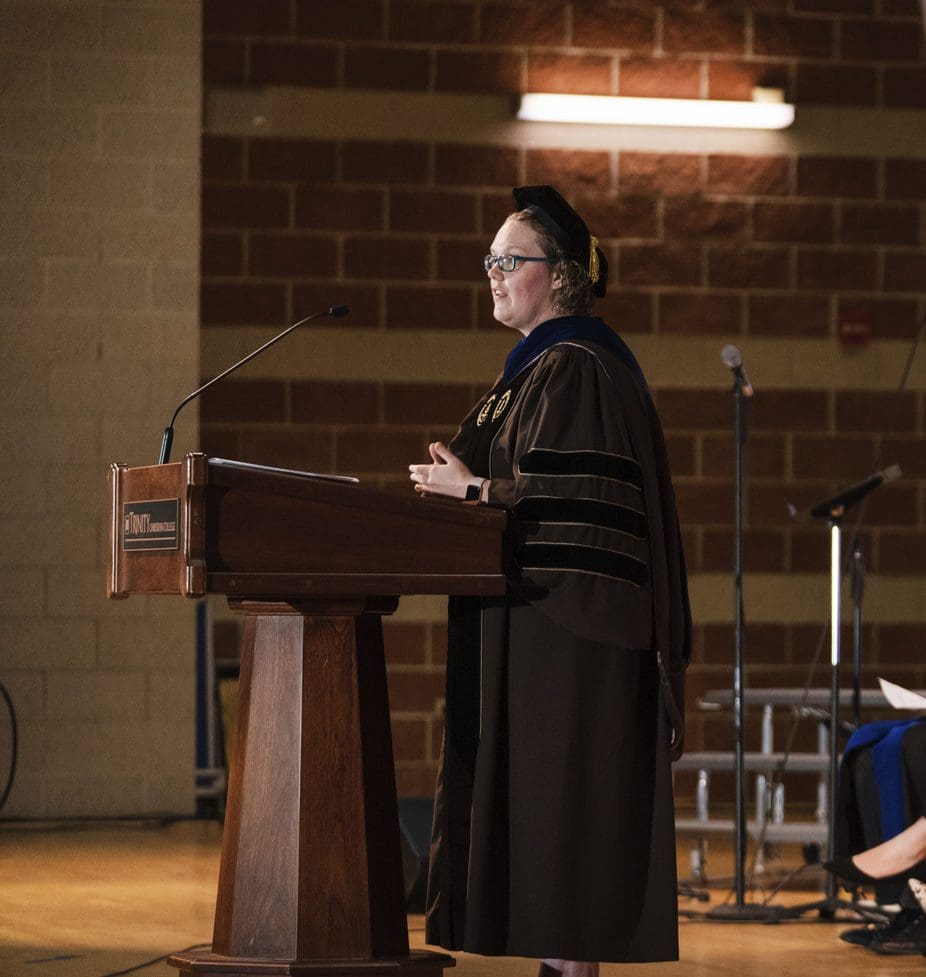 Since the founding of the College, Trinity has welcomed the start of the academic year with opening Convocation. The tradition continued on Aug. 28 with the 61st Annual Convocation.
As part of another deeply rooted tradition, the 2019-20 Professor of the Year Kara E. Wolff, Ph.D., Associate Professor of Counseling and Psychology, gave the address. "Trinity is more Trinity because Dr. Wolff works here," said Provost Aaron Kuecker, Ph.D., in introducing Wolff.
In her address to faculty, staff, and students, she spoke about how flourishing is not easy, but it is good. "And what is flourishing? In God's eyes, it is engaging in that which both glorifies God and serves the community," she said. Wolff went on to discuss how racism in particular blocks our path to thriving as a community.
"Racism is a barrier to justice in society and to flourishing at Trinity," said Wolff, citing research that she and Associate Professor of Psychology Jessica Clevering have conducted. "We have a unique call as a Christian college. Diversity is not enough. We need space for true belonging."
Wolff encouraged everyone to examine their own biases and be willing to be honest with themselves. "Justice work is our Savior's language," she said. "We serve a God who loves mercy and justice."
This year's Convocation began with an organ prelude by Prof. Minkyoo Shin, D.M. Trinity's Gospel, led by Nicole St. Victor and accompanied on piano by Greg St. Victor, performed several numbers.
President Kurt Dykstra, J.D., provided the welcome, and Campus Ministry Prayer Leader Komaria Carpenter '21 offered the invocation. Ladarius Beal '21, president of the Black Student Union; Micaela Humenik '21 president of Sabor Latino; and Ross Barz '21, president of the Student Government Association, read from the scriptures.
The prayers of thanksgiving and petition for faculty, staff, and students were given by Professor of Music Helen Hoekema Van Wyck, D.M.A.; Associate Dean for Adult Undergraduate Programs Rakisha Sloane, Ed.D.; and President of the Asian American Alliance Ranita Luhur '21.
Chaplain and Dean of Spiritual Formation Rev. Willis Van Groningen, Ph.D., closed Convocation with a benediction.
---