Trinity Honors 2017 Alumni of the Year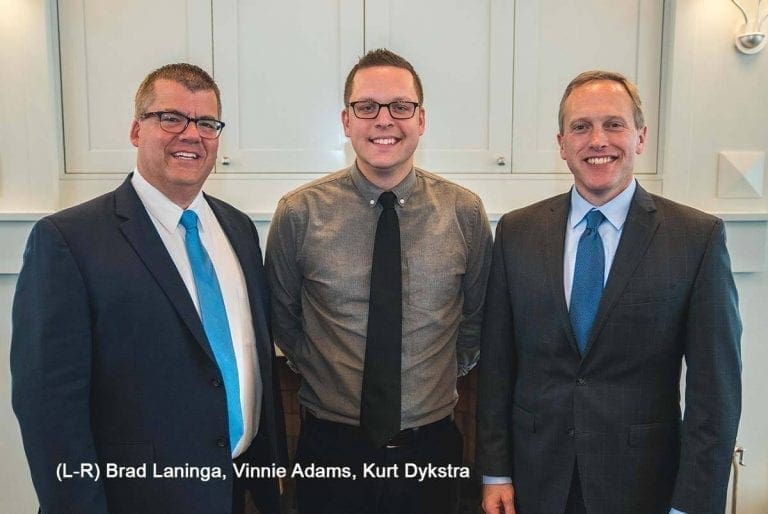 Trinity is pleased to announce its 2017 Alumni of the Year, who were recognized on Dec. 9 at an awards ceremony and luncheon at the President's Residence.
"We honor and celebrate four people who have made a lasting impact on the College," said Brad Laninga '89, Director of Alumni and Donor Relations.
Alumni of the Year – Vinnie Adams '10
Adams serves as Special Needs Ministry Director at Faith Church in Dyer, Ind. A special education major at Trinity, Adams was recognized for his compassion and ability to treat every person with dignity. Laninga quoted Ryan Matthysse, Worship & Arts Director at Faith Church: "Vinnie exhibits Christ-likeness by extending grace and love to the marginalized and often overlooked in this world and even in the church. This is evident in his ministry and his life."
The Alumni of the Year Award is given to a Trinity graduate who has made significant contributions to their field of endeavor, been recognized by their associates for outstanding achievements through vocation or volunteerism; manifest Christian commitment that glorifies God and reflects on the mission of Trinity Christian College; and maintains a connection to the College with time, talent, and resources.
Honorary Alumni (Faculty) – Dr. Helen Van Wyck
Van Wyck is professor of music and director of choral activities and has been on the faculty at Trinity since 1987. She was recognized for her intense caring for students, love for her work and her devotion to the music program and her craft—and of course, for her love of Bach, noted Dan Thayer '12, who introduced her.
Honorary Alumni (Staff) – Mary Tambrini
Tambrini, who attended Trinity from 1969-71, is catering manager for the College. "Mary does everything with a calm spirit, a can-do way and is always willing to try new things," noted Leah Dykstra, who introduced Tambrini. "We are grateful for the amazing amount of experience she brings to Trinity, for the way she loves her staff, and the way her staff works and loves her. We're grateful that she keeps our coffee hot, our stomachs full, and our hearts happy."
Honorary Alumni (Friends) – Robert Buikema
Buikema chairs the Board of Trustees at the College and is married to Danette Buikema '81. "They are an incredible couple," said Trinity President Kurt D. Dykstra in his introduction. "They are people who care deeply about matters of faith, deeply about matters of family, and deeply about how institutions like Trinity live out and do our mission being faithful transmitters of the incredible gifts we've been given for the next generation. They are wonderful, wonderful people who have served this College so well."
To watch a recording of the Alumni Awards, click here.
---