Trinity Magazine Spotlight: Jonathan Brooks, Returning from Exile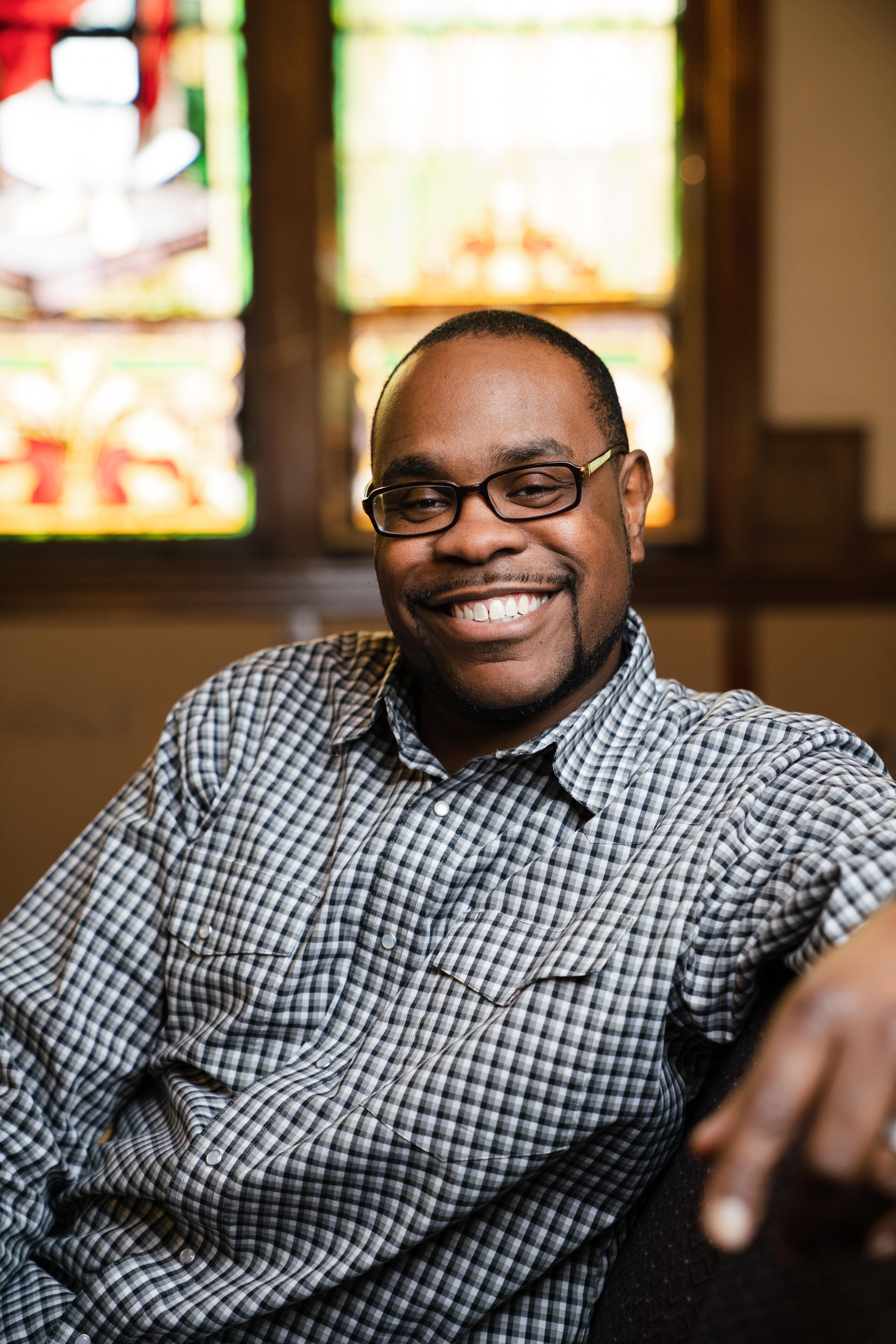 Returning from Exile
Jonathan Brooks on Moving Back to Chicago's Englewood Neighborhood
Jonathan Brooks didn't expect to work at a college, become a preacher, or move back to his old neighborhood of Englewood on Chicago's South Side. In fact, he planned to be an architect and live just about anywhere besides Englewood.
"As I like to say, some are called, some are chosen, and some are forced," said Brooks, who is the recruiter and mentor for Trinity's five-year B.A./M.Div. program with Northern Seminary.  He also serves as senior pastor of Canaan Community Church in Englewood, and authored the recently published book "Church Forsaken: Practicing Presence in Neglected Neighborhoods." "When comfort becomes our ultimate goal, God has to take drastic measures," said Brooks, also known as Pastah J.
Brooks grew up in Englewood, and his first step away from the neighborhood was to attend college in Alabama, at Tuskegee University, where he earned a Bachelor of Architecture degree. "It turns out, I enjoyed studying architecture more than being an architect," he said. When his mother became ill, he returned to Englewood to take care of her. "She decided it would be good to get me back to the church. So, I began working with youth at Canaan Community Church. Eventually, the pastor there forced me to take over by leaving."
With his return to Englewood, Brooks began to see his role like that of the Israelites in exile. He points to the words of Jeremiah 29: "Build houses and settle down; plant gardens and eat what they produce. Marry and have sons and daughters; find wives for your sons and give your daughters in marriage, so that they too may have sons and daughters. Increase in number there; do not decrease. Also, seek the peace and prosperity of the city to which I have carried you into exile. Pray to the Lord for it, because if it prospers, you too will prosper." (NIV)
Brooks realized he was being called not just to work in Englewood, but to make it his home once again. He now lives by his church with his wife Miche'al Newman-Brooks, an instructor with Windy City Harvest, and two daughters, Jasmine, a sophomore at King College Prep High School and Jade, who is 12 and attends Daystar School.
Since returning from Tuskegee, Brooks earned an M.A. in teaching from National Louis University and an M.Div. from Northern Seminary in Christian Community Development. Along with leading Canaan Community Church, he has also worked with the Chicago Public Schools and Mission Year.
Several years ago, Brooks began doing more public speaking around the idea that Christians need to be fully present in their local communities. Increasingly, he was told he should write a book. "I'm a duck in water when it comes to public speaking, but I'm less comfortable writing," he said. Despite his concerns, in 2017, he signed a contract for "Church Forsaken," which was published in November 2018. "It's a mix of memoir, with theology and anecdotes. It's the crazy narrative of my life!"
As he was preparing for the book's publication, the opportunity to join Trinity as mentor and recruiter for the new five-year B.A./M.Div. program presented itself. Brooks had been teaching a course as an adjunct professor at Trinity's partner program, Chicago Semester, on "Urban Planning, Development, and the Sustainable City." "That class combines all my interests," he said.
When Trinity Provost Aaron Kuecker, Ph.D., approached Chicago Semester's Executive Director Mackenzi Huyser, Ph.D., for suggestions on filling the new position with the B.A./M.Div. program, Huyser recommended Brooks.
His work with the B.A./M.Div. program is a continuation of his passion to help young people connect with what is wrong in the world. "I tell them, you are not in a holding pattern, and you will always find an excuse to wait. We are like Israel in exile."
This article originally appeared on pp 6-7 of the 2019 issue of Trinity magazine. Didn't receive the latest copy? Let us know! You can update your contact information here.
---