Trinity Magazine Spotlight: Josh Lenarz, Creating Champions On and Off the Field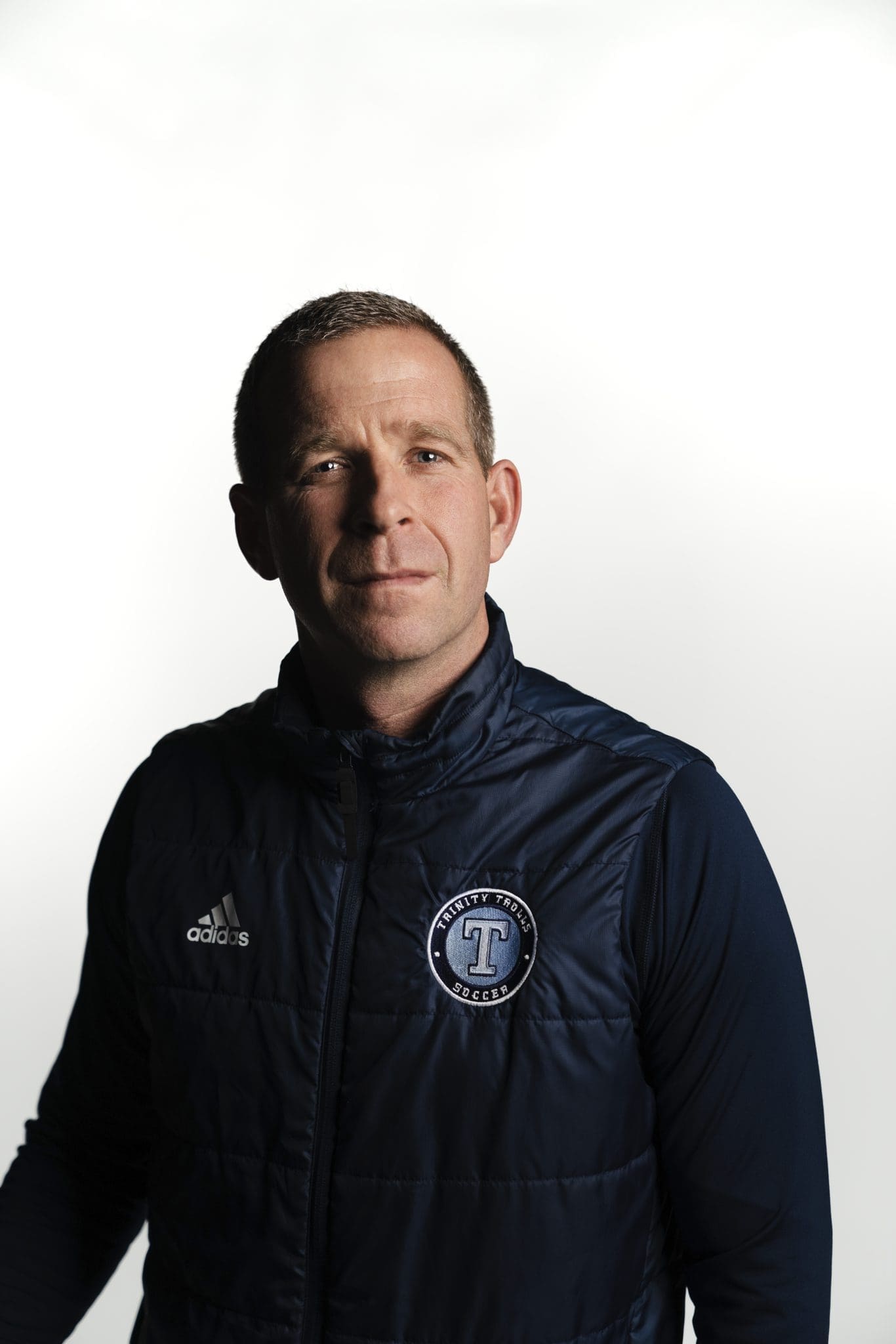 Creating Champions On and Off the Field
Josh Lenarz '98 Reflects on National Championship Seasons and Building Relationships
"Soccer is the vehicle that enables us as coaches to build meaningful relationships and experiences for our athletes, which is my real passion." That is the philosophy of Josh Lenarz '98, Trinity's head women's soccer coach. "Some people say you have to choose: focus on winning and championships, or focus on the relationships and team building. The last few years prove that if you invest and are intentional on a daily basis, you can excel at both."
Lenarz has indeed proven that philosophy works. The head coach for the past 17 years, he has led the team to the post-season national tournaments 12 times in the past 14 seasons—including dominating the 2018 season and claiming the NCCAA Division I Women's Soccer National Champions. Lenarz was named the NCCAA National Coach of the Year and also earned Coach of the Year honors for the region. Under his guidance, the Trolls have also qualified for the NAIA National Championship four times and advanced to the 2017 opening round as the CCAC conference tournament champions.
Lenarz attributes this success to focusing on team culture and leadership development. "Our athletes put the team first and fully embodied our team phrases: "Never About Me. Often about Teammates. Always About the Lord. On and Off the Field," explained Lenarz.
Lenarz is also intentional in his recruiting efforts to target athletes who will embrace the team culture. "Trinity is unique in a great way, but not for everyone. I'm up front with all recruits about our team first mentality from Day 1," said Lenarz. "Those that buy into our mentality and focus will have a great experience here."
It only took a few hours for Lenarz to realize Trinity was the right fit for him when he visited campus his senior year at Ontario Christian High School in California. Lenarz learned of Trinity through his soccer coach, Brad Homan, '90, who thought Trinity would be a great fit for him. During his time at Trinity, Lenarz was involved on campus, playing soccer, serving as a resident assistant, and working as a student director with the Youth Soccer League, which he is still involved with today. He recalled his mentor, Dave Ribbons, head men's soccer coach and physical education professor, instilling in him the importance of caring for athletes not just as players, but as individuals.
After graduation, Lenarz felt called to remain at Trinity and accepted an offer to serve as the assistant men's soccer coach and admissions representative.He served in admissions for five years, eventually assuming the role of Admissions Director while also taking over as women's head coach. Starting a family with his wife Kelly '99, he knew best to focus on either athletics or admissions and transitioned to athletics full-time following the women's first NCCAA national championship title in 2005.
"How can I best serve you?" is how Lenarz ends every individual meeting with his athletes. "As coaches, we love watching the athletes grow as individuals and leave Trinity equipped to be great teammates beyond soccer, whether in the workplace, in relationships, and with their families,"said Lenarz. "We have a great understanding of who we are as a team and know it is worth fighting for to keep moving forward."
This article originally appeared on pp 10-11 of the 2019 issue of Trinity magazine. Didn't get your copy of Trinity magazine? Let us know! You can update your contact information here.
---