Trinity Partnership with MH4H and Ozinga Impacts Lives in Haiti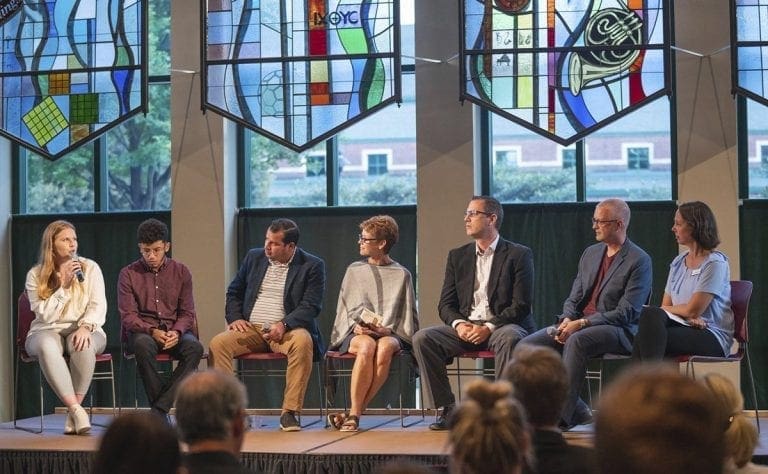 At Trinity, students have many opportunities for engaged, collaborative learning. One example is through the work of the Trinity Honors Research Team, which spent two weeks in Pignon, Haiti, last May. The trip was in partnership with Many Hands for Haiti (MH4H) and Ozinga, Inc., who all share a vision to empower the people of Haiti through community-based research and God's guidance.
On Sept. 5, Trinity hosted a Haiti Honors Stakeholders Conversation in the Grand Lobby in Ozinga Chapel during which participating Trinity students and faculty joined in a conversation with stakeholders to share experiences and insights into the project.
The conversation focused on informing the campus community how three institutional partners made the May trip successful and focused on two questions. First: when was the moment when you felt that something genuinely surprising was happening, something radically different from similar projects? Second: what do you believe this tri-institutional partnership makes possible?
These questions created a process to collect data and open conversations about pathways forward. "We're dreaming about what this partnership makes possible," said Assistant Professor of Sociology Lenore Knight Johnson, Ph.D., who serves as a faculty partner for the research team.
The seeds of the partnership were planted in Fall 2016, with several Trinity students who expressed interest in a humanitarian trip to Haiti. This fit into Trinity Pres. Kurt Dykstra's commitment to extend Trinity's influence through partnerships with other communities and organizations and give Trinity students a chance to improve the lives of those in need, and improve the world through their faith and knowledge.
Provost Aaron Kuecker, Ph.D., reached out to Tim Brand, executive director of MH4H, an organization with years of experience in Haiti, and Aaron Ozinga '03, president of Ozinga Materials & Logistics Inc., who has also been involved with helping the people of Haiti for years. As Ozinga said during the panel discussion: "We have the responsibility to reconcile the broken world around us."
The result of the collaboration resulted in a three-year pilot program. "This is true interdisciplinary, problem-solving research," said Kuecker.
Among the specific projects, the team focused on "The First 1,000 Days," which helps mothers understand the importance of quality care, nutrition, and medical needs of newborns and young children. Trinity's researchers conducted interviews with community members and staff members at MH4H, to discern people's attitudes towards the First 1,000 Days program.
"This experience repesents a true liberal arts education," said Josiah Rosario '18, who participated in the research. Said Aubrey Weedman '21, "I wanted this opportunity to study and understand another culture, and to be part of a true unity of effort."
In all, 15 Trinity representatives participated in the trip. Johnson and Professor of Communication Arts Craig Mattson, Ph.D., served as faculty advisors. Trinity students and recent graduates included Mallory Boyce '19; Morgan DeRuiter '18; Emily Homman '21; Cara Horstman '18; Ryan Howey '21; Miranda Nikkel '18; Kortney Pollema '19; Rosario; Hannah Slager '19; Jon Sturrus '19; Addison VanWeelden '18; Elizabeth Vander Wall '18; and Weedman.
---