Trinity Receives CCCU Grant for Work in Roseland Neighborhood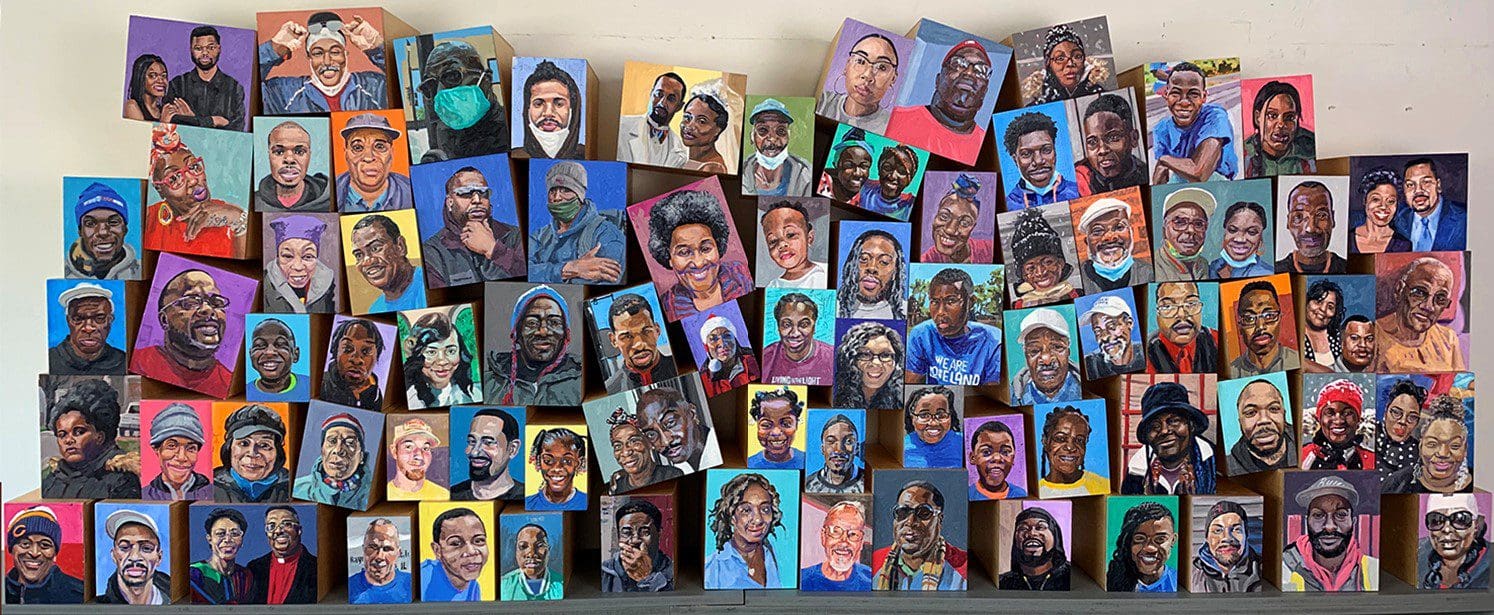 Thanks to the hard work and dedication of a group of current and emeriti professors, Trinity has received a grant from the Council for Christian Colleges & Universities (CCCU) that spans several different initiatives at the College and connects to Chicago's Roseland neighborhood. Trinity was one of only six recipients of the 30 colleges and universities that sought this grant.
According to Professor Emeritus Michael Vander Weele, who served as primary grant writer and campus contact, the grant supports and connects Trinity's new Foundations Curriculum and its Chicago Connect courses; The Calvin and Ines Seerveld Art in Society (SAIS) Initiative; Roseland Christian Ministries (RCM); and the work of Professor of Art & Design John Bakker.
Vander Weele was supported in the grant writing by Professor Emeritus Brad Breems and Associate Professor of Sociology Lenore Knight Johnson, who serves as faculty director of the Chicago Connect aspect of the Foundations curriculum.
Though he retired in May 2019, Vander Weele remains active in Trinity's life. "I saw the opportunity for this grant and contacted [Provost] Aaron Kuecker, who told me to go for it. So, I gave it a shot," he said.
In pursuing the grant, Vander Weele pointed to the work of Trinity's Seerveld Gallery, as well as the College's deep and wide connections to the Roseland community and RCM.
The grant also encompasses Bakker's Roseland Portrait Project. For this project, Bakker is already working on the installation, a large-scale portable mural consisting of portraits of Roseland residents painted onto movable boxes. Bakker's previous works have included large-scale projects for the City of Chicago's Office of Public Art for the 6th District Police Station in the Auburn Gresham neighborhood; and the Galesburg Project, his first movable mural, which encompassed a wide variety of the citizens of a small town in western Illinois. Part of the CCCU grant will be used to support Bakker's work on another 40 box portraits, with the goal of having 10 of those feature immigrant members of the community. It will also include a portrait of a 16-year-old Roseland boy, Andre' Taylor, who was the victim of gun violence.
According to Vander Weele, the project will also involve the youth ministry at RCM and Trinity students. The youth ministry will help to gather photographic portraits of the community and assist with the project. Trinity art students can help process images, transfer them to the boxes, and participate in transcribing text to panels. Writing students can write short profiles for the side panels of the portrait boxes, creating a public recognition of each person's life. The project also involves members of Fusion 59, Trinity's entrepreneurial hub on campus, where students can provide social media and other communications support.
The grant is part of a larger, national initiative. CCCU was selected by the American Immigration Council (AIC) as one of several non-profit entities working with a coalition of eight non-profits in a project AIC calls the Inclusion Innovation Collaborative.  That project is part of the national "Belonging Begins with Us" campaign that will be launched early this December.
According to Breems, the Trinity faculty member whom Cal Seerveld asked to lead the Seerveld Art in Society Initiative, alongside colleagues Vander Weele and Bakker, the grant enables Bakker to continue work on SAIS's Roseland Portrait Project while pulling it deeper into Trinity's educational program and connecting it to the national "Belonging Begins with US" campaign. The SAIS Initiative was established eight years ago by Cal Seerveld, one of Trinity's founding faculty members and his wife Ines. Its purpose is to sponsor art projects that build bridges between the college community and Chicago's diverse neighborhoods, showing art's vital place in everyday Christian life and in building a more just society.
Breems said the grant is an affirmation of Seerveld's vision for SAIS: "This art should have a gentle Christian spirit, vigorous educational outreach, and an attitude of humble service. It should also show a bold, caring, and cosmic vision of a hopeful world that demonstrates the compassion of Jesus Christ."
---