Trinity Students and Faculty Honored by Future Founders and 1871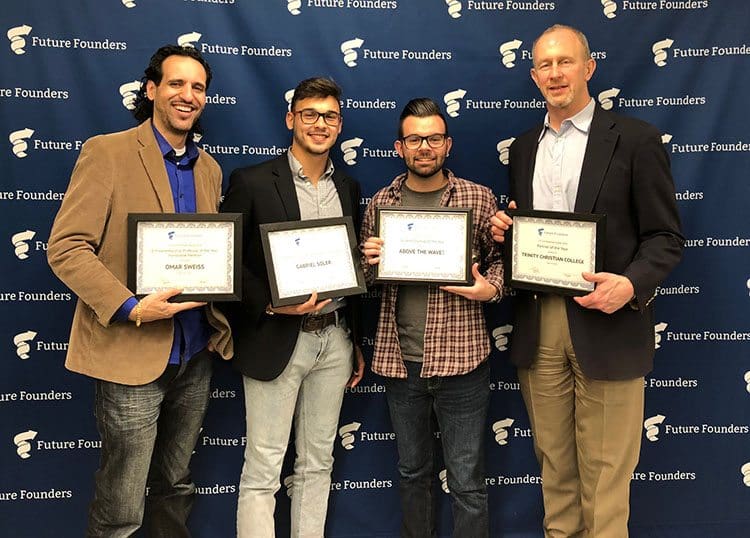 At Trinity, our students get to experience a small college campus with big city opportunities. And Trinity's relationship with Future Founders and our university partnership with 1871, the world's top university-affiliated startup incubator, located in downtown Chicago, exemplifies those opportunities.
Over the weekend, Future Founders, which is located in 1871, held its 2nd Annual Entrepreneurship U Awards to celebrate the spirit of entrepreneurship and innovation at Illinois colleges and universities. The awards recognize institutions and individuals that have demonstrated exceptional entrepreneurial accomplishments.
Trinity was honored to be named Future Founder's Partner of the Year.
Students and faculty also received accolades:
–Entrepreneurial Student Leader of the Year: Gabe Soler
–Entrepreneurship Professor of the Year: Omar Sweiss, assistant professor of business, Honorable Mention for the second year in a row
–Student Startup of the Year (multiple winners): Ryan Hesslau for Above The Waves
Future Founders believes every youth can become an entrepreneur. They offer age-appropriate and stage appropriate programs to connect youth with mentors and help them build a toolkit of entrepreneurial skills. They are one of the leading organizations in the nation in entrepreneurial education and mentoring.
Trinity students also excelled at 1871's recent Campus 1871 Weekend, where Soler and Josh York took second place in the pitch contest.
"What a week it has been," said Prof. John Wightkin, assistant professor of business and department chair. "And it all happened because Trinity had the courage and faith to jump into the Chicagoland entrepreneurial world – particularly with Future Founders and 1871."
---