Trinity Theatre Presents: Six Medieval Mystery Plays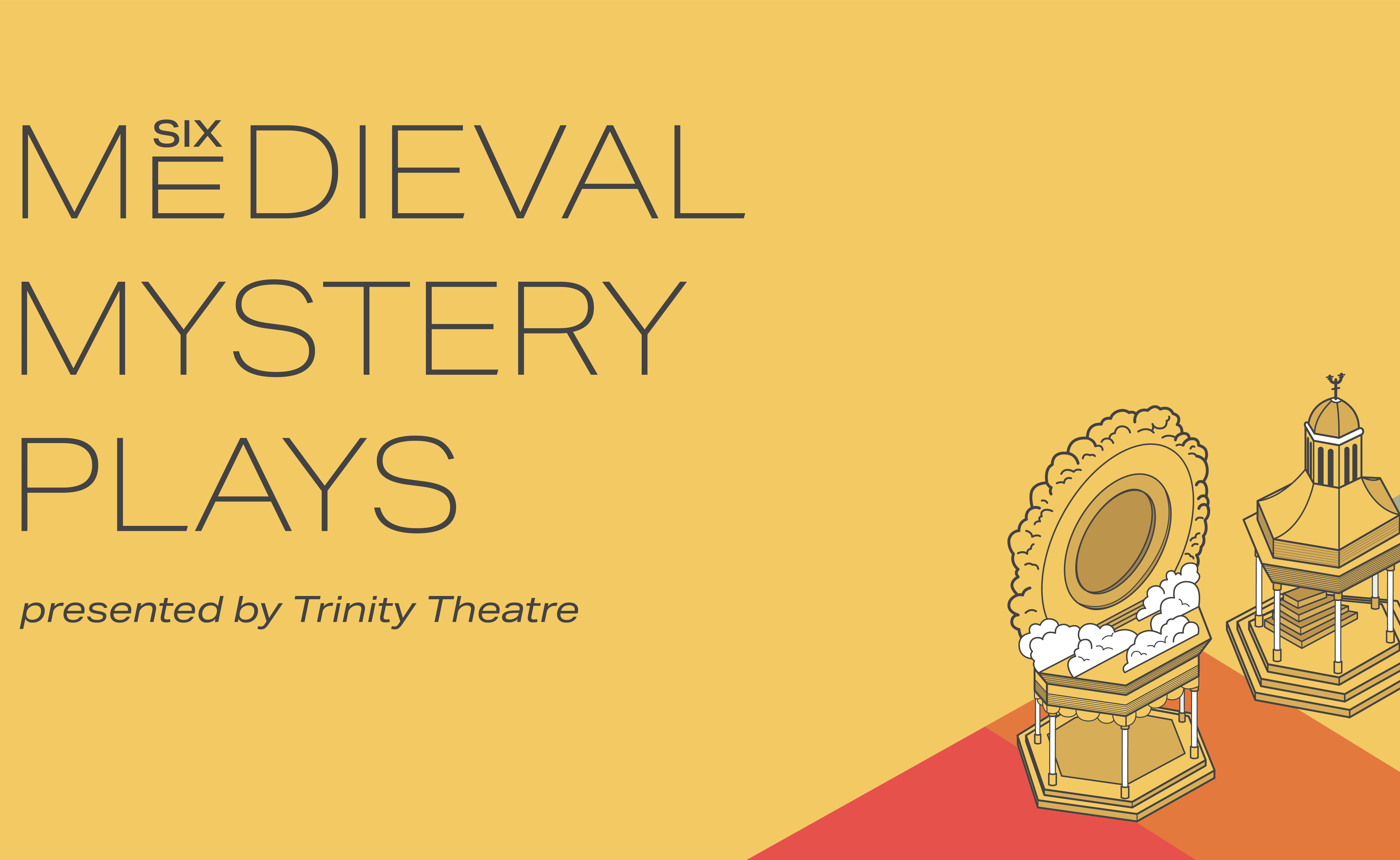 The English Medieval Mystery Plays are some of the very first recorded examples of theatre after the Dark Ages. Trinity Theatre is delighted to present a performance of six of these plays this April, as we emerge from a sort of "dark ages" of our own.
Even though these plays are some of the oldest surviving dramatic manuscripts, there may be some confusion about them.
So, we thought you might appreciate this handy-dandy introductory guide:
What are they not?
· These are not "whodunit" mysteries a la Agatha Christie or Knives Out.
· These are not somehow stuffy or boring simply because the scripts are so old.
So, then, what are they?
· These are medieval interpretations of Bible stories.
· These showcase a range of moods and styles, from the supernatural to meaningful drama to wacky physical comedy.
In medieval England, mystery plays were first performed inside cathedrals, in part as religious instruction – especially during a time when the literacy level was lower than it is today.
After a while and for a variety of reasons, the plays had to move outdoors. When this move occurred, the plays still honored the biblical source material while also expanding the storylines.
For example, one of the most abidingly popular mystery plays is The Second Shepherds Play, which is almost entirely fictional – and is a comic farce about a sheep-theft that happened to some shepherds on the day that they would learn about the birth of Jesus.
There are surviving manuscripts from at least four geographic areas, including Wakefield, York, and Chester. There are between 24 and 48 extant mystery plays from each of these four regions, spanning the scriptural narrative from Creation to the Last Judgment.
For our Six Medieval Mystery Plays, we will be performing:
Noah
Abraham & Isaac
The Salutation of Elizabeth
The Second Shepherds Play
Lazarus
The Deliverance of Souls
Performances will be held outdoors on Trinity's campus, in the Great Green Space between the Ozinga Chapel parking lot and the President's Residence.
Director: Dr. John Sebestyen
Stage Manager: Katie Van Wyhe
Assistant Directors: Ryan Howey & Ryan Van Gilst
Cast:
Production Manager: Sam Jankosky
Production Assistants: Lilli Bruxvoort, Amy Meyrick, & Hailey Piorek
House Manager: Jacob McCleary
Dramaturg: Caleb Last
Scenic Designer/ Master Carpenter: Rick Schuler
Costume Designer: Machaela Whitlock
Assistant Costumer: Ally Eggert
Makeup Designers: Dani Daujatas & Evie Dykhouse
Ensemble: Jacob Contreras, Dani Daujatas, Kyle Donnelly, Evie Dykhouse, Ally Eggert, Ben Friesen, Jochebed Gwamna, Ryan Howey, MJ Huizenga, Adriana Klein, Mariel Martin, Derrieus Pendleton, Tony Reppmann, Abby Tillema, Jake Van Dyke, Ryan Van Gilst
Playwright:
Wakefield & Brome (towns from which our scripts originated)
Admission is free, but space is limited – so you must first reserve your spot by contacting Trinity's Box Office:
(708) 293-4537
Performance Dates / Times:
· Thursday, April 22 @ 4pm
· Friday, April 23 @ 4pm
· Friday, April 23 @ 6pm
· Saturday, April 24 @ 2pm
· Saturday, April 24 @ 4pm
The performances will run 90 minutes with no intermission. Masks and physical distancing will be required and enforced. Audience members will be asked to bring their own lawn chair or blanket.
---