Van Hollands Celebrate Wedding Ceremony at Trinity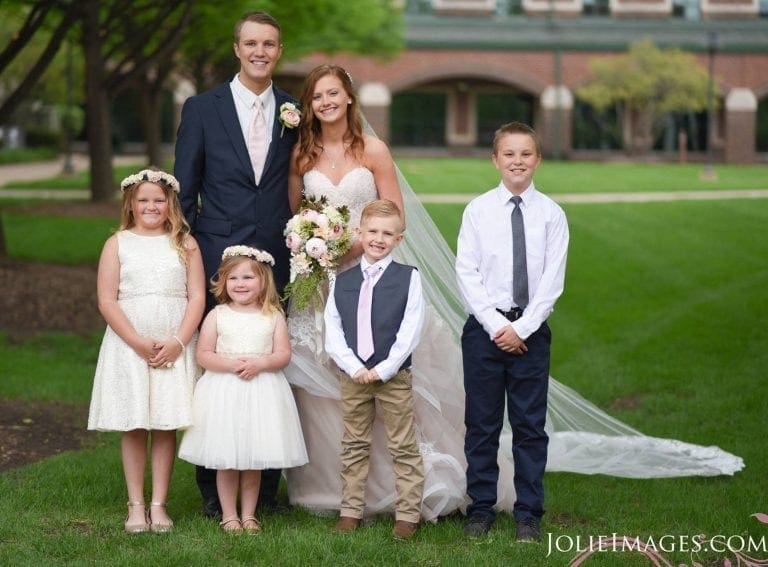 For Avery (Kats) Van Holland '19 and Ethan Van Holland '19, Trinity is more than the place where they will earn their college degrees—it's also the place they were married in May.
"After deciding on a more traditional wedding, it was easy for us to see that getting married at Trinity was the best option for us," said Avery. "We wanted the place we were married at to be one that holds a special place in our heart, and Trinity certainly does!"
Not only did the wedding take place on campus, but Dr. Bill Van Groningen, Trinity's chaplain and dean of spiritual formation, performed the ceremony. "Pastor Bill has been an important spiritual figure for us over these past few years, and we loved the idea of having an officiant that also sees Trinity as a special place," she said. "Pastor Bill put a lot of thought and effort into this wedding for us."
Before the wedding, Pastor Bill and his wife Connie, who is administrative coordinator for Trinity's nursing department, went through marriage counseling with Ethan and Avery. "Pastor Bill also wrote personal vows for us to recite during the ceremony, and he put a lot of work into crafting the message into something that greatly touched our hearts," said Ethan.
The wedding was originally planned for the amphitheater, but the threat of rain meant a quick relocation to the Grand Lobby of Ozinga Chapel. But that was one of the few bumps along the way, according to Avery. "The entire planning process went super smoothly. Brooke Simkins, conferences and events manager, and Mary Tambrini, catering manager, were fabulous to work with and made planning a breeze."
The two met during Spanish class sophomore year at Western Christian High School in Hull, Iowa. "We became good friends but did not start dating until our senior year," Avery said. The couple have one more year at Trinity. Ethan, who is majoring in finance, is working at a finance firm as a financial administrator and plans to become a financial advisor after graduation. Avery, who is double majoring in philosophy and psychology,  is spending the summer interning at the City of Chicago Department of Law in the Prosecution division and plans to attend law school.
---