Volleyball Team Gets Win in Final NAIA Match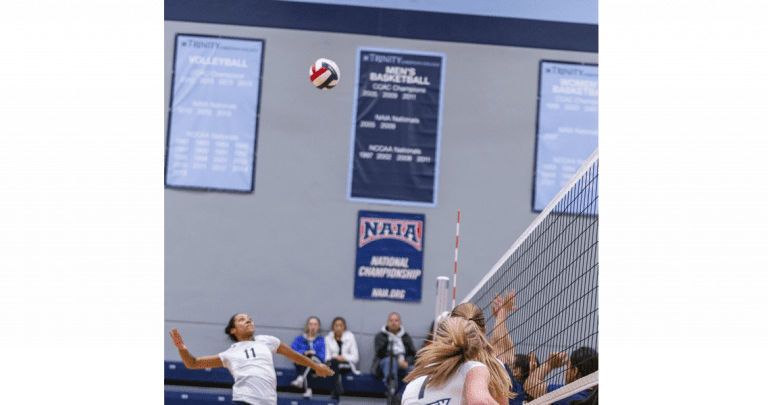 In their final match of Pool Play in the NAIA National Championship in Sioux City, Iowa, the Trolls faced No. 20 Ottawa University (Kansas). Both of these teams entered the match with a 0-2 record in the pool and were looking for their first tournament win. The Trolls gained that win as they defeated the Braves in four sets at 25-20, 20-25, 25-20, and 25-23.
With their 2-1 record, the team will not advance out of pool play, and they end their season with a 30-11 record.
In the first set the Trolls used a five point run to post an early lead at 8-3. With a score of 13-6 the teams traded points one at a time until a 20-14 score. Ottawa broke the pattern with the next two points to make it 20-16. The Trolls continued to stay ahead and with a 22-20 lead they closed on kills by Sarah Kiwan and Kacie Stoll and an ace serve by Maggie Tolsma.
The second set was another tight battle. Trinity had the early lead at 9-7, but Ottawa scored the next five points to take a 12-9 lead. The Trolls continued to trail throughout the rest of the set and were down by as many as seven at 23-16. The team rallied off the next four points to pull to within three before Ottawa scored the final two points.
The teams were never separated by more than a couple of points through the majority of the third set. Trinity gained the slight advantage at 16-13 and held that scoring edge for the rest of the set. They reached set point at 24-18 and gave up two points before Anna Maatman ended in the set on a kill.
Like the previous set, the final set was another close fight. With a 12-11 lead the Trolls scored the next five points with Amber Ryan on the serving line. Trinity had a 23-19 lead only to have the Braves tighten the set at 23-22. Ana Lambros put the ball down to give the Trolls set point, but Ottawa answered with a kill. On the next play Christa Veenstra got a kill that ended the set and the match.
For the game the Trolls had 44 kills with a .188 attacking percentage. Ottawa had 52 kills behind a .120 percent attacking effort. The Trolls ended with 10 blocks, eight aces, and 68 digs. The Braves had eight blocks, eight aces, and 73 digs. Stoll led the team with 11 kills, 16 digs, and two blocks. Lambros added 10 kills, nine digs, and two aces. Madysen Zula recorded nine kills and six blocks while Veenstra had eight kills and four blocks. Dani Van Laten handed out 35 assists and picked up 14 digs.Brianna Figueroa had 15 digs while Ryan had three aces.
---