WorldView Speakers McDonald, Echeverria Discuss Reformation's Impact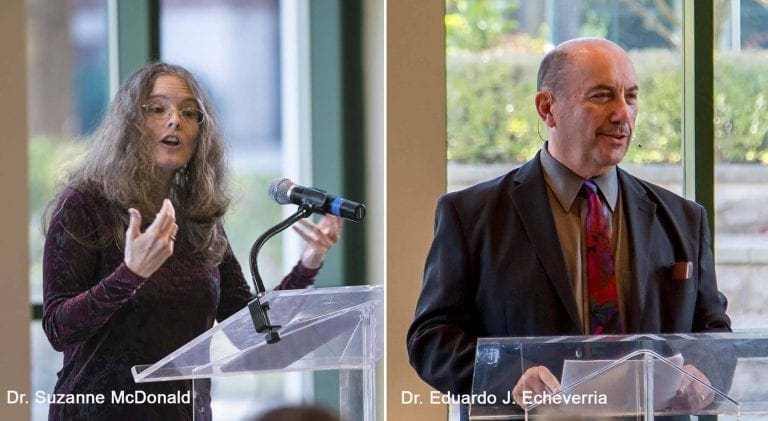 As part of Trinity's WorldView series, the College was pleased to recently host two speakers who discussed the impact of the Reformation on both Reformed Protestantism and Roman Catholic viewpoints: Dr. Suzanne McDonald and Dr. Eduardo J. Echeverria '73
On Oct. 16, McDonald addressed the topic: "Does the "Does the Reformation Still Matter? (Really?!)" McDonald is a professor of systematic and historical theology at Western Theological Seminary and is ordained in the Christian Reformed Church.
Echeverria, who earned a philosophy degree from Trinity and is now professor of philosophy and theology at Sacred Heart Major Seminary, discussed "Is the Counter-Reformation Over? An Evangelical Catholic Perspective."
WorldView is Trinity's annual community and college series for film, word, and music. The next WorldView event is scheduled for Monday, Nov. 27 and will feature Wayne Messer. Messmer is a local legend—famed singer, exciting speaker, acclaimed author, and talented broadcaster. The "Voice of the National Anthem" will bring his timeless message of hope and resilience to Trinity during a 7 pm lecture in the Grand Lobby of Ozinga Chapel.
In addition to his Worldview address, Messmer will also present "Damien," a one-man play based on the life of Father Damien de Veuster, on Tuesday, Nov. 28, in the Marg Kallemeyn Theatre. Proceeds from the performance will benefit the work of Dr. David Weinstein, the world's leading researcher for a cure for Glycogen Storage Disease. Messmer's granddaughter suffers from this disease. Visit here for more information and to purchase tickets to "Damien."
---