Used by over 700 colleges nationwide, Handshake is Trinity's college-to-career network with access to all types of jobs and internships posted by partnering employers.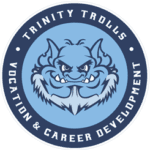 Alumni
If you are creating a new account click the link below. Your request will be routed to staff in Vocation & Career Development and/or the Alumni Office for confirmation of Alumni status and approval.
Employers
If you have an existing Handshake account, simply sign on with that account and connect your opportunities to Trinity. Once you've requested access, we'll review your employer account for approval.
Looking to post employment and internship opportunities to Trinity students and alumni?
If you're new to Handshake, create an account to in order to share opportunities with Trinity students and alumni.