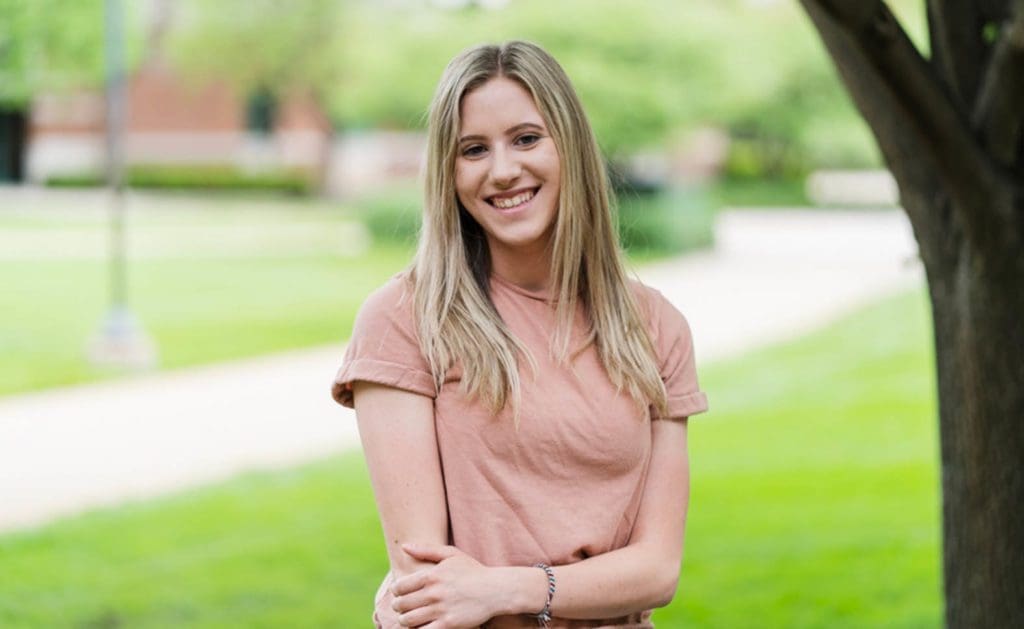 Speech-Language Pathology
For Alyssa Busker '24, Trinity is a family tradition. "I heard about Trinity a lot growing up because my grandma was a part of the first graduating class," said Busker. "She always hoped that her grandkids would come here like she did. My older sister Taylor decided to go to Trinity. Hearing about how much she loved it made me start to consider Trinity as an option."
Busker was exploring a major in speech-language pathology, after falling in love with the field during an internship her senior year at Aurora Christian High School, in Aurora, Ill. Busker was also interested in attending a college where she could run track. All of those factors led her to Trinity. "I chose to go to Trinity because growing up in a Christian school made me realize how important it was for me to choose a Christian college and continue to grow in my faith and be surrounded by others who want the same thing. I also wanted to be able to continue running track because I loved it so much," she said.
And her love for track led to a record-setting season her freshman year! Last spring, Busker earned a place at the 41st Annual National Association of Intercollegiate Athletics (NAIA) Women's Outdoor Track and Field National Championships in the 100 meter and 200 meter dashes. Not only did she win both events at the Chicagoland Collegiate Athletic Conference (CCAC) Outdoor Championships, she also claimed the title of National Christian College Athletic Association (NCCAA) national champion in both events.
"Being a part of the track team has been such a blessing to me," said Busker. "We have fantastic coaches who really care about us and help us become better athletes and better people." Busker said the NCCAA championships have been her most memorable Trinity experience so far. "Our track team really bonded that week, and we all had so much fun using out gifts to glorify God."
Along with track, Busker is also involved with Trinity's women's ministry program. "It has been great for meeting new people and continuing to strengthen my relationship with Christ."
She said her favorite class currently is Phonetics. "It makes me so excited for all the work I will be doing as a speech pathologist one day. It is a challenging but rewarding class."
Once Busker graduates, she plans to go to graduate school and then work in either a hospital or school setting.
---