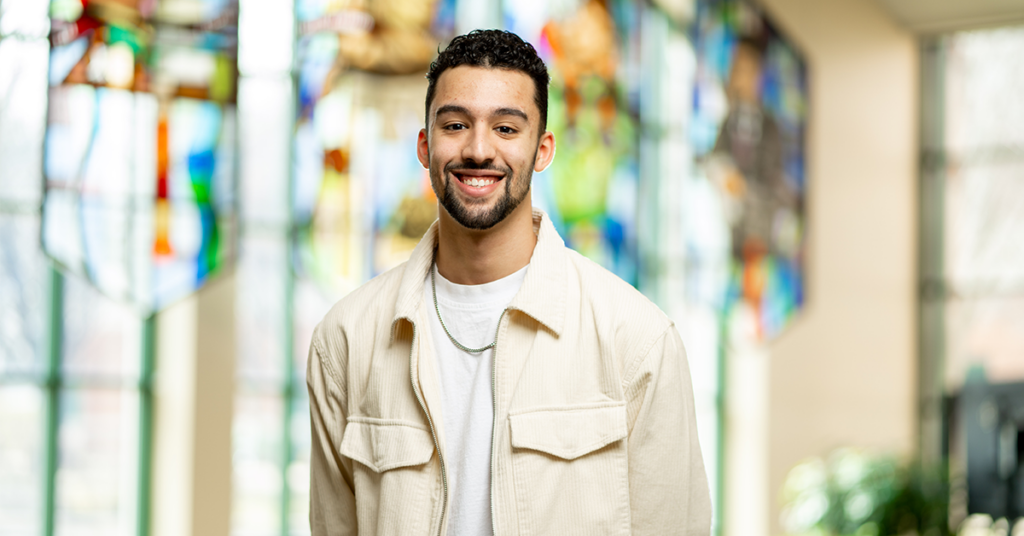 Caleb Rivera is pursuing a degree in History with a Pre-Law track in which he is expecting to Graduate in December of 2023.
Caleb grew up in Oak Lawn, Illinois in which he graduated from Oak Lawn Community High School.
Caleb had heard about Trinity Christian college from a number of places, but the main source of his knowledge came from his mother who graduated from the college back in the day after initially starting at the City Colleges of Chicago. Since then, two of his cousins graduated from Trinity as well so he had a pretty solid understanding of what the institution was like. When he initially visited Trinity in the summer of 2019, Caleb did not think he would be attending. He had even gone as far as saying "It's a nice place but I don't think I'll be attending". There were several admissions representatives that kept visiting his high school and emailing him until he finally decided to take the application seriously. From here Caleb got to do another visit and really enjoyed the environment that the campus created for him as a visiting high school student.
Caleb chose Trinity for a number of reasons; one of the main reasons being the generous scholarships and aid that was given to him. Caleb did not think that he would be able to afford tuition at very many colleges, and because of this he had initially committed to an inexpensive state school in Chicago. From here, he was invited to Diversity Scholars weekend and was able to connect with some very amazing faculty and current students and participate in the culture of Trinity first hand. It was because of his experience at Diversity Scholars weekend and the blessings that came as a result that allowed him to come somewhere that he wanted to be; somewhere where he felt valued.
Caleb feels that to choose just one professor would be a disservice to the other amazing classes and professors he has had class with. Caleb can truly say that virtually all of his professors at Trinity have been stellar. To that end, if he did only have to choose only one class, he would have to choose his History of the Renaissance and Reformation course with Dr. Dieleman. Caleb thoroughly enjoyed this class and it was a pleasure to engage with many of the students in the course.
Trinity has helped Caleb grow spiritually in so many ways, and one of the many ways they have helped him is through Outcry, which is a student led worship on Thursday nights. He attended a few outcry services sparsely throughout his sophomore and freshman years, but this year Caleb started attending them more frequently until he decided to become part of the team. Being part of the worship team has allowed Caleb to empty his self before God when he may feel exhausted or weak, and being in a room full of other college age believers who he has so much in common with is a very big motivation.
Caleb's fondest memory was being able to share his story at the Hispanic Heritage month chapel in October of 2022. Here he was invited to play the piano and sing while also being able to read a narrative he put together. "Opportunities like this are what has made Trinity so unique for me".
---