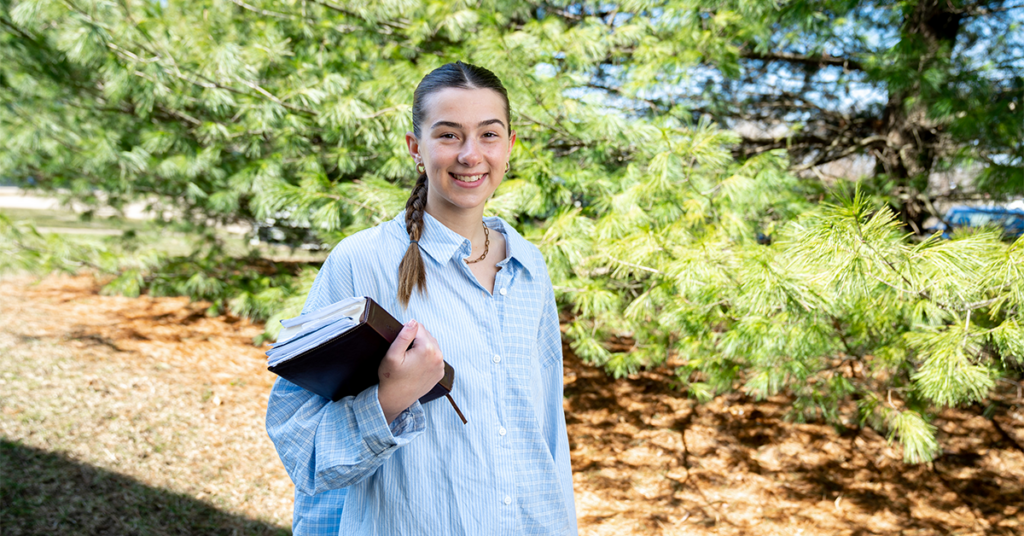 Physical Education, Recreation, and Kinesiology
Olivia Andre is pursuing a degree in Physical Educations while minoring in Education and Health Education in which she is expecting to Graduate in May of 2024.
Olivia grew up in West Springfield, Massachusetts in which she attended Pioneer Valley Christian Academy.
Being from Massachusetts, Olivia came to visit Trinity knowing very little about the college. It was simply one of the many small, Christian schools she visited. But upon her first step on campus, she knew Trinity was where she needed to be. Throughout her campus visit then, and her time as a student now, Olivia has discovered that Trinity is the type of college that seeks to empower and include. Trinity provides opportunities for students to make their college experience what they want it to be. Students are provided with resources and wisdom, but in the end, there are no bounds or limits which define a student's potential. It is not a matter of what students can do to fit into the Trinity community, but rather how Trinity can shape and mold students to be who they themselves want to be.
Olivia's favorite class that she has taken at Trinity is Literacy in the Disciplines with Dr. Boreman-Cornell. The class is required for all education students becoming licensed in grades k-12, and identifies how literacy can be implemented into the various subjects within a school. As a Physical Education major, she has always been discouraged by those who simply see PE as a place to play sports and maybe engage in the occasional health lesson. PE is a discipline where all students should feel welcomed, where more than just sport skills are taught, and a class that should be supported by all other subject areas. Literacy in the Disciplines taught her that the subject of Physical Education has a seat at the table with every other discipline when it comes to academic merit and function.
On first arriving at Trinity, the last place Olivia looked to be involved was within campus ministries. She simply attended chapel, and slowly began to mature spiritually. Flash forward three years, now getting the opportunity to lead a Bible Study with some of her best friends. The Bible Study that started as a group of 5 has now become the most attended ministry group on campus, praise God. Trinity Athletes Gathering is the name they chose, and it is an opportunity for athletes and non-athletes alike to unite over fellowship, prayer, and small group discussions. What Olivia appreciates most about Trinity is that she is pointed to Christ in every area she pursues. On the soccer field the team plays to bring glory and honor to God, in the classroom, she is taught how to embody Christ-like servanthood in her calling as a teacher, and in her job as a Student Ambassador in Admissions she gets to share about how God is working in and through the Trinity Community.
Through Trinity Olivia has done things she might have never thought she'd be doing during college. She has traveled abroad to Israel and walked in the footsteps of Jesus, gone to three National Tournaments for soccer, and made friends from all over the country and world, yet none of these experiences have brought more satisfaction and fulfillment then the sense of belonging she has felt at Trinity. The Trinity community has helped her grow in her understanding of who she is and how she can fit into the world, but also helped her learn about various subjects and disciplines within her field of Education" Because of Trinity I know and I am known".
---