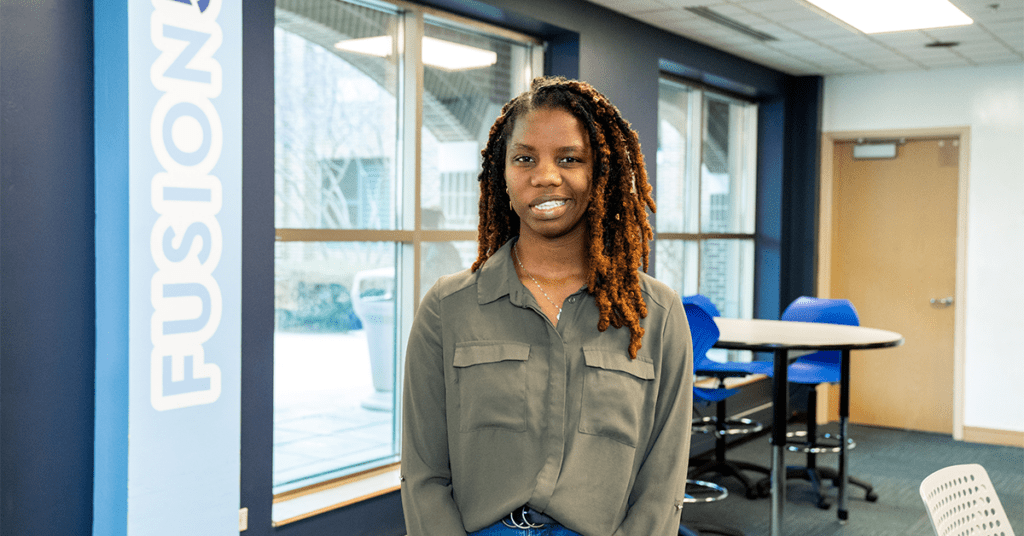 Njoki Mukuria is double majoring in English and Philosophy in which she is expecting to Graduate in May of 2025.
Njoki grew up in Nairobi, Kenya in which she attended Aga Khan Academy Nairobi.
Njoki chose Trinity first and it just happened to be in the U.S.. But she knew that she wanted to study her major abroad because she felt like she would get more freedom as a student to share her opinions even when it may contradict a teacher's ideas. This was something that was not as welcomed in the education system back home (it was more of a "the teacher is always right" experience), and Njoki did not want her love for critically engaging with the multitude of ideas in English to be lost in her not being able to share these ideas freely. This is why she knew that if she studied English, then she wanted it to be something she studied abroad, and this ultimately led Njoki to the U.S.
Njoki heard about Trinity through the CommonApp as she looked for Christian colleges she could apply to. She chose it for two reasons, the first of which being that she completely fell in love with the college from the virtual visit she did while still in Kenya. She met one of the English professors (Prof. Sierra) and had a lengthy conversation with him about a book Njoki had written an extended essay on in high school. This conversation was a turning point for her because of how much she enjoyed it, and she realized that if that was what her professors were going to be like and those were the kind of amazing conversations they would have, then she really wanted to attend Trinity.
Njoki's favorite professor is Professor Reppmann. He's her philosophy advisor as well as the reason behind her adding Philosophy to her major (having been completely drawn in by her first philosophy class with him her freshman year). He has proved to be a strong support for her when she is away from home and family because he's a mentor-like individual that she can talk to about life in general, its joys, questions and struggles. Njoki appreciates all the intellectual and emotional support he has provided because it helped her find a place of belonging on campus in knowing that someone always had her back.
There were a lot of internal prejudices that Njoki had learnt from the culture in which she had grown up has been wrestling with as she moved from my home country to the U.S., and she felt spiritually challenged to reflect on them as her mind was opened to a whole new culture here. But the growth Njoki felt more profoundly was a calling to be more active in advocating for the voices that have not often been heard on Trinity's campus, in line with the Biblical message of loving your neighbor and sitting by the Samaritan woman at the well in conversation with her. Njoki grew to understand, messages from Christ that urged a kind of push to listen to and love the person who is different from you. From this, she felt drawn to engage more with multicultural endeavors on campus, joining African Student Union and Multicultural Leadership out of a desire to speak to at least one aspect of this calling – sharing cultural diversity and building a space of belonging for those who come from different cultural backgrounds. While at the start may not have immediately seen this as the spiritual calling it was, she has come to see the need for such engagement in terms of forming a vibrant community that reflects what Jesus says the Kingdom of God is like.
Probably the formation of the friendships Njoki has acquired along my journey, or more particularly, her friends in her Hangman 59 group had been the most memorable experience at Trinity so far.. Sounds like a weird name for a friend group, she knows, but their friendship began over a game of Hangman in the Fusion 59 room in the library, so it was fitting. The group of friends (Hangman 59 and beyond) are some of the most welcoming, interesting, and unique group of individuals Njoki has ever met, and her experience of going through the college journey with them – its ups and downs, Christmas parties and communal meals – is something that will stick with her for a long time moving forward.
---