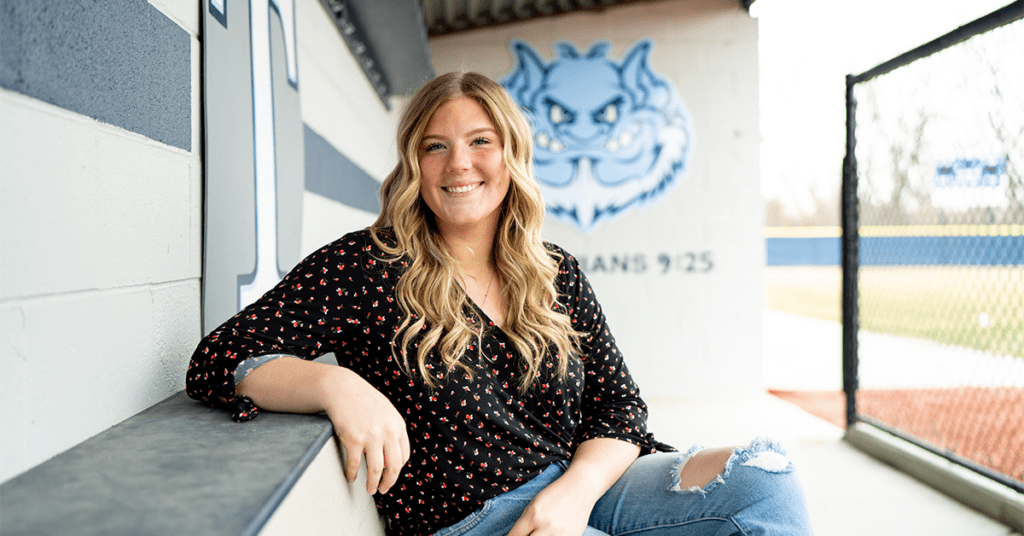 Faith Bruinius is pursuing a degree in Recreational Sports Management in which she s=is expecting to Graduate in 2024.
Faith grew up in Worth, Illinois where she graduated from Amos Alonzo Stagg High School
Faith heard about Trinity through her softball recruiting process, as well as living so close to the school. She would always drive through and think about the charm the campus had and when she did an actual visit, she fell in love with Trinity. A big reason Faith came to Trinity was because she was able to play softball, but another big reason was because of the small campus and class sizes. She is a big people person, so she likes being able to see familiar faces and talk to people in a comfortable setting!
Her favorite professor is Professor Cerney. He is her professor for most of the classes in her major and cares so deeply about his students and their success. All the students that have him, love him, and just from that you can tell he leaves a positive experience on every person he teaches!
Since being at Trinity, she has grown spiritually in many aspects. Her faith in God is at an all-time high and continues to grow every day.  Because she went to Trinity, she was able to stay at her home church, Moraine Valley Church, and continue to help serve on the worship team, the high school ministry, and the children's ministry. After graduating high school, she believed she was called to work with the high school ministry so she could help change young girls lives as her leaders did for her. While helping in this ministry, she was blessed to be able to baptize 4 young girls in her 2 years of serving so far. She thanks God every day for the opportunities he has given her to go to college, play softball in college, and change peoples lives by glorifying his name! Before college she would've been nervous to put this out there, but because of her church and her coach putting God first, "I will forever shout his name from the rooftops and give him thanks for all he has done in my life".
Her most Memorable experience at Trinity is any moment with my team. The Trinity softball team has a great relationship with each other and any time I am with them is memorable. Whether it is the bus rides to and from games, practices, the games themselves, or even when we get to hangout and talk to each other outside of softball. Being able to be a part of a team that can tell each other anything and be ourselves around each other is a team I also grateful to be a part of, and a team I am so excited to watch grow!
---