Fusion 59 Consulting Team Offers Professional Expertise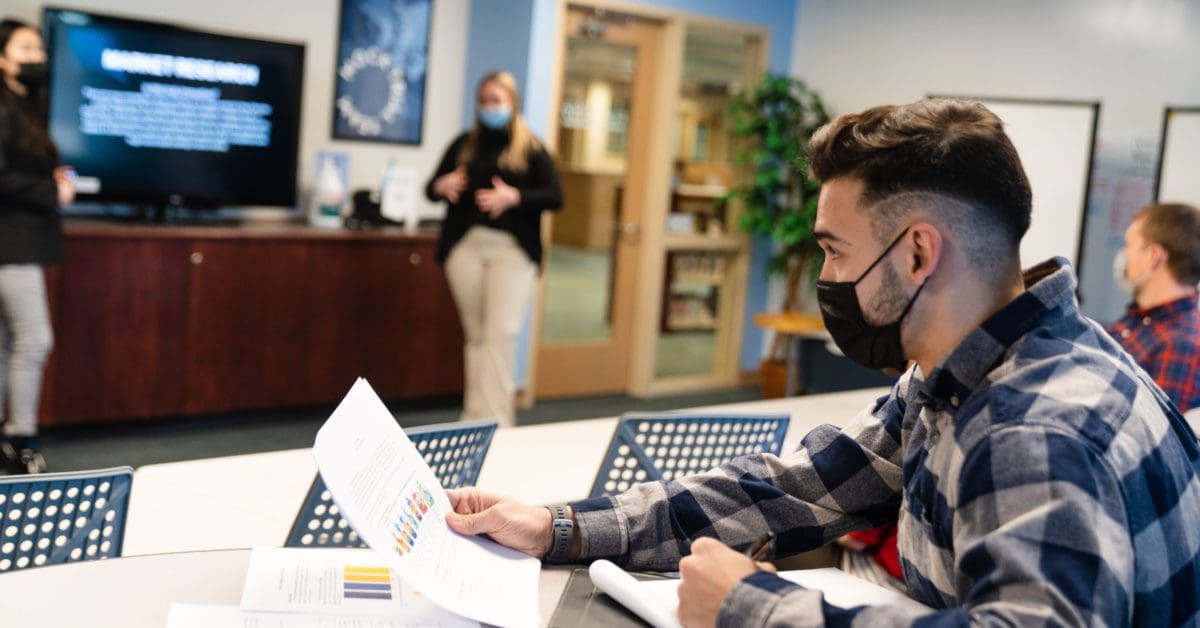 For professional market research, improving brand awareness, boosting social media engagement, creating business models and other services, local companies have an option right at Trinity—Fusion 59's Consulting Team.  
The Consulting Team, which consists of Trinity students and is overseen by Fusion 59 Director Haley York '20, recently presented a marketing plan for a new venture by alumnus Gabriel Soler '19. The venture involves "New Drip," a waterless car wash option that has a strong business in Brazil, and which Soler is looking to expand to the United States.  
The consulting team, led by Hope Heeg '22, offered a comprehensive plan that included multiple components, including market research, competitive analysis, product testing feedback, product branding recommendations, and a social media marketing strategy.  
Soler praised the quality of the presentation. "This will lead to some good discussions with the people in Brazil," he said. "They did a thorough job with research. The pitch deck was well organized and the branding work was very detailed." 
The team spent about two months working on the presentation. York brought together a team with diverse backgrounds for the assignment, Heeg said. "We had accounting, marketing, and graphic design majors to help tackle this new project. We knew we had to come up with a marketing plan and a strategy to bring New Drip to the United States from Brazil. The team took areas that they were experts in and we went from there! We all reviewed each other's work and made the necessary changes to provide the most thought-through plan," she said. 
This was one of several projects the Consulting Team has been working on. "Each semester we are assigned at least four clients in the Chicagoland area that need assistance with their digital marketing. We provide a certain amount of postings per week on various social media platforms such as Instagram, Facebook, Twitter, LinkedIn, and YouTube," Heeg said. "Depending on what package the client purchases, we also do photoshoots to gain new content and email campaigns. These businesses are all diverse in what they provide to the community. For example, we have worked with the Palos Heights Public Library, Royalberry Waffle House, and Noral Jewelers." 
As a marketing major, Heeg said the Consulting Team has given her important experience and insights and helped prepare her for a career after college. "I knew that this was something that could help get my feet wet in the marketing realm and help me get an idea of what exactly I enjoy," she said.  
Along with the professional research and report, helping students gain valuable experience is one reason Soler selected the Consulting Team. "As a student, I donated a lot of energy to Trinity. Giving back is important," said Soler, who majored in finance. "I realized I could give this work to a third party or to Fusion 59, so gave it to Fusion 59." 
Soler, who lives in Oak Lawn, Ill., and currently works as a consultant, has personal experience with the value that Fusion 59 offers. Fusion 59 launched while he was a student at Trinity, and he was deeply involved, along with serving as captain of the men's soccer team and being part of Future Founders, which is affiliated with 1871 in downtown Chicago that supports early stage, growth stage and corporate innovators. "I'm pleased to see how well Fusion 59 is doing. Being part of Fusion 59 is a big benefit for students," he said." 
And it also benefits clients. Soler is currently working with several partners in the discovery phase of New Drip. He discovered the product while visiting Brazil, and is looking for next steps in introducing it to the U.S. market. "I wanted to get an unbiased view, which is why I reached out to Fusion 59 for marketing consulting work." 
---