"Our Shared Calling"—Lessons from Trinity's 60th Annual Convocation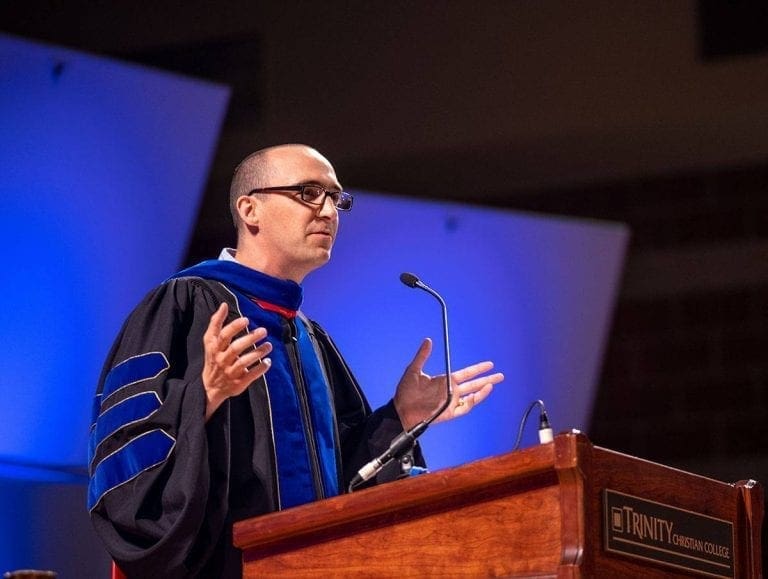 Embrace the idea of yes. That is the advice of Associate Professor of Biology Clay Carlson, Ph.D., Trinity's 2018-19 Professor of the Year, during the 60th Annual Convocation on Aug. 22. "Strange things happen when you say yes," said Carlson, recounting the times that being open to new opportunities has changed his career and life. "It may be the Holy Spirit blessing you, so you may bless others."
As part of Trinity's long-standing tradition, Carlson gave the Convocation Address as Professor of the Year. He spoke about his experiences as a first-generation college student, where he arrived on campus with an acoustic guitar, a hacky sack, and not much of an academic plan. "It was the '90s," he joked to the crowd of students, faculty, and staff who gathered in Ozinga Chapel Auditorium. Carlson also spoke about how a willingness to take an internship that involved setting up lab equipment ultimately led to his first full-time job. In grad school, a casual agreement to monitor a middle school bounce house for an afternoon set the stage for years of deeply fulfilling youth ministry involvement. While at Trinity, an unsolicited request to write an article about climate change ultimately changed the course of his career. "Say yes," he repeatedly urged.
Convocation began with the processional by faculty and staff, and a welcome by President Kurt D. Dykstra, J.D. "This gathering is an annual tradition, to be sure," he said. "In this, we have been gathering like this for 60 years. That is no small thing. In previous convocations were Trinity people who now occupy the highest positions of power and influence for God, for good, and for the world: parents and pastors, doctors and lawyers, business executives and non-profit executive directors, artists and scientists, professors and college administrators. All of them sat, figuratively, where we sit."
Michaela Kohlmeier '20 Campus Ministry Prayer Leader, offered the prayer of invocation. Craig Mattson, Ph.D., Professor of Communication Arts, and Leah Wideman '21, 2017 Founder's Scholar and Honors Program member, led the litany. Provost Aaron Kuecker, Ph.D., introduced Carlson.
Professor of English Karen Dieleman, Ph.D.; Director of First Year Experience Emily Bosscher; and Student Association President Bailie Fredlock '20, gave the prayers of thanksgiving and petition after Carlson's address. Pastor Bill Van Groningen, Ph.D., gave the closing remarks and benediction.
Music throughout the service was provided by Instructor of Music Minkyoo Shin, D.M., Professor of Music Mark Peters, Ph.D., and Trinity's worship team.
After Convocation, the Trinity community gathered for fellowship and refreshments in the Grand Lobby before embarking on the new school year.
---