Professor, Alum Collaborate on Summer Art Class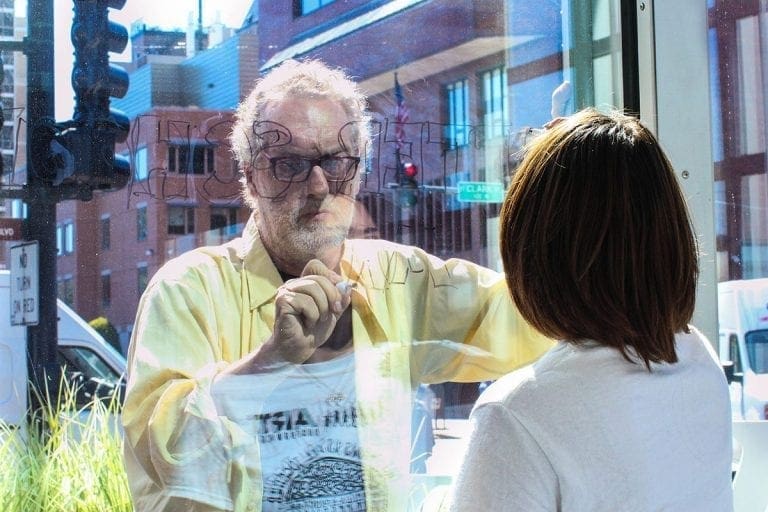 As programming and communications manager at Art on Sedgwick, Hannah Dykstra '17 said she has found a career that works "perfectly" with her double majors of art education and graphic design. She credits Professor of Art & Design John Bakker, a member of the governing board of the art center in Chicago's Old Town neighborhood, with helping her first learn about Art on Sedgwick.
And this summer, she and Bakker had the opportunity to teach a class together at Art on Sedgwick. The class was funded through Chicago's After School Matters program, which is a non-profit organization that provides Chicago public high school teens with opportunities to explore and develop their talents. "Our program's purpose was creating energy around the ways Old Town supports all of its residents, businesses, and schools through public artwork," Dykstra said. "It also gave the students a sort of apprenticeship to live as a working artist and introduced them to a variety of ways that art could change people's ideas about a place."
The class focused on figure drawings. According to Bakker, the theme of the class meshed with Art on Sedgwick's mission, which uses art as a catalyst to bring diverse communities together. "We worked to soften the economic, racial and age divides across the Old Town community," said Bakker, whose work focuses on portraits. "It culminated in high school students doing dry erase marker drawings of Old Town business people on their shop windows. Of course, the students had to speak with the business people regarding the project; allowing the business people to get to know the students. Perhaps they might even think about hiring some of them!"
The course also drew a diverse group of about 15-20 students. "The students/artists-in-training were mostly from the Old Town community," said Dykstra. "More than half were from Marshall Field Garden Apartments, the affordable housing apartment building where Art on Sedgwick rents their storefront. The other half were from all over Chicago."
Dykstra first learned of  Art on Sedgwick while finishing up her graphic design degree. "Prof. Bakker mentioned that Art on Sedgwick was in need of teaching artists. He gave my contact information to Charlie Branda, the founder and executive director, and she hired me to teach a class back in 2016." After graduating, Dykstra was offered her current position. "I enjoy the variety of work I do, and I'm able to use my skills as an artist as well as designer and teacher," she said.
---