Trinity Presents Third Annual 24-Hour Theatre Project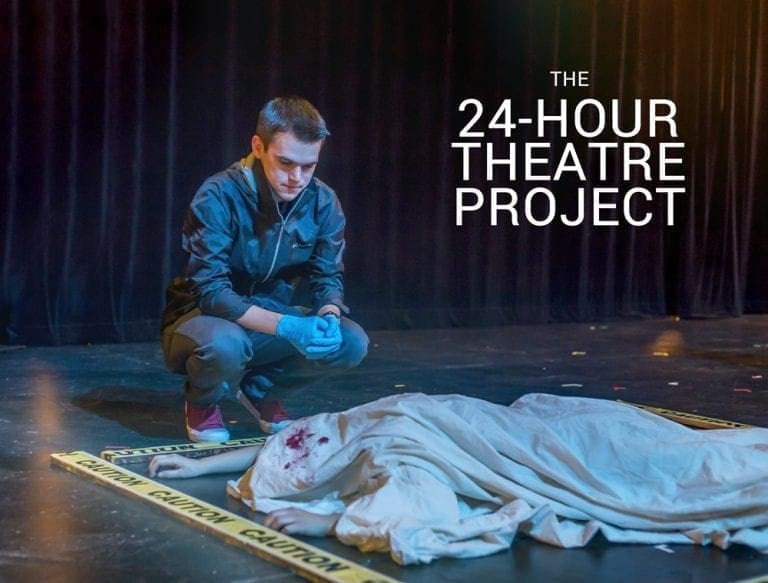 Trinity's Theatre Department is proud to announce the Third Annual 24-Hour Theatre Project, a fun and engaging challenge for various members of the College's community. The project begins on Friday, Sept. 21 and wraps up with performances on Saturday, Sept. 22 at 8 pm and 10 pm.
The 24-Hour Theatre Project is a novel trend in the world of theatre, but it has quickly become an annual staple for many high school and college programs across America.  In this activity, theatre-makers work together to create brand new plays—from writing to rehearsal to performance—in the span of 24 hours.  This is a major challenge, but one that brings with it much excitement and entertainment, according to participants.
For Trinity's third annual event, current students from all majors, alumni, staff, and faculty will come together to write, direct, act, and provide technical support for six original plays.  These plays, which will be written overnight on the evening prior to performance, will all respond to a photograph taken by a member of the Trinity community.  Last year's photographer, Claire Sukamto '19, said, "Being the inspiration for multiple plays that each had an interesting and unique point of view really blew my mind.  It showed me new perspectives and interpretations I had never thought of before."
Not only does the 24-Hour Theatre Project connect to Trinity students; it also extends a hand of hospitality to high school students in the surrounding area.  Trinity has formed a partnership with multiple high schools in and around our Palos Heights, Ill., campus to place several students on the project teams, both as actors and as techs.
"This project offers people the chance to practice creative problem-solving while investigating how to understand and tell a dramatic story well," said Dr. John Sebestyen, Associate Professor of Communication Arts and Director of Theatre at Trinity.  "It expands our perspective, experience, and understanding."
All members of the Trinity community are encouraged to attend either performance on Sept. 22. More information is available here.
---