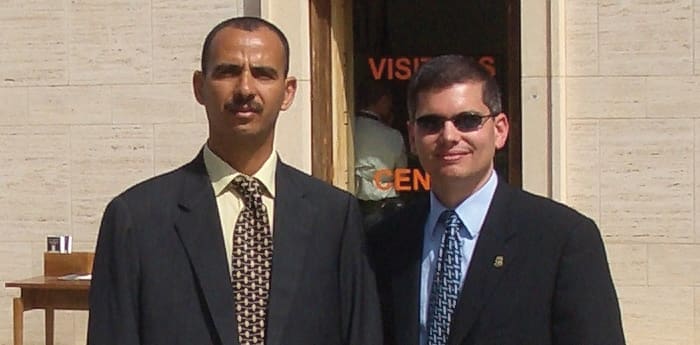 Special Agent
Aaron Tambrini '97 is a special agent for the Diplomatic Security Service (DSS), part of the U.S. Department of State.
His work experience reads something like a character sketch of the protagonist in a political thriller. He has conducted criminal investigations into passport fraud, visa fraud, and terrorism; protected dignitaries, including the Secretary of State, the Dalai Lama, and various foreign ministers; and conducted embassy security management overseas.
This job requires intense training and the necessity of his family to move every few years and live everywhere from Minneapolis, Minnesota, to Tunis, Tunisia. These were the locales of two of Tambrini's assignments: liaison officer to the FBI Joint Terrorism Task Force and assistant regional security officer at the U.S. Embassy in Tunis.
Currently, Tambrini is in Arlington, Virginia, learning French in preparation for his next assignment as a regional security officer in Mauritania (western Africa), where he will move with his family to the capital city of Nouakchott and manage the Embassy's security program as he did in Tunis.
Tambrini said that although he doesn't recall a specific moment when he "woke up knowing" he was called to work in federal law enforcement, the former history major was interested in working as a special agent for the U.S. Secret Service and was first hired by Immigration to work at Chicago's O'Hare International Airport. There he learned that his interest in passport and visa fraud would be a good match for the DSS's main investigative function of protecting the integrity of the U.S. passport.
For students considering a similar field, Tambrini suggests taking advantage of the opportunities Trinity provides to gain hands-on experience through an internship and to be immersed in another culture through study abroad programs such as the Semester in Spain.